APAC Retailers Struggling with Consumer Data; AU Mobile Ad Spend Outpaces TV for First Time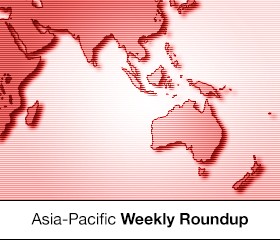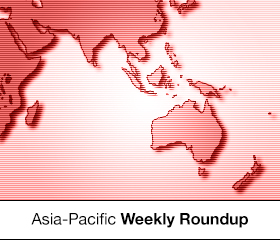 In this weekly segment, ExchangeWire sum up key industry updates on ad tech from around the Asia-Pacific region – and in this edition: APAC retailers struggling to deal with consumer data; AU mobile ad spend outpaces TV for first time; Dentsu Aegis opens Singapore R&D hub; Majority of AU mobile shoppers engaged with ads; and Outbrain signs deal with Philippine news site.
APAC retailers struggling to deal with consumer data
Some 55% of retailers in Asia-Pacific are struggling to segment unstructured data in order to establish actionable insights and failing to deliver personalised messages.
According to findings from Criteo's World Business Research, these challenges were the result of having to manage multiple, and incompatible, data sources as well as the use of legacy systems. The study polled more than 400 senior retail marketing executives in the region.
Another 50% noted a lack of coordination between teams in their organisation responsible for marketing, customer intelligence, and user experience, while 55% faced issues filling skills gap in data analytics.
According to the research, marketers were prioritising the use of customer data to push personalised ads and improving customer loyalty and value. To achieve these, they were investing in mobile and cross-device advertising, but felt challenged by the lack of internal knowledge and skills to tap new technology and roll out multichannel campaigns at scale.
Criteo Asia-Pacific executive managing director Yvonne Chang said: "Mobile devices provide connection, communication, and knowledge, and are considered by users as a part of their personal space or as extensions of themselves. Under the wrong circumstances, mobile ads can, therefore, be intrusive and unwelcomed.
"The key to success is ensuring ads are personalised for each individual", Chang said. "This can be done by understanding and embracing new technologies like dynamic retargeting and deterministic matching."
She noted that up to 70% of online shoppers who were served personalised ads, for instance, based on products they had been looking at, would go on to view products they had not looked at previously.
Retailers said display ads accounted for 28% of their overall ad budgets and 29% of their revenue.
"The industry is shifting its focus from increasing click-through rates or app installs to ensuring continuous engagement with existing users", Chang said. "In the past, cross-device advertising was difficult to execute, as brands could not identify shoppers across different devices to enable personalisation. Dynamic display advertising and exact matching technology have now solved that."
AU mobile ad spend outpaces TV for first time
Mobile ad spending in Australia is expected to exceed TV for the first time this year, generating USD$2.71bn (£2.09bn) and accounting for 25.3% of overall media ad spend.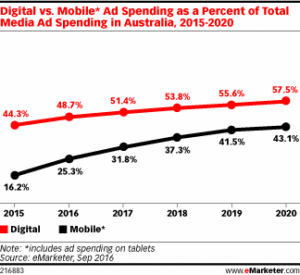 TV ad spend was projected to hit USD$2.58bn (£1.99bn), accounting for 24.2% of overall media spend in the country, according to eMarketer's latest stats.
The research firm's forecasting analyst Shelleen Shum said digital and mobile ad spend saw stronger-than-expected growth last year, fuelled by a significant spike in digital video ads. "Australia boasts one of the highest smartphone and tablet penetration rates in the Asia-Pacific region and ad dollars have followed consumers' eyes to mobile", Shum said.
Traditional TV, in comparison, was facing strong competition from digital streaming subscription services, such as Netflix, the analyst noted.
eMarketer revised its growth forecasts for TV ad spend downwards, while pushing up projections for digital, due to a lower-than-expected growth for some commercial TV networks.
It added that digital would account for more than half of Australia's total ad spend next year, chalking up USD$6.94bn (£5.35bn), before increasing to more than 57% by 2020.
Dentsu Aegis opens Singapore R&D hub
Dentsu Aegis Network have launched a new facility in Singapore to develop tools as well as support data scientists and tech professionals in their global network.
The Dentsu Aegis Network Global Data Innovation Centre is the agency group's "first-ever R&D centre of its kind", they said in a statement. Asia-Pacific CEO Nick Waters said: "Data is central to our business strategy; and now all businesses require a strategy for the digital economy to remain relevant.
"[The centre] allows us to hone data-literate talent, which will lead to a competitive advantage for our clients", Waters added, noting that Singapore was their location of choice due to the nation's talent pool, technology, and business infrastructure, as well as its proximity to "dynamic" global markets.
More than 25 data specialists were expected to be based out of the R&D centre, working with the agency group's various brands across their top 20 markets, including China, Australia, and the UK. The Singapore team would develop solutions slated for deployment globally and with the aim to resolve customers' marketing data challenges.
The centre's managing director Audrey Kuah said: "The fourth industrial revolution requires the augmentation of our human expertise with intelligent technology in order to achieve the next level of growth in our industry."
Majority of AU mobile shoppers engaged with ads
Some 76% of mobile buyers in Australia say they have engaged with a mobile ad in the past six months, according to research released by Interactive Advertising Bureau (IAB) Australia.
The data was part of a global m-commerce survey conducted by OnDevice Research across 19 markets, including Australia, Singapore, Japan, and China. Some 76% of smartphone and tablet users in Asia-Pacific said they had purchased a product or service on their mobile device in the past six months.
In Australia, 45% would buy using a mobile device on a monthly basis, making 33% of their typical monthly purchases via mobile. Another 55% used their mobile to research products before buying them in-store, while 45% used their laptop or personal computer.
IAB Australia CEO Vijay Solanki said: "Whether it's purchasing on a mobile device, or searching for more information before buying in-store, mobile is a critical platform to drive sales and support today's consumer retail experience.
"Retailers, and their agencies, would be well-advised to build clear consumer journey maps and explore mobile strategy options, including mobile-optimised websites, as a minimum, as well as mobile apps and financial tech to make it easier, and safer, to buy on mobile devices, and for the better use of data to drive future mobile commerce growth", Solanki said.
Outbrain signs deal with Philippine news site
The content discovery platform has inked a multi-year partnership agreement with Philippine news website, ABS-CBN News, to tap its platform to drive audience engagement.
The deal would see the publisher tapping Outbrain Engage to generate insights on how best to push relevant content and increase revenue from higher audience engagement.
Karen Puno Igaya, head of digital news media at ABS-CBN, said: "Digital content consumption is expected to skyrocket in the Philippines during 2017, and beyond. Through our partnership with Outbrain, we aim to not only enhance the user experience of our readers, but also maximise our monetisation opportunities through strategically placed native experiences."
Outbrain's Southeast Asia director of business development, Kamal Kripalaney, added that the agreement would allow the Philippine news site to tap their data for "targeting capabilities and unique insights for brands".
In a separate announcement, Outbrain said they had appointed Fionn Hyndman as their Asia-Pacific commercial director, as well as Daniel Kundeus as its Asia-Pacific head of strategic brand partnerships.
They added that the new two roles were created to support growth in the region. Both executives would work with the company's teams across Southeast Asia, Australia, New Zealand, and India, to drive strategic partnerships and returns on investment through content marketing.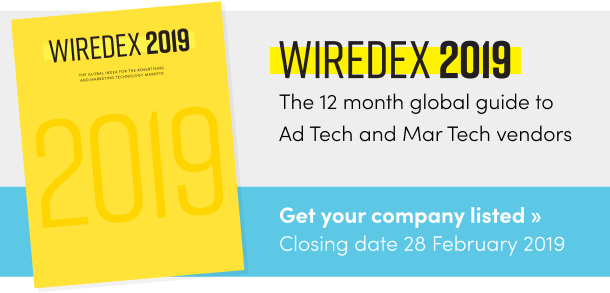 TagsAd TechAdvertiserAnalyticsAPACAustraliaCross-DeviceDataMedia SpendMobilePublisherSingaporeTargetingTV