Most APAC Consumers Will Consider Ad Blockers; China Brands to Spend More On Digital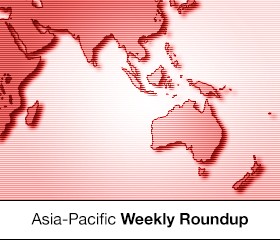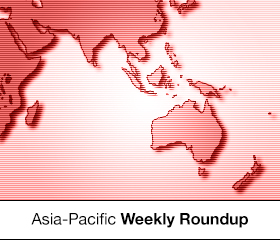 In this weekly segment, ExchangeWire sums up key industry updates on ad tech from around the Asia-Pacific region – and in this edition: Most APAC consumers will consider ad blockers; China brands to spend more on digital; Indian online publisher offers content marketing services; Gravity4's Pixels unveils programmatic services; Matomy opens Beijing office; New lifestyle marketing agency hits AU market; and DT goes to Singapore.
Most APAC consumers will consider ad blockers
Some 90% of online consumers across the Asia-Pacific region will consider using ad blockers because they feel there are too many ads and find these to be "creepy".
Another 77% said they would mute video ads, according to a study by Unruly that polled 3,200 consumers worldwide.
Some 67% of consumers in Southeast Asia described ads that popped up as they surf the web as "creepy", compared to the global average of 63%. Another 85% in the region said they would lose trust in brands that produced ads that did not feel genuine; while 45% expressed negative emotions towards brands that forced them to watch pre-roll video ads.
In Australia, 65% were put off by brands that compelled them to watch pre-roll videos; while 77% said they would have less regard for brands that produced ads that lacked authenticity. Another 68% would like the ability to control video ads, compared to 61% globally.
Unruly and Mindshare released the APAC Future Video Manifesto with the aim to provide advertisers guidance on how to deal with growing adoption of ad blockers and run effective video ad campaigns.
Unruly's Asia-Pacific managing director, Phil Townend, said: "The industry has largely adopted an interruptive video model, which is a hangover from TV, and consumers are being bombarded with hard-sell sales messages that deliver little emotional value.
"You could argue we're hurtling towards an 'adblockalypse', where there's a real risk consumers will abandon advertising if brands don't listen to the signals and adopt more engaging, non-invasive ad strategies for the long term", Townend warned.
Mindshare Asia-Pacific chief digital officer Sanchit Sanga added: "Consumers are fed up with ad clutter – too many antisocial, interruptive ads. The solution is polite advertising: polite page-loading, respectful ad formats that give a better user experience, and better ads in the first place. [Providing] content that's worth watching.
"Dumping and spraying 30-second commercials across the web, solely looking at old-world metrics alone like eGRPs, will spell doomsday for brands of today and tomorrow", Sanga said.
China brands to spend more on digital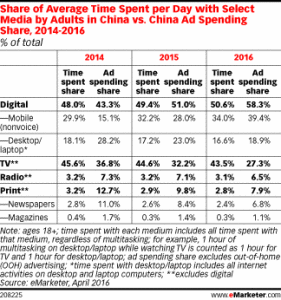 Advertisers in the China market will set aside 58.3% of their budgets for digital media in 2016, surpassing the amount of time consumers spend on the platform.
This year would mark the first time consumers in the country would spend more minutes on digital media than they would on traditional media, said market researcher eMarketer. They would spend an average three hours and five minutes a day on digital media, comprising 50.6% of their daily media consumption.
eMarketer said it revised its forecasts of China's media consumption downwards, due to the lack of high-speed internet connectivity in rural areas and TV's continual dominance, accounting for the biggest share of time spent on traditional media.
It noted that, while the transition towards media was slower than previously projected, it was still moving forward, as evident in advertisers' expenditure.
Indian online publisher offers content marketing services
The online unit of India's publishing house, The Times, has launched a range of content marketing services touted to offer advertisers a "full-scale content hub".
Times Internet said its new offering would encompass content strategy, development, and marketing services and enable advertisers to create branded content in English, as well as nine Indian regional languages.
Dubbed 'Spotlight', the new product line would provide audience analytics and reports, as well as native ad platforms on The Times' online sites and third-party online publishers.
Head of Spotlight, Neha Gupta, said: "Along with Times Internet's unique reach and scale, [the new content studio] will provide a strong differentiator to brands and will help them increase their digital presence by showcasing their branded content. We will partner with brands to create stories, infographics, galleries, videos, and new exciting native content solutions in English and multiple regional languages."
Gravity4's Pixels unveils programmatic services
The multi-screen ad vendor has launched its Programmatic Advertising Solutions, touting the new launch to offer advanced targeting and optimisation technology.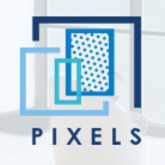 Powered by Gravity4, which acquired Pixels in November 2015, the new offering would enable advertisers to target users based on demographics and behavioural data, using Pixels' first-party data, as well as third-party data. Advertisers would be able to select their audience criteria through the Pixels Ad Marketplace, which is a private ad marketplace comprising inventory from more than 500 local websites and mobile apps curated by Pixels.
The Hong Kong-based ad-tech company added that advertisers would be able to target audience by interest, behaviour, and location, among others. In addition to its delivery and optimisation engine, a team of trained campaign optimisers would also be on hand to provide "the human touch" and ensure marketing objectives were met, Pixels said.
Citing research from Millward Brown, Pixels CEO Kevin Huang said Asian consumers spent an average of four hours a day watching videos on multiple screens, including smartphones, tablets, desktops, and connected TV, compared to the global average of three hours.
"The unique customer insights embedded in Pixels' Programmatic Advertising Solutions enables advertisers to reach them on the right screen, at the right time, with relevant messages", Huang said. "The precise reach ensures ads will capture the attention of customers, turn advertising into useful and relevant information for them, and induce them to take the necessary actions, as desired by advertisers."
Matomy opens Beijing office
Following the launch of its Seoul office last month, Matomy has unveiled another new outfit in Beijing as part of its expansion into Asia-Pacific.
Led by general manager Wei Dongyun Toni, the China office would aim to drive the company's mobile ad business in the country.
"China's mobile game market is estimated to reach USD$7.4bn (£5.24bn) in revenue in two short years", Wei said. "The importance of being local is absolutely critical in this market. Our goal in the Beijing office is to work with Chinese app developers, supporting their innovative products, together with our advanced programmatic media tools, in order to achieve great success, whilst simultaneously offering the app developers advanced global monetisation solutions."
Matomy CEO and co-founder Ofer Druker added: "China is ripe for state-of-the-art programmatic technology to have an edge over the competition; and Matomy can equip app developers with smart solutions to succeed in both local and global markets."
New lifestyle marketing agency hits AU market
Dentsu Aegis Network has launched its ninth global agency brand, MKTG, in Australia, where it aims to bolster its lifestyle marketing offerings.
Created from merging specialist activations and lifestyle marketing agencies, ApolloNation and Team Epic, the new entity would focus on key service sectors, including retail and sports, Dentsu Aegis Network said.
MKTG Australia would be headed by sport and entertainment managing director, Matt Connell, as well as managing director of activations, Kylie Green, both of whom would report to the agency group's ANZ CEO Simon Ryan.
Ryan said: "Team Epic and ApolloNation teams share great synergies; and, as we combine to become MKTG in Australia, our goal will be to be the best experiential, sport and entertainment lifestyle marketing organisation in the country."
DT goes to Singapore
The digital agency, which is part of WPP Australia New Zealand, has launched a new office in Singapore, alongside its partner and fellow WPP sibling, Ogilvy & Mather.
DT CEO Brian Vella said: "In the last few years, we've seen massive demand for our combined creative and technology skillset. With a serious local offering for Singapore, we look forward to having many more conversations with the region's leading marketers."
Ogilvy Singapore chairman Chris Riley added: "Businesses today are operating in a world where constant disruption is the norm. Through this partnership with DT, O&M Singapore will now offer high-performance digital platform and e-commerce specialist expertise that will help our clients scale new heights of modern marketing performance."
TagsAdvertiserAgencyAPACAustraliaChinaCross-ChannelExchangeIndiaMedia SpendMobileNativeProgrammaticPublisherSingaporeTargeting