Spotify APAC Tune Up Programmatic Campaigns; Dentsu Buy Indian Design Studio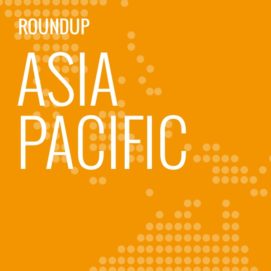 In this weekly segment, ExchangeWire sum up key industry updates on ad tech from around the Asia-Pacific region – and in this edition: Spotify APAC tune up programmatic campaigns; Dentsu buy Indian design studio; MEC unveil Wavemaker in China; WPP open The Store in ANZ; and AdAsia unveil Moments in Thai.
Spotify APAC tune up programmatic campaigns
The music streaming service says it has rolled out programmatic campaigns across several Asia-Pacific markets, including Singapore, Hong Kong, and Australia.
Their audio inventory was available via private marketplaces powered by Rubicon Project, said Spotify, which noted that the region accounted for 20% of the global music streaming market. With one billion smartphone users across Asia-Pacific, they said the audio platform was expected to see healthy growth in 2017.
Spotify's Asia-Pacific head of business marketing, Joanna Wong, said: "Since the launch of our programmatic audio campaign in August, we have seen an incredible response in Asia-Pacific. For advertisers, it's a completely new and exciting channel through which to reach consumers.
"Programmatic audio advertising means buyers can reach individuals at scale, based on not just the usual age, gender, and geographical identifiers, but on a whole new data trove – their taste in music", Wong said.
Dentsu buy Indian design studio
Dentsu Aegis Network has acquired an Indian experiential design studio, Fractal Ink Design Studio, in a deal aimed at boosting the agency's offerings in mobility and user experience.
The studio – along with their team of 1,000 digital professionals – would be integrated into the group's digital agency, Isobar, and rebranded as 'Fractal Ink Design Studio – Linked By Isobar'.
Founded in 2010, Fractal specialised in user experience and user interface design, and operated offices in Mumbai and Bangalore. Their CEO, co-founder, and creative director Tanay Kumar would join Dentsu Aegis' Indian leadership team and report to the group's South Asia chairman and CEO, Ashish Bhasin.
Pointing to growing adoption of the Internet of Things (IoT), wearables, and mobile, Bhasin said Fractal's skillsets in mobility and user experience would help the agency stay ahead. He added that the group's digital share in India was three-times that of the market average and it was targeting to become the country's second-largest agency group by the end of 2017.
MEC unveil Wavemaker in China
The WPP agency have launched their consolidated content unit in China, offering services encompassing strategy, social, partnerships and experiential, organic search, and creative.
Touted to simplify content creative processes for customers, MEC Wavemaker was launched globally in April 2016 and is currently available in various markets, including Singapore, India, Germany, and Australia. The new China unit would be headed by MEC's China chief strategy officer, Charlotte Wright, and based out of Shanghai.
MEC China CEO Gordon Domlija said: "MEC Wavemaker will help our clients see exactly what role content can play in their customers' lives and how that will directly impact their brand's performance."
Wright said: "Our approach is data-driven and designed to create content that delivers business results."
WPP open The Store in ANZ
The agency group have launched their global retail practice, The Store, in the Australia and New Zealand markets.
WPP AUNZ said the practice would consolidate their path-to-purchase marketing services for their customers, offering capabilities across channels and touchpoints, including creative, digital and social, store design, logistics, and packaging.
WPP AUNZ CEO Mike Connaghan said: "The shopper path-to-purchase space is rapidly changing; and a range of new options are now available to brands trying to capture the attention of shoppers at different points of their purchasing journey. For many businesses, managing multiple agencies with different areas of speciality within this environment of disruption can prove cumbersome and a drain on resources."
"The Store streamlines this process, offering a bespoke solution to each client, drawing in experts from across any number of WPP AUNZ's agencies to be managed under one central location, and one client contact", Connaghan added.
Headed by CEO Rob Draper, their Australia and New Zealand outfit would be the third global market to offer The Store model, which also was available in the UK and US.
AdAsia unveil Moments in Thai
The ad tech vendor have launched a Thai video site that features both original and curated lifestyle content, called 'Moments', offering the platform free for their advertising customers.
The new site was part of AdAsia's influencer marketing platform CastingAsia, and featured content in Thai and across various categories including fashion, food, and travel.
Advertisers would be able to place video ads, as well as additional images and information, within the video description, and in the similar layout as an article. The site offered traditional video formats as well as drone and 360-degree videos.
AdAsia Holdings' CEO and co-founder, Kosuke Sogo, said: "Our vision for Moments is to turn it into a go-to source for lifestyle videos in Asia and provide marketers and advertisers with an additional platform to engage with their audiences. Localisation is important to our strategy, which is why the content is curated by a team of locals for locals."
Sogo added that current AdAsia Video Network customers would have the option to place their videos on Moments for free.
The ad tech vendor said they planned to launch localised version of Moments in other Asian markets, with the next offering to be unveiled in Vietnam.
TagsAd TechAdvertiserAgencyAPACAudioAustraliaChinaCreativeIndiaMobileProgrammaticTargetingVideo