Mobile Video Ad Demand Expected to Grow in SEA; Amobee Buy Marketing Tech Platform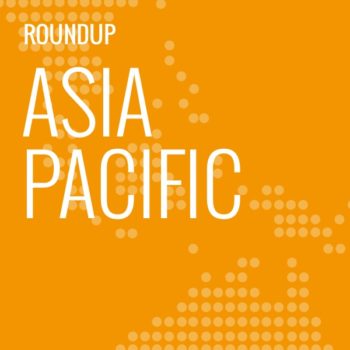 In this weekly segment, ExchangeWire sum up key industry updates on ad tech from around the Asia-Pacific region – and in this edition: Video ad demand expected to grow in SEA; Amobee buy marketing tech platform; Publicis take startup scheme to Singapore & Shanghai; GumGum go to New Zealand; IAB AU focus on measurement & mobile; Dentsu eye Philippine growth with new CEO; and Executive appointments at Tapad & The Trade Desk.
Video ad demand expected to grow in SEA
Some 75% of publishers in Southeast Asia anticipate an increase in demand for video ads this year, amid growing consumption among consumers in the region.
In addition, 25% of advertisers said they would increase their mobile video spend by more than 50%, according to a study by AOL. Retargeting TV ads for mobile devices was a key focus for advertisers in the region, with 21% identifying this as the biggest opportunity for mobile video, while 17% pointed to short-form videos, which were no longer than one minute.
To address the increasing demand, advertisers were producing lighter ads that loaded up more quickly on mobile devices, AOL said. The study revealed that 43% of agencies acknowledged high load times were discouraging them from spending more on mobile video ads.
Some 30% of advertisers and publishers cited the quality of creative as the biggest barrier to mobile video growth.
With growing consumption of mobile video, the ad tech industry should want to resolve any potential issues sooner rather than later.
According to the AOL study, 72% of consumers in Southeast Asia watched online video on their smartphones every day, compared to 60% who did so on a computer, and 28% on a connected TV.
In fact, 55% said they would likely watch more online video in the next six months, compared to the global average of 36%.
Viewers in the region also did not shy away from new media platforms, with 35% watching live video content (such as Facebook Live and Periscope) daily, compared to the global average of 20%. Another 56% engaged with virtual reality images at least once a month, compared to 37% globally, while 66% did likewise with 360-video, compared with 38% globally.
Anita Caras, AOL's head of international research and consumer insights, said: "In many ways, we have sidestepped the big screen to small screen migration here in Asia. Many online video consumers in this region have moved straight to their smartphones for the convenience and constant access.
"That's vital in an area where so much video consumption is linked to social media notifications and shares", Caras added. "It's a huge opportunity for advertisers that can use intelligent targeting to present powerful video creative at vital stages in a consumer's engagement with a brand."
Amobee buy marketing tech platform

The Singtel-subsidiary have acquired global marketing tech platform, Turn, for USD$310m (£248.56m).
The acquisition would broaden Amobee's programmatic and data management capabilities, enabling the Singapore-based ad tech vendor to provide a platform across various channels, formats, and devices. Marketers also would be able to access Amobee Brand Intelligence, as well as data analytics and media planning services, the company said.
Turn specialised in advanced data and analytics tools delivered via a DMP and operated a DSP, which provided programmatic buying capabilities in video, mobile, and display.
Singtel's group digital life CEO Samba Natarajan said: "The strategic acquisition of Turn strengthens Amobee's technological edge in the rapidly evolving market of digital advertising and accelerates their growth into a significant global digital marketing player. It will also prime Amobee for expansion beyond the US and into Asia-Pacific, where the Singtel Group reache some 640 million customers across 22 countries."
Amobee CEO Kim Perell said: "This acquisition makes Amobee one of the largest independent buy-side marketing technology providers globally, boosts our data analytics capabilities and understanding of consumers, and provides a strong foundation for our future growth."
The acquisition was targeted to complete within the first half of the year, subject to the necessary regulatory approvals and market requirements.
Publicis take startup scheme to Singapore & Shanghai
Publicis Media have brought their startup matchmaking programme, NextTECHnow (NTN), to Singapore and Shanghai, which are among four new launch markets.
Led by the agency's global business transformation practice, the programme aimed to pair up clients with startups specialising in mobile, social, data, and content.
Now live in Singapore, Shanghai, Warsaw, and Dubai, NTN previously enrolled more than 100 startups in the UK and kicked off 50 client projects in the past year.
In the programme, startups would be evaluated based on a "three-step capability assessment", according to Publicis. NTN's global lead Jim Kite said: "Our approach resonates because business transformation is no longer just about being digitally ready, but also ensuring brands are testing the latest thinking and technology in real-time, especially where customers are forming new brand relationships."
The programme was slated to launch in another five cities within the first half of the year, including Sydney and New York, as well as an additional six markets by end-2017.
GumGum go to New Zealand
The image-recognition marketing tech vendor have launched their visual web ad platform in New Zealand, partnering Auckland-based Digital Commons to deliver their offerings to local agencies and brands.
GumGum's publisher network in the country, which include Bauer Media and IDG, reaches 1.4 million monthly unique visitors, according to the company, which is expecting this base to grow with their New Zealand launch.
Gum Gum's vice president for Australia and New Zealand, Jon Stubley, said: "Images are the new must-use online currency for brands seeking to cut through with new and creative advertising formats.
"We believe that there is tremendous opportunity for New Zealand brands to drive engagement and performance utilising the power of computer vision technologies", said Stubley, who touted the company's In-Image and In-Screen campaign tools as a way for advertisers to engage audiences "in a non-interruptive and contextual way".
US-based GumGum launched in Australia in March 2016, alongside industry partner, Bauer Xcel Media.
IAB AU focus on measurement & mobile
IAB Australia have highlighted digital metrics, mobile, and trust as key focus areas for 2017, when they also will have three new councils and a new regulatory affairs lead.
Speaking to reporters, executives from the industry group underscored the need for collaboration and for Australia to "lead the way with the transparency of digital currency".
Their research director Gai Le Roy would head the new Executive Measurement Council to drive various aspects of measurement, including strategic planning and analysis. This unit also would oversee another new setup, the Ad Effectiveness Council, which is set up to identify and define the conducive methods for assessing the impact of advertising across different activities. To be launched in March, the new council would look at how digital measurement data could be integrated with other forms of media data to improve cross-media planning and buying.
The newly established Executive Tech Council would look at viewability, ad blocking, ad fraud, and programmatic, and would encompass the existing Video, Mobile, Audio, and Standards and Guidelines Councils. The tech council also would be beefed up to include representatives from the digital ecosystem, including advertisers, publishers, agencies, and tech vendors, said IAB Australia.
They also appointed a director of regulatory affairs, Kamani Krishnan, who would oversee policy and regulatory issues in digital advertising. Armed with a decade of experience in government relations and legal, Krishnan previously was the in-house legal adviser for the NSW Elections' legal team and senior policy adviser at the NSW Property Council of Australia.
Dentsu eye Philippine growth with new CEO
Dentsu Aegis Network have appointed Donald Lim as the new CEO of their Philippine outfit, effective 3 April 2017, when he will replace Angelito Pangilinan, also known as 'BoyP'.
Previously chief digital officer of ABS-CBN, Lim would be responsible for driving the group's media, data, content, and creativity services in the country, which was one of the agency's fastest-growing in the region.
Dentsu Aegis Network's Southeast Asia CEO Dick van Motman said: "We've transformed our business within Southeast Asia considerably with premier capabilities needed to excel and lead within the digital economy, capitalising on the continued economic growth we see throughout the region.
"The Philippines, being one of the fastest growing economies in Asia-Pacific is arguably the best representation of this. It's now time to accelerate our journey and unlock our full potential with next-generation leadership that can move freely between creativity, data, and media", van Motman said.
BoyP would remain in the agency with a non-executive chairman role, where he would focus on industry relationships and training.
Executive appointments at Tapad & The Trade Desk
Cross-device martech vendor Tapad have appointed three new executives, who will drive their Asia-Pacific business out of the Singapore office.
Previously Asia-Pacific managing director for The Trade Desk, Andrew Tu now would lead Tapad's growth in the region, focusing on business development and commercial deals.
Henry Schenker also joined as senior director of global platform solutions, moving from the company's headquarters in New York City to Singapore, where he would serve as technical lead.
Formerly from MediaMath, Isman Tanuri had been appointed Tapad's director of marketing and PR for Asia-Pacific, and would drive efforts in brand-building and communications with agencies, brands, and publishers in the region.
All three executives would report to Asia-Pacific general manager of Tapad's data business, Pierre Martensson.
"Over the last few months, we have encountered overwhelming demand for cross-device marketing solutions from agencies, advertisers, and publishers", said Martensson, adding that the new appointments would provide further support for clients in the region.
Tu added that marketers here recognised the need for a unified view of audiences in a region that had high multi-device ownership. "We are building a device graph that is unique to this region. By doing so, the Tapad Device Graph will be the key enabler for marketers to make more informed buying decisions and to find the audiences who matter most", he said.
The martech vendor also revealed plans to expand into Australia and Japan "in the coming months".
Over in Australia and New Zealand, The Trade Desk have appointed Tom Weaving as their director of business development. Previously Southeast Asia head of platform sales for AOL, Weaving would now work to drive The Trade Desk's growth in the ANZ region.
Ad TechAdvertiserAgencyAPACAustraliaChinaCross-DeviceDataMobileProgrammaticPublisherSingaporeTVViewability