Court Rules in Favour of Adblock Plus; WFA Calls Brands to Change to People-First Approach
by Sonja Kroll on 20th Apr 2018 in News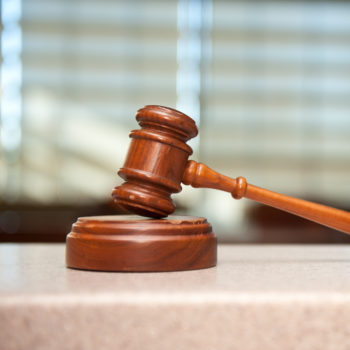 ExchangeWire rounds up some of the biggest stories in the European digital advertising space. In this week's edition: Adblock Plus Victorious Again; Manifesto by the World Federation of Advertisers; Dataxu Announces New Programmatic TV Solution; Slow Growth of UK Marketing Budgets; and SpotX Cooperates with XITE Networks for Programmatic TV.
Adblock Plus Victorious Again
Another landmark ruling settles against German publishers: following a number of legal actions by German publishers such as ProSiebenSat1, Spiegel, and Süddeutsche, Berlin-based Axel Springer Verlag had brought a case against Adblock Plus. The publisher argued that Adblock Plus violates competition laws by preventing publishers from earning money with advertising. Moreover, the publisher criticised the practice of 'whitelisting'. Springer subsequently demanded compensation from the company behind Adblock Plus, Eyeo, for loss of revenue due to ad blocking.
The German court disagreed with the publisher. It upheld previous decisions by other regional courts, which had decided that neither ad blocking nor whitelisting are detrimental to competition.
Reacting to today's verdict, Eyeo commented: "This ruling confirms – just as the regional courts in Munich and Hamburg stated previously – that people have the right in Germany to block ads. It also confirms that Adblock Plus can use a whitelist to allow certain acceptable ads through. Today's Supreme Court decision puts an end to Axel Springer's claim that they be treated differently for the whitelisting portion of Adblock Plus' business model. We are excited that Germany's highest court upheld the right every internet citizen possesses to block unwanted advertising online. As we have since 2014, we will continue to fight for users' rights in Germany and around the world."
The company had already been victorious in two prior cases in the Cologne Regional Court, followed by an appeal in the Cologne Regional Court of Appeals. Axel Springer Verlag has already announced that they will continue their fight against ad blockers and will appeal the verdict in the Federal Constitutional Court.
Manifesto by the World Federation of Advertisers
The World Federation of Advertisers is launching a new manifesto for data transparency that is to go beyond mere compliance with the GDPR coming into effect in May. Calling for brands to adopt a culture of data transparency, the WFA wants to bring together a team of experts to create business practices that follow a 'people-first' approach rather than a 'data-first' strategy.
The WFA wants brands to aim beyond the rules set down in the GDPR and focus on four key areas: create strong data governance, minimise data collection, provide consumers with real control and choice over how their data is used, and to take much more active control of their data supply chain.
A new advisory board is to help brands achieve these goals, and will conduct consumer research to help bridge the gap between regulatory requirement and consumer reality. The findings will be the basis for a new manifesto and a roadmap for change, as well as a toolkit for companies on consumer experience, data governance, and supply-chain management.
"This Manifesto is recognition that a great digital experience is not just about free, fast-loading content and an unintrusive ad experience. Increasingly, it's about people feeling that they have control over their personal information", says Stephan Loerke, CEO, WFA. "Companies should see data transparency as a competitive advantage to building more trusted and meaningful brand-consumer relationships."
Dataxu Announces New Programmatic TV Solution
A new solution by dataxu is aimed at enabling TV content owners to provide audience-based targeting across different screens from a single source of inventory. The programmatic TV platform TotalTV gives media companies access to audience analytics and automation solutions that monetise audiences across all devices.
dataxu says that TotalTV provides global frequency controls across all delivery platforms and devices, forecasting on inventory and audience reach, as well as unified GRP and TRP reporting and other post-campaign analytics across all channels.
TotalTV is a reaction to changing media consumption habits, Sandro Catanzaro, chief innovation officer and co-founder, dataxu, tells ExchangeWire: "There's no such thing as a 'traditional' way of consuming media in 2018. With consumers migrating toward accessing content through numerous devices, media sellers globally feel challenged: ratings are eroding, audiences are shifting, ROI is down. However, what's perceived as a challenge becomes an amazing opportunity; our new solution, TotalTV, enables media sellers to attach advanced audiences to these wandering audiences across all devices."
How does dataxu's offering boost media owners' monetisation efforts? "By allowing them to aggregate disparate sources into one gigantic pool of inventory, which can be targeted with advanced audiences. It helps media sellers to natively control frequency across all devices and create new efficiencies for their advertising partners, while also creating an improved consumer experience for viewers, who will see a reduced ad load. And this new capability is available to media sellers on a self-service basis, as well."
Slow Growth of UK Marketing Budgets
The IPA Bellwether report finds that the first quarter of 2018 has been the slowest in terms of budget growth since 2016. According to the study, challenging market conditions and cost consciousness are affecting budget allocations.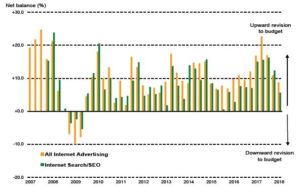 While UK marketing budgets increased during the first quarter of 2018, growth momentum was lost: 22.9% of companies bumped up their marketing budgets, while 17.9% of companies reduced theirs. The growth rate of +5.0% is the lowest recorded by the survey since 2016, down from +8.6% in the previous quarter.
However, internet marketing continues its budget growth. Ad spend rose in Q1 2018 by 8.7%. Mobile ad spend, on the other hand, remained static. The report expects a 0.8% growth for 2018, mostly caused by Brexit-related uncertainties and financial pressure on users. Bellwether expects some of these factors to persist into 2019, with ad spend growth of just 0.4% forecast.
SpotX Cooperates with XITE Networks for Programmatic TV
Thanks to a strategic partnership between SpotX and music television network XITE, the two companies are launching a programmatic advertising solution for linear TV, incorporating advanced targeting capabilities. The collaboration is aimed at media buyers to purchase targeted advertising campaigns for digital TV.
"Advertisers want to reach more specific audiences across all screens and we want to deliver on those targets. What started as a modest step, now seems to be a revolutionary way of purchasing advertising for multiple screens", explains Derk Nijssen, founder and CEO, XITE. "This step is a true evolution from audience-based planning to audience-based buying across the television ecosystem. I'm proud that together with SpotX we have developed an integrated approach from an audience-first perspective that ensures effective and efficient advertising campaigns."
SpotX uses XITE's user-fed algorithms to build audience segments for targeted personalised ads, measurement of audience engagement, and audience-based buying on linear TV.
Ad BlockingAd TechAudienceContentDataDigital MarketingMedia SpendMonetisationPredictionsProgrammaticPublisherRegulationTargetingTransparency