Company details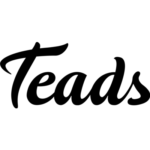 Teads
Categories:

Website:

Email:

Geography:

APAC

EMEA

LATAM

North America

Location:

Specialism:
Company description
Teads, The Global Media Platform, unites and empowers the best publishers in the world to connect advertisers to an audience of over 1.5bn people every month. Teads' made-for-mobile ad experiences deliver attention and guaranteed outcomes across the marketing funnel.  Through its end-to-end platform, Teads provides demand-side, sell-side and creative technology to deliver better media effectiveness for brands, better monetization solutions for publishers, and better experiences for consumers. Teads partners with the leading marketers, agencies and publishers through a team of 750+ people in 26 countries.
---

Press Box

Teads to Create Ad Campaigns in Real-Time at Cannes

Teads Announces Official Launch Into Netherlands Following Exclusive Partnerships With Hearst and Vice Netherlands

Teads Signs Exclusive UK & EEA Partnership with Guardian News & Media for inRead Advertising Technology
Delivering Value!Having worked with Teads extensively across a number of leading brands and sectors over the last year, I have been consistently impressed by the quality of the product, level of client service and business results they have helped me and my clients achieve. A pleasure to work with all around!
Company articles

Overcoming Challenges Within Programmatic & Publishing: Q&A with Pierre Chappaz, Teads