LATAM Ad Market to Reach £34bn; Brazil Has a Quarter of Top100 YouTube Channels
by Gabriela Stripoli on 27th Dec 2016 in News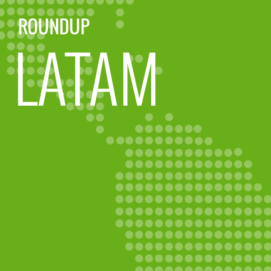 The last LATAM RoundUp of the year brings the following news: LATAM ad market is expected to reach £34.24bn in 2016, according to eMarketer; Brazil has 24 YouTube channels on the list of the top 100 profiles with the biggest impact in audience and engagement, according to Snack; and Brazilian fast food Bob's introduces a 100% digital store, opening new opportunities to get and analyse user data.
Ad market in Latin America to end 2016 close to £35bn
Advertising expenditure in Latin America is expected to surpass USD$42bn (£34,24bn) this year, with solid growth until 2020. The strongest performances of the LATAM ad market are in Argentina, Brazil, Chile, and Mexico.
The forecast comes from eMarketer's recent report, considering data from the end of the year. It also shows TV as the main media for advertising in the whole region. Yet, digital investments are gradually reaching a bigger share, with display being the main format. Overall, in Latin America display formats should attract 50% of the investments, followed by search, with 40% of market share. Brazil is the exception to this ratio, showing display and search equally balanced.
On average, 32% of all digital advertising expenditure was directed to mobile media in 2016. Brazil has the lowest mobile ratio (29.7%) among the Latin American countries. Mexico, on the other hand, has the strongest numbers in this area: more than half of ad investments were directed to mobile this year.
Brazil: 24 of the top 100 YouTube channels
A recent list with the top 100 YouTube channels with the strongest impact on audience made by Snack ad agency highlighted the strong video market in Brazil, relevant at a global scale. The country has 24 channels in the ranking, which considered metrics not only in Google's video platform, but also social media such as Facebook, Instagram and Vine.
According to Snack, the ranking analysed YouTube channels in several attributes measured: engagement, views, number of subscribers, frequency of new videos, channel activities, among others. Then, each channel had a score, varying from 0 to 1000.
The Brazilian YouTube channel Whindersson Nunes is the second on the list, just after the North American Pew Die Pie, followed by another Brazilian: Felipe Neto. In the top 10 there is also a third Brazilian YouTuber, Rezende Evil, coming in ninth on the list.
The list was made in October and the following YouTube channels made into it: Nostalgia (11º), Você Sabia? (21º), Coisa de Nerd (23º), Invento Na Hora (27º) e Porta dos Fundos (35º). Além desses, aparecem na lista Desce a Letra (37º), T3DDY (38º), CELLBIT (45º), Mr Poladoful (50º), Eu Fico Loko (53º), Luba TV (56º), AM3NIC (57º), Mussoumano (66º), Gameplay RJ (68º), Kondzilla (69º), Flavia Calina (72º), Matei Formiga (77º), Everson Zoio (84º), Authentic Games (85º), BRKS Edu (86º), Treta News (88º).
Brazilian Fast Food Bob's launch 100% digital store
The Brazilian fast food chain Bob's launched their first 100% digital store, in Rio de Janeiro. Customers can order their food using a specific mobile app, or using digital tokens on site. Payments can also be done in the mobile platform, using MasterCard's Masterpass — and consequently opening a new opportunity for data.
"Our clients are searching convenience, agility, and customisation when buying and this is what we want to deliver in our digital store. They can order without leaving their table", said Marcello Farrel, general manager, Bob's.
TagsDisplay