Wunderman Acquires Pmweb; Dentsu Aegis Network Buys Chilean Veriplan
by Gabriela Stripoli on 9th Jan 2017 in News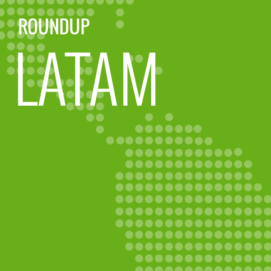 In this week's Latin American RoundUp: the year starts with acquisitions in the market. WPP's Wunderman announced the purchase of Brazilian digital marketing company Pmweb; Dentsu Aegis Network acquired the Chilean company Veriplan; and Havas Group completed the acquisition of the Argentinian Intellignos to expand DBi in Latin America. Also, in the publisher's solution area, Grupo Estado's Planeta Digital sets a deal with Reach Local in Brazil.
WPP's Wunderman acquires Pmweb
The year has just started with an acquisition reinforcing WPP's expansion plans in Latin America. The media group's subsidiary Wunderman have acquired control of the Brazilian digital marketing company Pmweb.
Pmweb are specialised in cross-channel campaigns management and have been working with digital marketing in Brazil for 20 years. Their offices in Sao Paulo and Porto Alegre do several jobs in the data intelligence area, with big local companies in their portfolio: the beverage giant Ambev, the cosmetic company Avon Brazil, airline company Azul, and fashion business Animale.
The acquisition deal establishes that Pmweb will still operate independently. Pmweb's founder, Tárik Potthoff, remains as the CEO and leader of the operations.
According to Wunderman Brasil, the goal of the deal is to intensify the operations in the retail sector, in a moment of "market transformation focusing on accuracy and results".
Dentsu Aegis Network acquire Chilean Veriplan
Dentsu Aegis Network also started the year with acquisitions in Latin America by buying the Chilean agency Veriplan. The company is now part of Vizeum, which will soon be launched in Chile, expanding Dentsu's solutions in the country and neighbour markets.
Veriplan was founded in 2012 as part of Veritas creative group, which have been operating in Chile since 2005 focused on media planning, digital communication, and outdoor media. The agency have big multinationals in their portfolio, such as Toyota Chile.
Patricio Cerda remains with Veriplan's leadership, now under the position of general manager, Vizeum Chile.
Claudia Colaferro, president, Dentsu Aegis Network Latin America, said in a statement that the purchase is a "natural choice", given the good performance of Veriplan locally. She also emphasised that the deal is part of the Vizeum strategies to grow in the region, in a competitive and increasing market.
Havas Group expand DBi in Latin America with Argentinian acquisition
Not over yet: third acquisition in Latin America in the first week of the year. Havas Group holdings have announced the full acquisition of Intellignos, an Argentinian big data analytics agency. The negotiations started in 2012, when Havas Group purchased 20% of Intellignos.
Intellignos now is part of Havas Group DBi, the consulting data intelligence branch of the group aiming to draw strategies with data technologies. It's worth mentioning that DBi was founded in Europe in 2006, but also offers services in Argentina, Colombia, Chile, Colombia, and Mexico — with goals to start operating in Brazil until the end of the year.
Rob Jackson, one of DBi's founders, steps in as global general manager. Juan Manuel Damia, founder and CEO, Intellignos, will be in charge of Havas Group DBi in Latin America.
Brazilian Planeta Digital join forces with ReachLocal
Planeta Digital, part of Brazilian publisher Grupo Estado in Brazil, closed a deal with American ReachLocal, which is part of Gannett Group. The agreement brings Reach Local's digital marketing solution to Planeta Digital's portfolio and vice-versa.
One of the goals is to grow the companies' combined client base, currently reaching 6,000 small and medium businesses, by 30% in the first year. "Accessing these services is a great development for the Brazilian market. Thirty years ago we started by offering marketing services to smb. Now, there are many other opportunities", said Francisco Mesquita, director and president, Grupo Estado, in a statement published on their main media website, Estadão.
Mesquita is part of one of the most traditional media families in Brazil, with a strong tradition in print media.
ReachLocal, on the other hand, has been operating in Brazil since 2012 and aims to expand new business models integrating audience, targeting, and online and offline models.
TagsDisplay