Ad Investments Fall by 1.6% in Brazil; IMS & Snapchat Expand Deal in LATAM
by Gabriela Stripoli on 20th Feb 2017 in News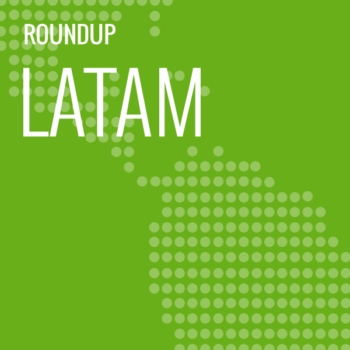 This week's LATAM RoundUp brings the following news: even though digital ad investments have reached £1.47bn in Brazil, the overall ad spend has fallen by 1.6%; IMS and Snapchat's deal to trade ads on the social media platform is now expanded beyond Brazil into three other markets: Mexico, Argentina, and Colombia; Accenture Interactive have a new director for South American Hispanic markets; and Zoomin.TV launch their content recommendation platform in Brazil, with local deals with +500 local YouTubers.

Digital ad spend reaches £1.47bn in Brazil; overall ad market decrease
Even though TV still receives the majority of investments from the ad industry in Brazil, Kantar Ibope Media's latest data calls attention to the R$5.7bn (£1.47bn) invested in digital media advertising last year. The numbers were released as an anticipation to their 'Retrospective and Perspectives 2016' report, which will be fully published in March.
The ad investments figure considers only search, display, and desktop ads traded directly by publishers and, despite the great figure, total ad spend in Brazil actually decreased by 1.6% in 2016 — when comparing to the investments one year before, summing up R$129.9bn (£33.69bn). Kantar Ibope Media suggests that the downturn should not be considered a big loss once mobile, video, and programmatic are driving investments in the area.
IMS & Snapchat expand deal in Latin America
The deal between Internet Media Services (IMS) and Snapchat in Brazil was expanded to Mexico, Argentina, and Colombia. The contract establishes the IMS as responsible for trading ads on Snapchat's platform.
IMS brings to those three new markets different ad formats: snap ad, a vertical full-screen video with audio up to 10 seconds; sponsored lenses, asking users to apply visual and audio branded filters; and sponsored geo filters, which are enabled in certain locations.
During the tests months in Latin America, IMS have managed 80 campaigns in Latin America from 50 advertisers, such as Unilever and Coca-Cola in Brazil, and Samsung in Mexico.
In a press statement, even though IMS did not disclose many numbers, the company mentioned that reports are "impressive" and the results were exciting to the team, emphasising engagement and mentioning that, when users activate filters, they are actively interacting with brands.
Accenture Interactive introduce Ezequiel Arslania, director, South American Hispanic markets
Ezequiel Arslania is the new director for South American Hispanic markets at Accenture Interactive, the digital branch of the company. He will be responsible for leading brand development and the positioning of Accenture Interactive in the region, while leading the regional digital marketing team.
Arslania has 20 years of experience in the advertising industry, having worked for McCann, Ogilvy, and J. Walter Thompson agencies. In the latter, he accumulated international awards.
Arslania was also general manager of Ogilvy Argentina, where was also leading OgilvyOne.
Zoomin.tv launche Multiplatform Network video in Brazil
Zoomin.TV announced that their Multiplatform Network (MPN) is now available in Brazil, including 500 digital influencers in the country on YouTube. According to the company, they sum up more than 30 million subscribers and 300 million monthly views.
MPN is their content recommendation system, which aims to increase online video channels by promoting the content among digital influencers' audience, content curation, and ad trading. They also integrate with 100 publishers associated with Zoomin.TV.
In one month, Zoomin.TV's MPN has operated campaigns by Brazilian banks, such as Caixa, Banco do Brasil, Itau, and multinationals such as Petrobras, Ferrero, and GM.