Digital Soon to Be a Third of Brazilian Ad Market; Él Gráfico Joins RPA Media Place
by Gabriela Stripoli on 3rd Apr 2017 in News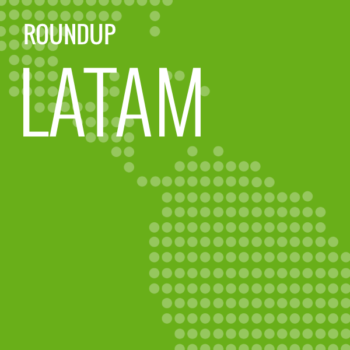 This week's Latin American RoundUp brings the following stories: latest IAB Brazil report shows that the Digital Ad Market surpassed all forecasts in 2016, reaching 26% year-on-year growth and is now expected to represent a third of the overall ad market by the end of the year; sports publisher Él Gráfico joins Argentinian publisher co-op RPA Media Places; Criteo reveal that almost half of online transactions in Brazil occur with at least two devices; and, finally, Marina Cunha joins Boo-box/ftpi as CEO and the company will focus on their international expansion.
Digital media: a third of ad market in Brazil by the end of the year
Overall, the ad market felt the economic downturn in Brazil strongly. On the other hand, the digital ad market is celebrating the opportunities with it: in 2016, digital ad expenditure reached R$11.8bn (£3bn), a 26% year-on-year growth, according the the most recent report unveiled by IAB Brazil, "Digital Ad Spend 2017". The results were way above the 12% expected growth that the institute had projected.
This year, IAB Brazil expects the digital ad market to keep up with the pace, reaching R$14.8bn (£3.77bn), and finally representing a third of the entire advertising market in the country. IAB Brazil have interviewed advertisers, publishers, ad networks, and agencies, as well as analysed data from other researchers — including ExchangeWire.
For the first time, Digital AdSpend also brought numbers of the programmatic market in Brazil: highlighting that programmatic display represents 16.5%, or R$1.9bn (£485m), of the overall ad digital investments.
Speaking to ExchangeWire, Cristiano Nóbrega, president, IAB Brazil, said: "We saw in 2016 an accelerated growth, which justified its segmentation inside the digital market, reaching R$19.bn – this number does not consider search, social, and YouTube investments. We expect more programmatic adoption, with increased investments and technology in 2017".
Nóbrega also emphasised that it's necessary to look to the overall context to understand the outstanding performance. Firstly, the market getting more mature: "Digital is already a reality and it has definitely entered the media plans of companies." Secondly, the crisis moment that Brazil is going through is similar to what happened in other countries, such as the United Kingdom in 2009, when advertisers looked for ways and alternatives to reach their business goals despite the economic downturn. This way, digital investments became appropriate to meet the market's demands.
In terms of media formats, video got on the spotlight: R$2.2bn (£561m), or 19% of the market. Comparing to the data collected two years ago, in 2015, its share more than doubled. Search still has the highest stake, with R$5.7bn of investments (£1.45bn), followed by Display and Social, with (R$3.8bn or £970m).
Él Gráfico joins Argentinian Publishers Co-op RPA
Él Gráfico, the sports website part of Torneos, has joined the publisher co-op Real Premium Audiences Media (RPA Media Place). The alliance, which big local names such as Clarín, Infobae, La Nación, Perfil, and Telefe are already part of, will now reach a broader audience – according to El Gráfico, the website grew their audience by 152% last year.
"The incorporation of El Gráfico reinforces our value proposition, on which we have been working for past two years, almost. It's a reference in sports media in Argentina and it enriches our proposals to clients, offering exclusively premium environments and is truly brand safe", said Alejandro Álvarez, CEO, RPA Media Place.
Almost half of online transactions in Brazil occur on two devices, says Criteo
In 2015, 45% of online retail transactions in Brazil happened after the user had browsed in two ormolu devices. Data comes from Criteo's "Ecommerce in a Cross Device Era", which considered the entire consumer journey, from the research to the actual transaction.
Of all the desktop transitions, 23% started on smartphones. Alternatively, 44% of mobile purchases started on desktop. Criteo also reveal that almost 25% of online purchases in Brazil happen via mobile, a 26% growth.
The whole report analysed 1.7 billion online transactions of more than 3,300 e-commerce companies in the entire world.
Boo-box/ftpi presents Marina Cunha, CEO
The Brazilian boo-box/ftpi announced Marina Cunha as their new CEO, who leaves the lead of commercial operations for Record TV in Brasília to lead the ad tech in Sao Paulo.
The consolidation of Cunha in the leading position happened one year after boo-box was acquired by FTPI Digital. The executive has experience in digital media, when she worked for FTPI in Brasília, from 2008 until 2014.
Guga Mafra, who was occupying the CEO position until now, will remain as a shareholder and will focus on the international expansion of the company, being part of the company's advisory board. Boo-box/ftpi has recently opened an office in the United States, also working to bring international platforms to the country and trade publishers' ad spaces internationally.