Third of Digital Media Investments Goes to Mobile in LATAM; Criteo Launch Sponsored Products in Brazil
by Gabriela Stripoli on 8th May 2017 in News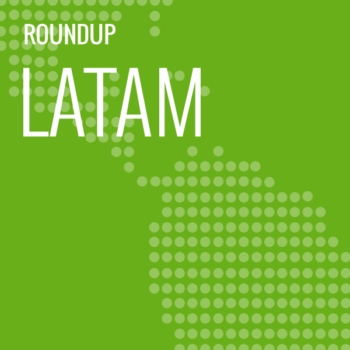 In this week's roundup: Logan's latest report shows that 32% of digital investments in Latin America are directed to mobile, and with full screen banners and pre roll at the top of the list of most used formats; Criteo launch their sponsored products in Brazil; and ROIx's video platform TVxtender expands their portfolio with four new formats available for their clients in Brazil.
A third of digital media investments in LATAM goes to mobile
Almost a third (32%) of investments in digital media in Latin America is put in mobile media, according to Logan's latest report released last week, based on 2016 data. Even though the exponential growth of the ad market has still a large part directed to television, the report highlights new formats that will gain space until 2020.
Full-screen banners on mobile media had the highest investment in 2016, with 36% of market share. The second format in the digital ranking was pre roll, with 15.52%. Also, according to the report, 60% of the Latin American traffic in videos come from mobile media. Finally, rich media completes the top-three digital formats, in terms of investment, with 11.74% of share.
The list also mentions standard ads (11.42%), overlay (10.79%), notification ads (6.22%), native ads (4.53%), and sticker ads (1.17%).
The report also released that communications was the sector that invested the most in digital media, with 27.56%, followed by retail (21%). Online shopping was the area with better CTRs, 8.25%, and interaction rate of 13%.
Criteo launch sponsored products in Brazil

After launching their Sponsored Products in the United Kingdom, United States, France, and Germany, Criteo now make the offer available in Brazil. The service is focused on consumer brands, tracking users through the funnel in paid campaigns, such as common practices by Google and Amazon.
According to Criteo, the solution can bring extra revenue with advertising for retailers, whereas brands gain awareness of the consumer journey, using ROAS reports and advertising ROI. "Advertisers pay by click, and once those clicks are linked to real purchases it is possible to know precisely how many products were sold online through the campaign", said Fernando Tassinari, managing director, Criteo Brazil.
TVxtender include outstream, pre-roll, post-roll, and mid-roll ad formats
Video platform TVxtender announced four new formats now available in their portfolio in Brazil: out stream, pre-roll, post-roll, and mid-roll ads, all both in desktop and mobile platforms. ROIx's video platform company took the opportunity to emphasise their technology to collect, organise, and relate user data coming from several sources.
"The more formats and platforms in the market, the better. In mobile ads, we recommend videos up to 15 seconds in all these formats in order to have a more positive experience and generate positive impact", commented Sérgio Kligin, director, ROIx.