Clear Channel & In Loco Media Close OOH Deal; Cazamba Expands to LATAM Countries
by Gabriela Stripoli on 7th Aug 2017 in News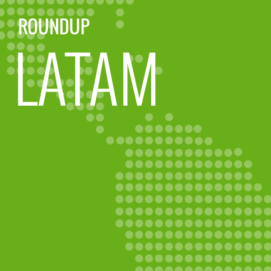 This week's Latin American Roundup brings the following stories: Clear Channel and mobile ad company In Loco Media close a deal to integrate their solutions in out-of-home campaigns in Brazil; Cazamba expands operations in Latin America with offices in Miami, also considering the North American hispanic market; Teads and Webedia close partnership in Brazil in the ad tech's seventh exclusive deal this year in the region; and SimpleAds ad network launches their operations in Brazil after raising around £730,000. 
Clear Channel & In Loco Media close deal in OOH
Clear Channel and the Brazilian mobile ad company In Loco Media announced a deal to reach audiences using Clear Channel's out-of-home media in Rio de Janeiro, Brazil.
The deal will enable their audience to open apps on their smartphone in 100 digital panels operated by Clear Channel, part of In Loco Media network, and be redirected to the brands' special campaign pages. Currently, Globo TV Broadcaster is already using the joint solution to advertise their new TV series, 'Sons of the Nation' (Filhos da Pátria, in Portuguese).
"On one hand, we have In Loco smartphone network, 55 million devices in Brazil. On the other hand, out-of-home media, which reaches 88% of reach. Together, we offer those solutions companied for more creative campaigns", said André Ferraz, CEO, In Loco Media.
Lizandra Freitas, CEO, Clear Channel, emphasises the multi-screen approach, which has increasingly become important for local marketing activities. Yet, it is worth pointing out that Clear Channel has terminated their outdoor activities in many cities in Sao Paulo states, so that the company can apply their efforts in digital businesses.
Cazamba expands operations in Latin America
The Brazilian ad tech Cazamba started their operations in Latin American marketing, forecasting that international revenues will represent 10% of their total revenues by the end of the year, and 40% by the end of 2018.
"We have identified a unique opportunity in the Latin market and haven't noticed any obstacle for that to happen. The creativity in advertising is the main characteristic of the Latin American market, and we are able to provide a unique tool for this market", said Victor Canô, CEO, Cazamba. The company is offering programmatic solutions to the international market, even though in non-standard IAB formats.
Companies such as Siemens, Motorola, and LG have already signed contracts, and they expect to reach 20 more contracts in 2017. Cazamba also is studying the hispanic market in the United States, led by their office in Miami, which is already operating.
Teads & Webedia close deal in Brazil
The ad tech Teads announced a exclusive format in a deal with Webedia Brazil. Since July, the French group is now part of the publishers in Brazil which offer the outstream format on their platforms. The deal puts the main Webedia channels in Brazil, such as AdoroCinema, IGN, TudoGostoso, PurePeople, and PureBreak websites, in Teads' inventory in entertainment, games, and food categories.
Renato Paiva, commercial & marketing vice president, Webedia Brazil, highlights that the investments made by the company in the country two years ago are paying off, positioning themselves as premium publishers with editorial quality content locally. "Our content is now reference for Brazilians, and having this partnership with Teads is a way to provide a new advertising format for our users, focused on their experience."
This is the fourth exclusivity deal negotiated by Teads in Brazil this year. The company wants to keep expanding this format in Latin America, parallel to programmatic media. "Future exclusive deals with new publishers will allow Teads reach more than 100 monthly unique users", forecasted Luis Resola, publisher director, Teads Latin America.
SimpleAds ad network debuts in Brazil
The new ad network SimpleAds launched their business in Brazil, with R$3m (£734,000) investment. Guilherme Carvalho, CEO, and Anderson Bitolo, CSO, are leading the business, which already has some big clients such as Universal Pictures and General Motors in their portfolio.
The ad network has launched commercial operations in seven Brazilian states and expects to conquer a portion of a growing local digital market. "Our differential is exclusive ad formats and partnerships with around 500 local publishers in different areas such as entertainment, fashion, technology, healthcare, education, games, and sports", said Bitolo.
TagsDisplay