ATS London 2012

Dr. Boris Mouzykantskii, Founder, Chief Executive Officer & Chief Scientist, IPONWEB

One of the pioneers of the real-time trading technology space, Dr. Boris and the growth of his company IPONWEB, parallels the development of the ad-trading industry. From their early remotes as the key development partner in the Right Media Exchange, today IPONWEB provides the technology that powers more than 40 Trading Desks, DSP's, SSP's and DMP platforms globally.
Dr. Boris's background uniquely encompasses success in both academia and business. In his early career, he held research and lecturer positions at both Cambridge and University of Warwick, where his research in the field of Theoretical Physics is well cited. Attracted to the software space, Dr. Boris founded IPONWEB in 2001, applying his unique perspective on computational problem solving and probability modeling to the online advertising technology space. Today, as Chief Scientist, he continues to perform a critical lead role in IPONWEB's flagship probability modeling, prediction and optimisation technologies.
Neal Mohan, VP of Display Advertising, Google

Neal is responsible for Google's display advertising initiatives globally. This includes the Google Display Network, AdSense, Ad Exchange, AdMob, Invite Media, Admeld and our suite of DoubleClick products. His efforts have focused on growing the overall industry by bringing innovative products to Google's advertiser and publisher partners. Prior to joining Google through the DoubleClick acquisition in 2008, he was senior vice president of strategy and product development at DoubleClick, building the company's strategic plan, leading the product management team in its execution, and growing the business rapidly. Previously, Neal held various leadership positions at DoubleClick and NetGravity in technology development, business operations, and client services. In this process he played a key role in pioneering the digital marketing industry. He has also served in strategy and consulting roles at Microsoft and Accenture.Neal has an MBA from the Stanford Graduate School of Business where he was an Arjay Miller Scholar. He also has a bachelor's degree in electrical engineering from Stanford University.
Mike Nolet, CTO & Co-Founder, AppNexus

Mike oversees the Engineering and Technical Operations teams, having helped design the AppNexus system that handles over 25 billion ad requests a day. Prior to founding AppNexus, Mike was Director of Analytics and Product Manager at Right Media (acquired by Yahoo! for $850MM in July 2007), where he designed and managed key applications, including predictive optimization, inventory forecasting, and Media Guard, which protects publishers from harmful or unwanted ad content.
Mike's deep understanding of the intersection between business needs and technology innovation began at 15, when he sold his first software application, and continued at Princeton University, where he studied Economics. On his popular blog, MikeOnAds, Mike analyzes the fast-changing display ad management and buying space, and the dynamic interplay between ad networks, ad exchanges, real-time bidding and the entire ecosystem.
Follow Mike: MikeonAds.com
Frank Addante, Founder & Chief Executive Officer, Rubicon Project

As CEO and Founder of the Rubicon Project, Frank oversees the company's strategic direction and execution.
Frank is an early pioneer of online advertising technology and a successful entrepreneur, having founded five companies with a combined market value of more than $1 billion. In 2002, Frank founded the email infrastructure provider StrongMail and led the company to market leadership in less than four years. Prior, Frank was CTO and technology founder of L90, an internet advertising company, where he pioneered one of the Internet's first ad serving platforms. L90 was acquired by DoubleClick following a successful $112 million IPO. Frank started his internet career with the creation of Starting Point, a search engine that was ranked the 8th most popular site on the Internet in 1997 and was acquired by CMGI.
In 2011, Frank was named Ernst and Young Los Angeles Entrepreneur of the Year. Frank is an avid snowboarder and enjoys morning runs on the beach. He is an active Board member of CASA, a non-profit focused on helping abused and neglected foster children.
Follow Frank on twitter @FrankAddante or read his blog: http://www.founderblog.com/
Anthony Rhind, Co-CEO, Havas Digital

Anthony is the co-Chief Executive Officer of Havas Digital, the interactive network of Havas Media. As Havas Digital co-CEO, Anthony leads the Group focusing the efforts on client services, product development and new initiatives in 8 regions: North America, LatAm, APAC, Middle East, and Southern, Northern, Central, Eastern Europe.
Previously as Chief Strategy Officer for Havas Digital worldwide, he was responsible for the media service delivered across the Havas Digital networks, leading a senior team to focus on driving service quality, intelligence gathering, knowledge share plus research and insight process. During this time Havas Digital became the world's third largest digital media group and has consistently been present at the major interactive media festivals, winning over 100 awards worldwide throughout the past two years.
Anthony holds an MSc in Media Business from Stirling University & a BA from LondonUniversity. He also attended the two year General Management Programme at CEDEP, within INSEAD. Anthony lives in London with his wife and three children.
Erich Wassermann, Co Founder & GM, EMEA, MediaMath

From MediaMath's EMEA headquarters in London, Erich leads MediaMath's sales and technology adoption in EMEA. Erich works with new and existing clients as well as media and data suppliers to create ever more scalable technology solutions. It is on the basis of these solutions that MediaMath's proprietary TerminalOne platform enables clients the greatest possible ROI on media investments. Erich earned a BA degree with concentrations in political science, philosophy and classical piano from the University of Virginia. After university, Erich worked at the Foundation for Individual Rights in Education, a national US civil liberties organisation based in Philadelphia, as director of development and then as executive director. Erich then went on to co-found Hope For Vision, an organisation devoted to finding treatments and cures for blinding eye diseases. Erich then leveraged his knowledge of constitutional rights and nonprofit fundraising to fuel his career in online advertising technology. This proved to be about as easy as it sounds.
In 2005, prior to co-founding MediaMath, Erich was executive director of media solutions at [x+1], where he worked with a team of entrepreneurs to found a new and lucrative arm of the company, Media+1, which still thrives today. A U.K. citizen, Erich moved back to London from New York City in January 2011.
Sean Cornwell, MD, eHarmony

Sean Cornwell is MD for online dating company eHarmony's international markets (UK, Japan, Australia, Brazil) as well as the company's investment in European online dating site eDarling. Sean also spent eight months (June 2010 – Feb 2011) as head of the company's North American business. Before joining eHarmony, Sean spent three years with Google as Group Product Marketing Manager EMEA where he led product marketing for monetisation products across Europe. He was
also the founder and CEO of DM Europe, a B2B technology news provider that harnessed the power of volunteer writers from across the world.
He holds a BA in Political Sciences from Cambridge University and an MBA from INSEAD. In 2007, Sean co-founded an environmental charity, EarthFireIce geared towards individual action on climate change. As part of that, he ran two marathons – in the Sahara and North Pole - and made a 30minute TV documentary which has been shown on UK cable TV.
Curt Hecht, Chief Global Revenue Officer, The Weather Channel Companies

Curt Hecht joined The Weather Channel Companies after 20 years with Publicis Groupe, most recently as CEO of the VivaKi Nerve Center in Paris. In this newly created role, Hecht is responsible for the overall strategic definition and management of TWCC's international business. He also leads digital and cable ad sales revenue generation, including all aspects of sales operations for the company's category- leading digital products such as weather.com, its category-leading mobile and tablet apps, and The Weather Channel, which is the most-distributed cable network, available in more than 100 million homes.
Prior to VivaKi, Curt was Chief Digital Officer at Starcom MediaVest Group (SMG), a subsidiary of Publicis Groupe.
In 2007, Hecht was named an Ad Age Media Maven and OMMA All-Star, and in 2008, Mediaweek recognized him as a Media All-Star for work in the digital space. He is the former Chairman of the AAAAs advanced video committee and an advisory board member for Ad China. He also serves as a member of the World Economic Forum Technology Pioneers Committee.
Nerissa MacDonald, Director of Trading EMEA, Mediamind

Nerissa is responsible for product development and revenue generation for the Smart Trading DSP platform across 5 markets. In her previous role at Adnetik, the Havas Agency trading desk, she she set up the London office and personally secured £1million sales revenue in the first 6 months of operation.
Before this, Nerissa held senior sales management/director level positions at behavioural targeting ad network Blue Lithium and Adconion Media group.
Brian Fitzpatrick - Managing Director, Europe, Adap TV
Brian has been helping brands take their first steps in online advertising since 1997 when the medium was in its infancy. He is most notably known for leading the European division of The MIG (Media Innovation Group), a WPP Digital company, from start-up to one of the world's most successful agency technology businesses.
Brian is charged with leading the growth of agency, ad network and publisher partnerships for Adap.tv, as well as the management of operations across all European markets.
Fabien Magalon, Managing Director, La Place Media

Fabien Magalon has over ten years' experience in online advertising and began his career in 2001 as Media Buyer for the UK subsidiary of the US advertising company Advertising.com. He worked from London on the creation and expansion of the French subsidiary in 2002. In November 2003 he was promoted to Media Director for Advertising.com France, based in Paris. He joined TradeDoubler France in August 2006 as Director of the Publisher Unit tasked with strengthening and developing the network of publisher partners. A year later, he was named Operations Director, France, Germany, Italy, Spain and the Netherlands, for the DRIVEpm advertising network (now part of Microsoft Media Network).
In 2008 he took over as head of the EMEA Region for the Microsoft Media Network business unit. Since 2010, Fabien was Publisher Development Director at Rubicon Project in France.
Fabien, 34, is a graduate of Ecole Supérieure de Commerce et de Management in Bordeaux.
Brad Terrell, VP & General Manager, Netezza & Big Data Platforms, IBM

Brad Terrell is responsible for maximizing the value that IBM's Netezza and Big Data Platforms deliver for clients globally.
Prior to joining IBM through the Netezza acquisition, Brad launched and grew Netezza's digital media business into the largest of Netezza's five vertical business units. Before joining Netezza, Brad led digital media initiatives at Endeca and helped fuel the firm's rapid growth from $10M to over $100M in annual revenue by penetrating new markets with innovative product solutions, partnerships, and strategic sales. Prior to Endeca, Brad helped design and launch products including the Spyglass Mosaic web browser, IBM PowerPC microprocessor, H&R Block online investing website, and FlightSafety International's FAA Level C-certified flight simulators.
Brad's entrepreneurial experience includes co-founding and serving as president of ElectricWish.com, ranked among the top 5 e-commerce sites on the web by ZDNet in 1999, and M-Nova, a pioneer in product development outsourcing to Eastern Europe.
Brad holds an MBA from MIT Sloan and a computer science degree from Rice University. Visit Brad's blog at: http://datadrivesmedia.com.
Andy Mihalop, Head of Digital, Moneysupermarket

In his role as Head of Digital, Andy is responsible for media systems, RTB display and data monetisation for one of the largest UK price comparison websites. Andy has been instrumental in helping Moneysupermarket develop one of the first brand trading desks for the UK finance sector.
Prior to joining Moneysupermarket.com Andy was Head of Search for global performance marketing agency, iProspect, Head of Search at digital agency ilevel and Director of Strategic Services at Doubleclick Performics, fulfilling an International search strategy and technology role.
Andy has worked on digital strategy for some of the world's largest brands including Hewlett Packard, Nokia, Adidas, Orange, Disney, Johnson & Johnson and Procter & Gamble.
Kirby Winfield, Senior Vice President, Corporate Development, comScore

Kirby Winfield has been a leader in online publishing and advertising since 1996. He is currently the Senior Vice President, Corporate Development, for comScore. Most recently, Kirby served as President and Chief Executive Officer of AdXpose, which was acquired by comScore in August 2011. Before AdXpose, Kirby operated Ascend Solutions, a consultancy to startups and venture capital firms.
Additionally, Kirby was on the founding team and served as General Manager of publishing and content for Marchex (MCHX), and prior to that, was responsible for all corporate, brand, and product marketing at Go2Net (GNET).
Kirby was also a Board Director of SharperAgent, LLC, which was acquired by Market Leader (LEDR) in 2011, and invests in and advises a number of online media startups. Kirby speaks regularly at industry events, and was recently a recipient of the Puget Sound Business Journal's "40 Under 40" award.
Gustav Mellentin, Co-Founder & CEO, Adform

Gustav Mellentin is a co-founder of Adform and has been CEO of Adform since the company was founded in 2002.
Prior to founding Adform, Gustav worked as a Management Consultant at Bain & Company in Stockholm and held the position of Senior Analyst with Nordea Markets, Copenhagen, specializing in the development of mathematical models fort he pricing of structured financial products.
Gustav holds an MBA from IMD (International Institute for Management Development) and an MSc in Engineering from the Technical University of Denmark. Gustav has been based in our London office since 2009.
Dr. Martin Enderle, Senior Vice President Personal & Networking, Deutsche Telekom


Dr. Martin Enderle is Chief Executive Officer of the Scout24 Group. In addition, he heads the internet business of Deutsche Telekom AG as Senior Vice President Personal & Social Networking. Martin Enderle joined Deutsche Telekom in 2001 as Senior Vice President (SVP) International Business at T-Online. Under his leadership, the group's mobile services division expanded substantially through organic growth and acquisitions, including the milestone take-over of the Scout24 Group with its brands AutoScout24, ImmobilienScout24, FriendScout24, JobScout24 and FinanceScout24. Having overseen the successful integration of Scout24, Martin Enderle assumed the role as CEO of this unit, developing it into its current market-leading position. From 2008 till beginning 2010, he was also CEO of Immobilienscout24. Present in 18 countries and visited by over eight million unique users per month Scout24 today is one of the leading online companies in Europe.
Martin Enderle started his career as a research fellow in mathematics at Hanover University, spent five years with McKinsey & Company as a consultant specializing in the automotive and telecommunications industries, and founded the German operations of the international venture capital firm Speed Ventures before joining Deutsche Telekom. Today, Dr. Martin Enderle is one of the most highly profiled executives and experts in the field of internet services and new media.
Gavin Deadman, Digital Marketing Manager, PKR.com


Since joining PKR.com as Digital Marketing Manager in 2011, Gavin has migrated the digital media planning and buying function in house and implemented various technology platforms with a data driven strategy being at the heart of optimisation.
Prior to this role, Gavin worked at some of the world's largest media agencies including MediaCom, MEC and Diffiniti as well as holding marketing roles at BCA and King.com.
Jon Slade, Commercial Director, Digital Advertising, Financial Times

Jon Slade is the Commercial Director, Digital Advertising for the Financial Times with overall responsibility for global advertising revenues and commercial advertising development for FT.com, howtospendit.com and the FT's mobile products. Previously Slade ran the FT's global creative solutions unit – the Strategic Sales Team – which he created in 2007.
Jon Slade joined the FT in 2002 as Technology Client Manager working with European Technology and Telecoms clients. He left the FT in 2005 to join News International, and returned to the FT in 2007.
Slade has a background in client sales within the technology advertising sector and has previously worked for Fairfax, both in London and Sydney.
Phil Macauley, EU Managing Director, Quantcast


Joining Quantcast in May 2010, Phil Macauley is the company's first European Managing Director and is responsible for leading its operations and expansion in the UK.
Phil has worked in the online advertising industry for more than ten years, playing key roles at Yahoo!, including Agency Sales Director, Head of Publisher Partnerships and Director of Business Development and Commercial Relations.
He provides Quantcast with an in-depth knowledge of the market and offers essential insight into the needs of buyers and sellers. Combining this expertise with a full technical understanding of digital and real timemedia also ensures that buyers benefit from the full potential of the new digital advertising landscape.
Josiah Amarty, Senior Online Marketing Manager, Virgin Media

Josiah is responsible for online acquisition across Display, Affiliate & PPC for Virgin Media & Virgin Mobile.
Josiah has an agency background and prior to working with Virgin Media, Josiah most recently worked for OMD UK where he led the Post Office & hmv accounts, winning NMA Effectiveness awards for both advertisers.
Chris Stark, Product Director, Infectious Media

After several years working in databases and infrastructure as a technology consultant with IBM and PricewaterhouseCoopers, Chris joined the ranks of digital media where he has straddled the technical and commercial aspects of the industry for the last eight years.
Chris held senior operational roles at Advertising.com/AOL, before moving on to work with emerging data propositions as MD of Lotame UK and later VP of New Product EMEA at Videology.
Sam Watts, Associate Director, Data & Analytics, Starcom Mediavest Group 

After graduating with a degree in Economics from the University of Surrey, Sam spent two years working in economic research within investment banking and hedge funds.  After deciding that media was a much more interesting place to use his analytical skill set, he joined SMG as an analyst six years ago, moving up through the ranks to the position of Associate Director.
Sam has two key roles within The Analytics Practice. Firstly, he leads the econometric analysis department, delivering projects across a large range of across Europe. Secondly, he leads the global development of Pathfinder™, SMG's  approach to online click path analysis, using a combination of an online data-driven approach combined with more traditional offline techniques. Sam has also been instrumental in the development of EIC™, SMG's approach to social measurement.
Jonathan Wolf, Chief Buying Officer, Criteo


Jonathan runs the buy-side for Criteo globally, including media buying, publisher relationships, and the buy-side product roadmap.
Before joining Criteo in early 2009, Jonathan worked at Yahoo, where he spent his last 18 months overseeing the restructuring and then ultimately the sale of Kelkoo, Europe's leading price comparison business. Prior to this he was head of corporate development in Europe for Yahoo, where his responsibilities included Yahoo's entry into the European display ad network business. Jonathan previously worked at Atlas Venture and Boston Consulting Group.
He studied at Oxford University and then Harvard.
Abhinav Gupta, VP, Engineering, Rocket Fuel


Abhinav Gupta has built a career as a truly insightful technical mind focused on delivering huge value for massive-scale systems – ones with transactions reaching one thousand times the NASDAQ trading volume.
Prior to co-founding Rocket Fuel, he was an engineering director at Yahoo!, where he led the development of their next-generation behavior-targeting platform. As a founding member of the behavioral targeting group at Yahoo!, he helped cultivate a start-up environment, building the team and platform from scratch. He proceeded to win the coveted "Super Star" award – the highest accolade Yahoo! presents to its employees. He also incubated the recommendations platform used by Yahoo! Travel, Real-Estate, Shopping, and Autos, helping to boost Yahoo! Shopping to number one in comScore rankings.
Prior to Yahoo!, Abhinav was a principal member of the technical staff at Oracle, working on a variety of projects implementing data warehousing and OLAP functionality in the database server. He also worked with customers having terabytes of data, helping Oracle Consulting reach performance goals on key customer projects.
Dr Gary Turkington, VP Data Engineering, Improve Digital

Dr. Garry Turkington is VP Data Engineering at Improve Digital and has over 13 years industry experience.  As the company's lead architect he is primarily responsible for the design and implementation of all the systems that store, process and extract value from the company's large data volumes.
Before joining Improve Digital he spent time atAmazon.co.uk where he led several software development teams that built systems that process the Amazon catalog data for every item worldwide.  Prior to this he spent over a decade in various government positions in both the UK and USA where he focused on building large scale distributed systems.
Dr. Turkington has BSc and Phd degrees in computer science from the Queens University of Belfast in Northern Ireland and a MEng in Systems Engineering from Stevens Institute of Technology in the USA.  His first book "Hadoop Beginners Guide" will be published by Packt Publishing in late 2012.
Ciaran McConaghy - Marketing Solutions Director, Fabric Worldwide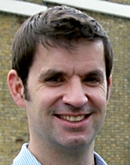 As Solutions Director, Ciaran is responsible for delivering audience intelligence strategy and best practice across the Fabric Worldwide client base. This includes outlining the digital vision to clients, showing how audience intelligence, data and analytics can benefit their businesses - from media planning & buying through to web analytics, personalisation and CRM. He currently leads Audience Intelligence & Analytics within Global Digital Services at GlaxoSmithKline.
Prior to joining Fabric Worldwide, Ciaran headed up Advertiser Analytics in EMEA at Microsoft where he worked with many of the UK and Europe's leading online advertisers, delivering custom analytics solutions to improve advertiser ROAS and customer engagement. He has over 15 years' experience in analytics and business intelligence across a variety of digital sectors including Pharma, FMCG, Mobile Telecoms, Travel and Finance
Ciaran is a recognised speaker on issues of audience intelligence, data, analytics & attribution.
Dawn Smith, VP, Global Solutions, Digitaria London

Dawn comes to JWT after spending the last 6 years at Digitaria in San Diego – a digital design and technology company which JWT acquired back in August 2010.
Her 14 year background in digital production, strategy, analytics and optimization allows to her have a unique view on client goals and measurement.
Dawn moved to London to start up European office operations for Digitaria as VP of Global Solutions as well as heading up the Analytics and Optimisation practice for JWT London.
Dawn has worked leading named accounts such as Intel, Qualcomm, Unilever, Kleenex, HSBC and Nestle working on providing solutions for Multi-Channel reporting and global/local measurement strategies and creative digital experiences to support their business goals.
Maureen Little, Senior Vice President of Business Development, Turn

Maureen brings to Turn over 13 years of experience in online advertising. She has been instrumental in transforming Turn into an enterprise software company that provides real-time insights changing the way marketers make decisions.
As Senior Vice President of Business Development at Turn, Maureen leads global distribution strategy and exchange partnerships across display, video, mobile and social. Having played a key role in some of the industry's first real-time bidding integrations, she has expertise in programmatic buying from both the buyer and sellers' perspective. Maureen also leads business strategy for Turn's data marketplace. Her team manages all technology partnerships for 1st and 3rd party data including collection technology, data buying, pricing, planning, and optimization.
Prior to joining Turn, Maureen spent more than five years at Vibrant Media as vice president of business development. As one of the first U.S. employees, Maureen was responsible for overseeing Vibrant's U.S. distribution strategy for both branded publishers and a network of more than 3,000 partners. Maureen was integral in the launch of Vibrant's in-text advertising products, maintaining and expanding exclusive long-term contracts with key partners leading to rapid growth and increased profits.