Agents of Change: The Rise of the Programmatic Media Agency, In Association with IPONWEB
by Lindsay Rowntree on 13th Jul 2018 in Reports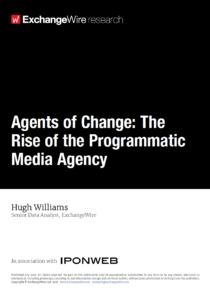 It's a time of challenge and opportunity for agencies. A crowded ecosystem, and clients considering whether to in-house their media buying activity are clear causes for concern. However, for those agencies that can tackle these issues head-on and differentiate themselves from the crowd, the rewards are huge.
Of course, that's easier said than done. This report, in association with IPONWEB, was undertaken to examine how agencies are looking to set themselves apart from their competition, and answers some key questions, including:
• Can owning their programmatic buying technology help agencies survive?
• What are agencies' top priorities over the coming year?
• Which areas of your business help you differentiate from competition?
• How has programmatic technology changed the demands clients place on their agencies?
As the issues of transparency, fraud, and brand safety persist, we see that it is those agencies that are building out their own programmatic tech capabilities, who stand to gain the most. It is they who not only have a more in-depth understanding of the programmatic buying ecosystem, but who also are building closer relationships with publishers, offering clients more unique capabilities, and performing better across key business areas.
At a time when every agency is seeking to prove to clients that they are worth their salt, it is excellence in the areas we have just mentioned which could be the key to securing or maintaining business.