Aligning Data & Creativity in Mobile Ad Campaigns; in Association with Verve
by Hugh Williams on 25th Sep 2017 in Reports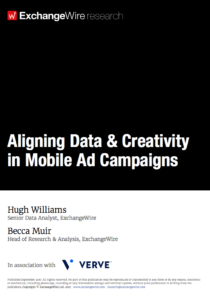 Today, nearly three quarters (72%) of UK mobile ad buyers are maximising the value of mobile data when planning ad campaigns.
First party data is deemed the most valuable, cited as the favoured data source by 58% of respondents. Just over one third (34%) prefer second party data but fewer than one in 10 (8%) of mobile ad buyers prioritise third party data.
Half of UK mobile ad buyers (50%) say that improvement in brand awareness metrics is the main benefit of integrating mobile data with campaign creative. A further 30% report improvements in direct response actions as the main benefit.