Demystifying Deal ID: The Future of Programmatic Trading, in Association with BidSwitch
by Hugh Williams on 1st Nov 2017 in Reports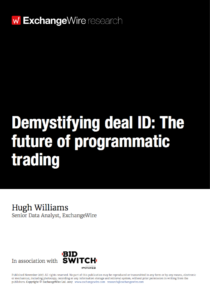 As issues such as brand safety, inaccurate measurement and fraud continue to take centre stage in the programmatic industry, buyers are turning to private marketplaces (PMPs) to tackle these issues and ensure high quality inventory.
Unlike an open marketplace, PMPs allow publishers more control over which buyers can advertise on their site, while they offer advertisers higher quality inventory. PMP deals come in many different shapes and sizes — some allow buyers and sellers to agree on criteria such as minimum price and type of ad unit, while others, such as automated guaranteed deals, also guarantee a number of impressions.
Behind these PMPs, working to ensure inventory is filled and buyer demand is met, is the deal ID. Deal ID-based trading involves a system generated number assigned by a publisher or supply side platform (SSP) that can be used by buyers to target pre-specified inventory, and works across all manners of private programmatic trades.