SDKs are Disrupting the Mobile Location Data Market & Becoming the Data Source of Preference; in Association with Verve
by Hugh Williams on 3rd Jun 2017 in Reports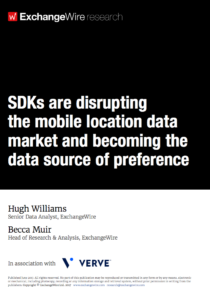 Many businesses in the past few years have transitioned to think mobile first, quickly realising the dramatic shift in consumers' digital media consumption. As business strategies realign, the drive for mobile location data for campaign targeting and the creation of personalised and relevant stories has become evermore prevalent.
Mobile devices teleport us; they transport users from destination to destination throughout their entire day, playing the roles of both communication tools and utility devices. Each visit, frequent or not, builds a picture of a consumer's individuality, enabling advertisers to enhance their marketing objectives through creative outputs.
Location derived data-driven advertising practices have been used for some time now, but have perhaps been overshadowed by an older methodology — geo-fence-based targeting. Yes, geo-fencing can extrapolate powerful results, but location intelligence provides much deeper detail and insight.