Fast Growth Ad Tech Companies Need Liquidity: Q&A with Christopher Vogt, BillFront
by Lindsay Rowntree on 11th Apr 2017 in News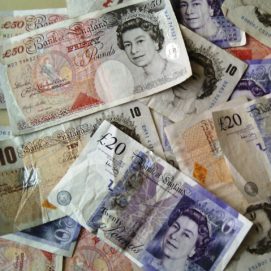 Payment processes in the UK digital media industry are considered to be outdated and can make it notoriously difficult for businesses operating in the space, when dealing with such long payment terms. ExchangeWire speak with Christopher Vogt (pictured below), co-founder and managing director, BillFront about how businesses deal with these financial processes and why alternative finance solutions could help solve scalability and cashflow challenges that have become endemic in the advertising space.
ExchangeWire: What is the challenge media companies face in the digital industry that impacts their working cash flow?
Christopher Vogt: Many UK industries suffer from archaic payment processes and terms, with some still relying on snail mail and fax machines to process invoices. In the digital media industry, outdated methods of dealing with payment and unnecessary intermediaries result in many media companies being unable to conveniently and quickly access their revenues.
This hampered ability to readily access capital makes dealing with unexpected economic issues business cycles, more difficult, particularly for small to mid-sized companies who are particularly cashflow dependent. Those with readily available capital can pivot faster and more easily in the face of unexpected events than those who don't.
Is it a flawed model? Can the process be changed?
Our industry is notorious for its long payment terms. Agencies, networks and smaller publishers are faced with 90-100-day windows for the payment of inventory and services.
For a large publisher, ad network or DSP with a strong capital position, the terms, while not ideal, can be managed from a working capital perspective. It is often the smaller/mid-sized players who feel the pinch more acutely.
Can it be changed? One could argue that the problem is now so endemic within the system that a general overhaul would be very difficult. This is further exacerbated by the ambiguity surrounding the root cause of the problem; the reasons, and the culpable parties, vary depending on who you speak to across the value chain. Untangling the ultimate root cause from the plethora of different opinions, with a view to overhauling the broader structure, would be no small undertaking.
This is why we founded BillFront. With the context being what it is, we saw a huge opportunity to create an easy-to-use and light touch technology solution that would help fast growing media companies bridge the gap between billing and payment in a fast, convenient and hassle free way.
What options are currently open to the digital industry when it comes to boosting cash flow?
While the bigger players can easily absorb this situation, for smaller players, or those on the rise, they rely pretty much solely on a liquid flow of cash to fuel their growth and development. This means that the terms of payment can often have a significant and negative effect on the company's future and growth trajectory.
From what we have seen, many take on equity financing, which ultimately dilutes their control, or expensive debt financing that comes with extremely restrictive conditions, which again hampers the businesses ability to be agile and flexible along the growth journey. Neither solution is really ideal.
However, many businesses, not just in our sector, are now looking to alternative financing options that are powered by some strong underlying technology. Businesses of this kind are now worth £3.2 billion in the UK alone and will only keep growing in my opinion.
Why is the solution BillFront offers the industry a preferable alternative?
We think of BillFront as a new kind of alternative finance. We have merged fintech with ad tech to create a data-driven risk management methodology, providing digital media businesses with an alternative to classical clunky factoring companies who aren't really set-up, and lack the knowledge on the advertising/media value exchange, to cater effectively to the industry.
Our algorithmic technology automatically analyses if and to what extent a digital media company is eligible for financing. Once this technology is connected to our client's invoicing dashboard we can tell them which of their clients are eligible for financing and the overall credit limit they are eligible for within one hour. In the world of traditional finance this process often took a number of weeks. BillFront frees up working capital much quicker, enabling these companies to accelerate their growth. We aim to allow our clients easy access to their working capital so they can focus on what they're best at; building great businesses.
Critically too, digital media and advertising is a very global business yet credit provision is still a very local, jurisdiction by jurisdiction, market. This makes financing options for these companies very tricky cross-border, due to stringent and complex legislation in each country. Our solution, is actually the only one in the market to handle the issue of international financing and we're currently spread across six territories, with plans to expand to more and more in the coming year. Due to this capability, we can help companies within the industry expand fast in these territories.
As a German-founded company headquartered in London, do you see differences between financial processes in the two digital markets?
Of course each market has its own regulatory framework that needs to be understood and adhered to. A lot of our work over the last 18 months has been focussed on getting to grips with the different regulatory nuances of the major European markets so we can scale our market presence. However, we have seen that the problem of delayed payments within digital media is ubiquitous across all major markets, albeit varying in its severity from country to country.
Southern European countries such as Spain and Italy suffer from some of the worst delays in payment we have seen on the continent and some vendors in the Asia region can consider themselves lucky if they get paid 2-3 times a year for the services they deliver.
We're working hard to ensure that we can deliver for our clients regardless of their geographical origin. It's clear to us that this an industry wide problem that is omnipresent across the vast majority of markets.
How does faster access to media revenues benefit the digital ecosystem?
If your money is tied up, then it is not liquid. Fast growth ad tech companies need liquidity so they can invest in their products and scale their teams. By providing faster access to their owed revenues, we're helping companies to grow faster without the need for them to take on external capital.
The ad tech industry continues to grow at a rapid pace and is a highly competitive space, with many companies battling for a share of the budget. The market is also currently seeing a strong level of consolidation with a number of notable and very sizeable acquisitions taking place.
From the M&As we have seen over the last twelve months, it's clear that the market values solutions that are based on strong, robust and unique proprietary technology. Building such technology requires the right knowledge, skill-set and of course the involvement of the best people. Putting these core building blocks in place requires capital. Failure to invest sufficiently in any of them can be the difference between creating the next great disruptive ad tech company or being a mid-sized 'tick-a-long' company that never truly realises its full potential.  
Having fast access to capital gives players in this space a strong platform from which to execute their vision, create something unique, and advance the evolution of the market. For us at BillFront, it feels really great that we get to play such a tangible role in helping these businesses bring these visions to life.