What Is AI Doing for Programmatic? Q&A with Sophie Light-Wilkinson, Rocket Fuel
by Sonja Kroll on 15th Jun 2017 in News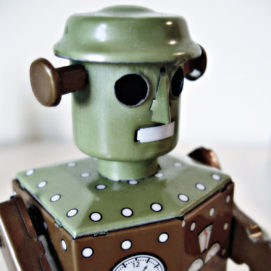 What do we really mean when we talk about AI? ExchangeWire speaks with Sophie Light-Wilkinson, senior director of marketing, Rocket Fuel, about how AI transcends everyday lives and what it is doing for the future of programmatic marketing.
ExchangeWire: As consumers are becoming more and more aware of AI, what is their general attitude towards it? 
Sophie Light-Wilkinson: While the phrase 'artificial intelligence' may prompt fear in some people's minds – perhaps preconditioned by Hollywood and sci-fi dramatisations of malevolent robots – the real-life experience of artificial intelligence has been very different. Everyday we are becoming more exposed to artificial intelligence in its varied forms, whether it be the apps on our phone, the virtual personal assistant in our living room, or the self-driving cars we're seeing in the news and soon to see on our streets.
The reality is that artificial intelligence is not something to be fearful of. The technologies we see over the coming years and decades will fundamentally change how we live our lives for the better; and consumers are beginning to experience this in a tangible way. Rocket Fuel's global consumer survey, which polled consumers across eight countries (UK, US, Germany, Italy, Sweden, Australia, France, and Spain) found positive attitudes towards artificial intelligence. Two-thirds of consumers said they find artificial intelligence exciting, and cited a range of benefits it's already producing for them such as greater efficiency, productivity, and predictability. These sentiments will only grow stronger as we see more evidence of artificial intelligence in our personal and professional lives.
Are there different attitudes among different age/target groups? 
It's only natural that sentiments towards artificial intelligence will reflect popular usage and exposure. Millennial males are typically the quickest adopters of new technology; so it follows that they're the demographic most at ease with the concept of artificial intelligence. Our research reinforced this notion. The survey showed millennial males are most likely to find artificial intelligence exciting (81%), least likely to be fearful of it (only 13%), and most likely to think that it will improve their job in the next five years (47%).
Millennials are acutely aware of the value exchange that takes place online. They provide brands with personal data and expect to see their information used in ways that provides them with tangible benefits. Being able to engage with millennials in a personalised way is the next frontier as brands seek to maintain and increase relevancy in the digital age.
Conversely, we did see more caution shown towards artificial intelligence among older demographics. Baby boomer (55+) females were least likely to be excited by artificial intelligence (41%). However, on the whole, sentiment was positive, and only 6% viewed it as a negative force in society.
How can AI contribute to meaningful, effective programmatic marketing?
Programmatic gave marketers the ability to reach consumers across an expansive media landscape with the opportunity to measure and optimise campaigns in real time. Artificial intelligence can contribute to these capabilities, enabling marketers to predict the right time and place for brands to engage with consumers.
Using artificial intelligence, we can harness trillions of complex data points in real time to serve marketing messages to consumers at the right stage of their customer journey, not only in understanding what they want, but actually being able to predict their needs. This means brands can offer real-time, contextual targeting that allows them to find potential customers and serve ads that are anticipated, even enjoyed, rather than irritating.
Why is Rocket Fuel interested in AI? Is Rocket Fuel actually already working on incorporating AI?
Rocket Fuel has been using artificial intelligence to advance advertising innovation and make marketing more meaningful since 2008. We were one of the first to combine artificial-intelligence-driven optimisation and insightful analytics with proven algorithms and machine-learning technologies to produce the real-time marketing intelligence marketers and agencies demand and trust.
We offer an artificial-intelligence-driven Predictive Marketing platform that enables agencies and businesses to spot the patterns of behaviour that matter to marketers. By using AI-powered tech, marketers are able to uncover more value and signals from data that was previously noise. Using AI, marketers are able to translate these signals to to insights and drive marketing decisions that are more relevant and meaningful for their customers.
View of the future: Where is AI going in programmatic marketing? What is AI going to do for programmatic marketing?
In the future, we will see AI transcend programmatic marketing into what we call 'predictive marketing'. Building on the continued shift towards digital interaction, and the rapid growth in data, we will see the move into an era of truly predictive marketing – using artificial intelligence to anticipate consumer needs and wants, optimising every part of the marketing mix to deliver seamless, always-on, always-relevant experiences that consumers value.
What this offers is true personalisation. The messages and offers you receive will be perfectly personalised to your needs, behaviours, and interests at that very moment and stage in your journey. We know from our research that this is a key benefit for consumers – 80% of 25-34 year-olds surveyed stated that they are seeing the value of brands engaging them with personalised advertising and offers. This creates a new paradigm in advertising that offers meaningful experiences in place of annoyance and irritation.