Programmatic Direct Mail Continues the Conversation Offline: Q&A with Lewis Gersh, PebblePost
by Diane Harding on 7th Jul 2017 in News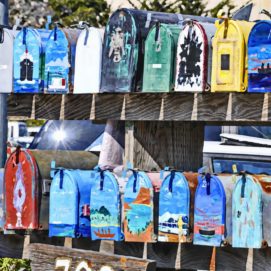 Marketers have long considered direct mail an integral part of their marketing mix, and even as digital advertising formats have taken over, direct mail advertising remains an important channel to advertisers. Lewis Gersh (pictured below), CEO, PebblePost, explains how 'Programmatic Direct Mail' has modernised a traditional marketing channel to create something new and give brands a way to engage with consumers from online to offline.
ExchangeWire: What is Programmatic Direct Mail and how does it connect online to offline behavior?
Lewis Gersh: PebblePost invented Programmatic Direct Mail® — the channel and product offering — to transform real-time online activity into personalised, dynamically rendered direct mail that's delivered into postal hubs within 12-24 hours, every day. Because we start with online activity, we can match a return visit and provide real-time analytics, so marketers can use that daily response and conversion data to optimise tomorrow's Programmatic Direct Mail.
We use data-driven decisioning with high levels of automation to continually enhance efficiency and efficacy to a marketer's goals. Our platform integrates the best of digital in a fully automated, closed-loop system: real-time behavioural data (browsing, keyword search, cart abandonment, etc.), page-level information (e.g., product, content), and a marketer's campaign rules (audience tagging, A/B testing, geotargeting, etc.). Real-time results on today's activity optimise tomorrow's in-home media, every day.
Unlike digital advertising, Programmatic Direct Mail doesn't attempt to change a consumer's behaviour. If you think about how consumers use their devices, it's very task-oriented. And advertising interrupts that experience, in disrespectful ways. By contrast, we empower marketers to change their digital ways for tangible good. That means, consumers are in control of when, where, and how they respond to an advertising message. If that consumer is predisposed to engage with a piece of Programmatic Direct Mail, they can do so when the situation is best for them, as we provide a tangible, physical reminder. We make it easy and desirable for consumers to engage with that brand message — on their terms — and act on it however they like, by returning to the brand's website or visiting a store, for instance.
Who are the ideal customers, and who are they trying to reach?
We help digital brand marketers in retail and e-commerce re-engage and convert existing customers, email subscribers, and website prospects, aka 'online window shoppers'. In terms of an 'ideal' marketer, Programmatic Direct Mail is for brands interested in a fresh, relevant, respectful way of continuing the conversation with consumers – alongside their other marketing mix efforts in digital and elsewhere.
Back-to-school and holidays are the two biggest shopping seasons of the year. Marketers have enormous goals to meet and, unfortunately, they're all doing the same things to get attention, namely bombarding and hounding consumers with ads. Is that the kind of experience you're grateful for as a consumer?
Programmatic Direct Mail offers a fresh, uncluttered, and personalised way to connect with someone who has expressed interest in that brand. And, we're not subject to the pains of digital such as ad fraud, brand safety, ad blockers, etc. Bots don't have mailboxes or shop online; but everyone checks their mail. Most people check it every day. And they sort the important mail from the junk and then act on both when it's most convenient for them. Digital has long promised 'right person, right message, right time', but missed the mark on three out of three the vast majority of the time. With Programmatic Direct Mail, the consumer does the last bit of targeting for the brand. John picks up the mail and sorts what's his and what's Jane's. He puts Jane's mail in front of her, doing the last few feet of targeting for us. Jane then decides when is the right time for her to act.
Where does Programmatic Direct Mail fit into the marketing mix?
Programmatic Direct Mail is 100% programmatic digital ad spend. Programmatic Direct Mail enhances a marketer's efforts across paid, owned, and earned in a new, highly relevant, dynamic and long-lasting way. No one ever taped a banner ad to their fridge, but a Programmatic Postcard™ or our Programmatic Catalog™ have a long lifespan and in-home brand impact that digital can't match.
How does Programmatic Direct Mail address the problems with digital and direct mail, like viewability and ad blocking?
We solve several of the biggest problems in digital: viewability, fraud, brand safety, and ad blocking. Bots don't have mailboxes, nor do they shop online. And brand safety isn't a challenge for us, as the consumer is expressing online interest and initiating the conversation on a brand's website. We are 100% privacy compliant with complete 1:1 transparency. We also eliminate the pain points of direct mail, such as long lead times to produce, capital intensive resources, stale data, etc. We take the very best of digital (targeting, optimisation, data-driven decisioning, campaign rules, etc.), and the high impact of direct mail as a delivery mechanism, to create this new channel that delivers for brands.
What are the standard formats being used now? How do you see these formats changing and what will drive this change?
We've introduced two ad units: the Programmatic Postcard and Programmatic Catalog. Both are dynamically created and personalised to the consumer. Our ad units will evolve based on consumer interaction and brand results. The more we talk to our brand partners, the more we learn. Responding to their real-time needs will create even more precise, personal, and revenue-driving units. Today, marketers use our formats in campaign-specific ways, whereas in the future we'll add variations in sizes and pages, in addition to sealed envelope and multifold and trifold. As we build integrations with CRMs, segmentation, and product-level SKU data, marketers will be able to dynamically render from their own image library a mass personalised run of one. These formats will be optimised to whom is the highest likely prospect, which would include yield management for offers and CTAs to drive the highest ROAS at the least cost to the marketer.
How has this channel grown so far and what do you see for the future of this channel?
In less than two years, we've signed on several hundreds of brands across retail and e-commerce. Its growth is a testament to the marketer's need for a more respectful, effective, and efficient way to communicate with consumers — whether they're existing customers or prospects. We have a comprehensive plan for this martech platform to measure up to the largest in digital today. Marketers have told us we've created the first new channel since search and social; and we think it will be as big, or bigger, than either of those channels.
TagsProgrammatic