Mobile Advertising Revenues Topped €63bn in 2016; Mobile Outperforms Desktop
by Sonja Kroll on 13th Jul 2017 in News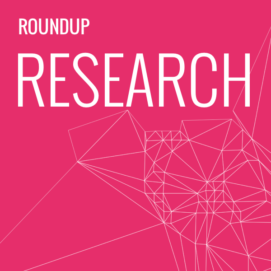 ExchangeWire Research's weekly roundup brings you up-to-date research findings from around the world, with additional insight provided by Rebecca Muir, head of research and analysis, ExchangeWire. In this week's edition: Global mobile ad revenues continue to rise; Mobile outperforms desktop; and Mobile games revenues trends.
Mobile advertising growth continues unabated
The IAB Europe looks back on the last couple of years and finds that global mobile advertising revenues topped €63bn (£55.9bn) in 2016. Since 2015, mobile ad revenues had risen by 60.5% from €39bn (£34.6bn). The IAB attributes the continuing acceleration to an increasingly mobile-first consumer world and improving marketing technologies.
According to the IAB, mobile display continues to drive investment, showing the highest growth at 64.3%. Mobile search is also accelerating, up 61.1%. At 11.2%, messaging is growing much slower, as users are increasingly choosing app-based messaging services over operator-owned messaging.
"The latest Global Mobile Advertising Revenue numbers confirm that we are now in a mobile-first media consumption and advertising environment", says  Townsend Feehan, CEO, IAB Europe. "Mobile continues to be at the forefront of digital advertising growth in Europe, highlighting it as a priority for advertisers, agencies, and publishers."
"These global figures reflect brands' recognition that mobile is critical in reaching today's consumers around the world", explains Anna Bager, senior vice president and general manager, mobile and video, IAB. "We've experienced skyrocketing growth for mobile advertising in the US – with mobile capturing the majority of internet ad revenues for the very first time in 2016. With mobile taking this landmark lead in digital revenues in America, it is unsurprising to see an upward trajectory the world over."
Last year, display grew to 54% of all mobile spend globally at €34bn (£30.1bn). Search takes a 42.8% share at €27bn (£24bn). Messaging only accrues a 3.1% share of mobile advertising revenues, resulting in €1.9bn (£1.7bn).
North America continues to dominate mobile advertising revenues with 46% (€29bn/£25.7bn) of global revenue made in the US and Canada. Europe, with 19% (€12bn/£10.6bn), is in third place behind Asia-Pacific, with 33% (€21b/£18.6bn). Growth year-on-year was led by North America at 73%. However, all regions saw increases, i.e. Latin America (57%), Asia-Pacific (52%), Europe (48%), and Middle East and Africa (46%)
Mobile continues to outperform desktop
Native ad platform Polar takes a look at global branded content performance in their Q2 Benchmarks report. According to Polar, mobile continues to be the major source of views for branded content, steadfastly outperforming desktop.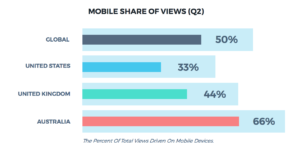 When it comes to branded content, mobile is increasingly becoming the primary driver of views, with desktop steadily decreasing. Comparing the Australian, US, and UK markets, Polar finds Australia accruing the largest proportion of mobile clicks, at 66%. Both the US and UK markets are below the global average (50%), with the UK at 44% of mobile views and the US at 33%.
In terms of market performance, UK CTRs are lower than the global average, while ATS is slightly above the rest of the major markets: UK overall CTR performs 24% lower than the global average while UK ATS performs 23% higher, with mobile ATS performs as much as 76% higher than the global average.
Mobile gaming revenues to hit more than USD$46bn this year
In cooperation with Newzoo, mobile ad tech specialist AppLift is looking at mobile gaming trends. The resulting infographic reveals mobile games monetisation trends worldwide.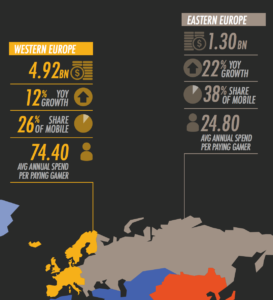 According to Applift, revenues from mobile gaming will reach USD$46.1bn (£35.8bn) this year, which translates to 82% of the total app market. The majority of mobile games revenue is made via smartphone, the study finds: Only USD$10.8bn (£8.4bn) in revenue comes via tablets, versus USD$35.2bn (£27.3bn) via smartphone.
Eastern and Western Europe combined make up USD$6.22bn (£4.8bn) revenue. Eastern Europe shows much growth potential with 22% YOY growth, compared with 12% YOY growth in Western Europe. The Middle East and Africa is also showing solid growth, increasing 46% YOY to a current revenue figure of USD$2.32 (£1.8bn).
Mobile games monetisation in North America is projected to reach USD$8.26bn revenue this year, amounting to 10% YOY growth. This translates to a 31% mobile share.
AppLift and Newzoo are forecasting total mobile games revenues to rise to USD$64.9bn (£50.5bn) – the majority of which made via smartphones – until 2020.