Teads Announces Official Launch Into Netherlands Following Exclusive Partnerships With Hearst and Vice Netherlands
by ExchangeWire PressBox on 7th May 2019 in News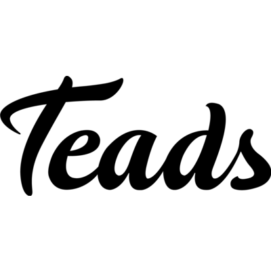 Fabio Corona will run the new office as Managing Director along with first hire, Michiel van Turnhout, as Commercial Director
Hearst's premium online magazine portfolio's span 19 international brands including; Vogue, Glamour, Cosmopolitan, ELLE, Quote, Runner's World and Quest – reaching 9.1 million people per month
With 1.5bn global users, Teads is the unifying tech platform for premium publishers around the world
Teads, the global media platform, has announced that it has launched an office in Amsterdam after winning exclusive partnerships with Hearst and Vice Netherlands to deliver in-read advertising technology.
Teads' global media platform will enable these market-leading publishers to scale their online in-read inventory, whilst increasing video and display ad monetisation through both direct sales teams as well as Teads demand. In recent years, Teads' leading technology has proven itself to deliver a best in class experience to both readers and publishers. By creating engaging ad formats that don't interrupt the consumption of content, Teads is able to help build sustainable revenue models for the future.
Fabio Corona will lead the Netherlands team having been at Teads for eight years as SVP Global Operations. He will be connecting with both local and global brands as well as media agencies based in the region. Additionally, he will be developing relationships with publishers to ensure they can take advantage of Teads' monetisation solutions.
Michiel has been in the media industry for over 17 years and spend the last decade in the online industry. Previously he was at Sanoma and Exponential where he held roles in sales and management.
The latest news follows a raft of new global partnerships announced in 2018, including the BBC, The Economist and VICE Media – as well as the latest deal with The Guardian across the EEA. These publishers have all joined the tech platform that now reaches over 1.5 billion people across the globe every month. For brands and advertisers, it means access to quality, brand-safe environments with some of the most respected media brands.
This huge, brand-safe reach has been built by Teads' continued innovation in video and display advertising – offering advertisers and publishers cutting-edge creative technology, driven by Teads Studio and AI-driven optimisation.
Luc van Os, CEO, Hearst Magazines Netherlands, said: "The focus for 2019 is to expand Hearsts' brands 360° media approach in order to flourish and thrive as a digital business, with and for advertisers. We choose to work with preferred partners that fit our brands in terms of quality and creativity, Teads is the perfect partner for the growth we are aiming for."
Fabio Corona, MD, Teads Netherlands, said: "We are hugely excited to be officially launching in the Netherlands. It is a great hub for both technology and creativity, with local brands and agencies leading the way in Europe with their digital strategies. Teads is a perfect fit in this ecosystem and the response to our launch has already been brilliant. We are looking forward to showing what The Global Media Platform can deliver for businesses across the region."
Michiel van Turnhout, Commercial Director, added: "Teads' strength is delivering the most engaging formats within the most premium environments. Viewability standards are a baseline measure; clients know their ads must not just be viewable but actually grab the viewer's attention in order to deliver results. Teads Studio means we can advise at a creative level as to what will best delight the users whilst ensuring that we hit the client's KPIs. By doing so, we can create some incredible ads, embracing phone functionalities like scrolling or swiping, all the way through to dynamic creative optimisation and even in-browser AR. The ads can be delivered at scale through our publisher partners. It's an incredible platform and I'm thrilled to be working with Fabio and the rest of the team."

Teads
Teads, The Global Media Platform, unites and empowers the best publishers in the world to connect advertisers to an audience of over 1.5bn people every month. Teads' made-for-mobile ad experiences deliver attention and guaranteed outcomes across th…
TagsAdvertising