Smadex Awarded the IAB Gold Standard In Recognition of Brand Safety Efforts
by ExchangeWire PressBox on 24th Sep 2019 in News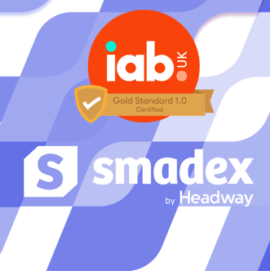 Smadex successfully passed the review process for the IAB Gold Standard and has been awarded the brand safety certification. The prestigious certification process was created by the IAB to encourage the adoption of brand safety best practices, with the aim of reducing ad fraud in the digital advertising environment. 
"We're delighted to have Smadex on board with the Gold Standard, demonstrating its commitment to tackling ad fraud, upholding best practice and improving brand safety. In doing so, it is helping to build a better online experience for consumers and a more sustainable future for the digital advertising industry", commented Keren Tal, Ad Standards Manager at IAB UK, in regard to the announcement.
To qualify for the certificate, adtech companies who are committed to transparency and high standards of service must register to be reviewed by IAB. They are then measured against a substantial list of best practices and requirements by the IAB team. Smadex has also recently been verified by the JICWEBS Digital Trading Standards Group (DTSG) Good Practice Principles by independent industry body ABC, and TAG registration
As detailed in the IAB Gold Standard Executive Summary, by achieving certification Smadex has committed to:
Reduce ad fraud

through the implementation of, or by demonstrating support for, the IAB Tech Lab's

ads.txt initiative

. Ads.txt allows domain owners to list who is authorized to sell their inventory, preventing the selling of spoofed or fake inventory.

Increase brand safety

by becoming certified signatories to the JICWEBS

Digital Trading Standards Group (DTSG) Brand Safety Principles

(for current non-signatories) or by continuing to have their policies and processes independently verified (for current signatories).

Improve the digital advertising experience for consumers

by adhering to the IAB Tech Lab's

LEAN Principles

and the standards set by the

Coalition for Better Ads

.
"We are proud to have achieved the IAB Gold Standard certification which reflects our commitment to support the IAB and the broader adtech industry in their initiatives to improve brand safety in digital advertising. 
Smadex fully supports delivering the highest levels of brand safety and transparency and achieving the IAB Gold Standard builds on our previous milestones of implementing ads.txt, DTSG/JICWEBS (Digital Trading Standards Group/JICWEBS) and TAG (Trustworthy Accountability Group). 
Our efforts to adopt all these current and future standards and initiatives together with other players in the industry will benefit everyone by addressing the major issues and moving towards a more trusted, transparent, measurable and accountable digital advertising ecosystem", stated Paul Childs, CRO at Smadex by Headway.

Headway
Headway is a leading growth marketing company for brands and apps worldwide, integrating proprietary and state-of-the-art partner technology. With fast innovations, machine learning algorithms, and strong multi-channel operations, Headway is a one-st…
TagsBrand Safety