Ogury Fait don de Plus d'un Million de Dollars d'Espace Publicitaire à des Associations à but non Lucratif
by ExchangeWire PressBox on 21st Sep 2021 in News
Ogury, the Personified Advertising company, a fait don de plus d'un million de dollars d'espace publicitaire mobile à des associations à but non lucratif depuis le début de l'année. Suite au lancement de son offre web mobile, la société a offert à plusieurs organisations caritatives un accès à l'inventaire premium dont disposent les marques qui travaillent avec Ogury. Les associations soutenues à travers ces campagnes incluent l'Institut de la Vision, Epic Foundation, Accion Contra el Hambre, The Leukemia & Lymphoma Society et Dynamo Camp.
Alors que l'année écoulée a été difficile pour beaucoup, il est plus important que jamais de soutenir les associations à but non lucratif qui contribuent à changer le monde, commente Thomas Pasquet, CEO d'Ogury. « Je suis fier que nous ayons pu le faire, à notre niveau, sous forme de dons d'espace médias, en renforçant la notoriété de ces associations tout en générant des revenus pour nos partenaires éditeurs et médias.
Ces campagnes ont touché plus de 11 millions de mobinautes aux États-Unis et en Europe à travers le format Thumbnail, lancé par Ogury l'année dernière au sein des applications et désormais disponible sur le Web mobile. Avec ce format innovant, les publicités vidéo apparaissent à un endroit précis de la page web, offrant au mobinaute une expérience publicitaire efficace sans perturber sa navigation. Le message publicitaire peut être déplacé, agrandi ou fermé par l'utilisateur, ce qui s'avère nettement moins intrusif que les formats publicitaires traditionnels. La vidéo de l'association est délivrée en mode picture-in-picture, permettant au mobinaute d'interagir avec son contenu tout en continuant à naviguer sur la page Web.
Nous sommes ravis d'avoir travaillé avec Ogury pour renforcer la notoriété de l'Institut de la Vision. Au total, nous avons pu toucher plus d'1,5 million de personnes en France et au Royaume-Uni, de façon non intrusive et intuitive, s'enthousiasme Arnaud Bricout, Directeur du mécénat à L'Institut de la Vision. Le format Thumbnail d'Ogury a obtenu d'excellents résultats, avec des taux de clics et de complétion supérieurs à la moyenne.
« Lorsque nous avons commencé notre collaboration avec Ogury, nos objectifs étaient d'accroître la notoriété de l'association et valoriser notre mission visant à améliorer la vie des enfants et des jeunes défavorisés dans le monde entier, explique Alexandre Mars, fondateur et CEO d'Epic Foundation. Grâce à Ogury et son format Thumbnail, nous avons pu générer plus de 12 millions d'impressions en moins d'un mois - une campagne digitale remarquable qui s'est traduite par plus de dons, et donc plus de vies positivement impactées.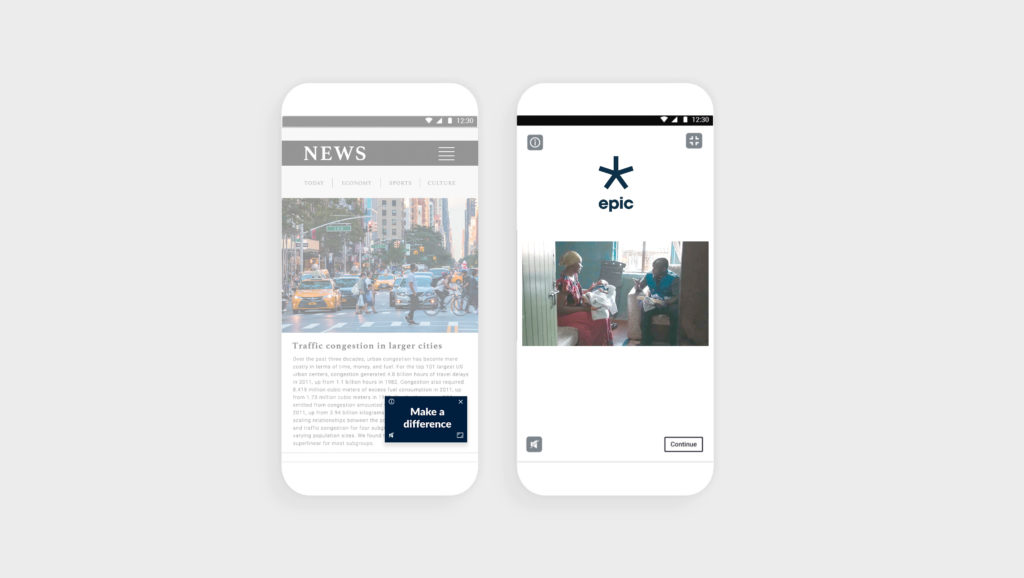 Ogury
Ogury, the Personified Advertising company, has created a breakthrough advertising engine that delivers comprehensive audience interest, brand performance, privacy protection and sustainability within one technology stack, built and optimized f...
Powered by PressBox