impact.com Releases The Partnership Economy, to Help Businesses Succeed in a Digital World
by ExchangeWire PressBox on 23rd Feb 2022 in News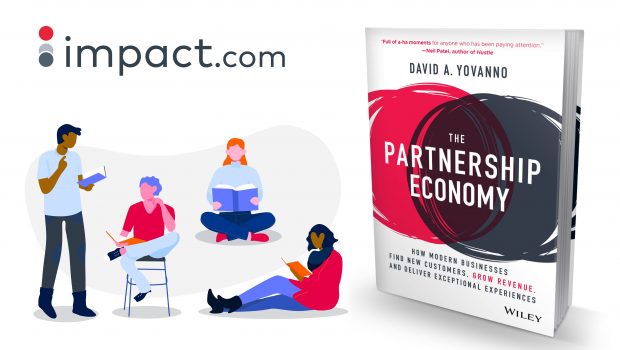 impact.com, the world's leading partnership management platform driving partnerships for more than 2,000 brands, today announced the release of The Partnership Economy, a book authored by impact.com CEO, David A. Yovanno.
The book explores the collaborative relationship between businesses and their partners, and provides actionable insights for businesses to reach objectives, such as securing new-to-file customers, increasing brand awareness, growing company revenue, and more. 
"Shifting consumer behaviors have impacted how business leaders drive revenue, and we have seen that partnerships have succeeded where traditional sales and marketing have not," said David A. Yovanno, CEO of impact.com and author of The Partnership Economy. "The partnership ecosystem is more important than ever for brands looking for ways to engage with the right audiences, so we created The Partnership Economy to be an actionable guide to help businesses learn from our experiences, better engage with audiences, and scale in the process."
The Partnership Economy goes in depth on why trust and authenticity are the new currency with consumers. It provides practical steps for businesses to develop partnership programs and highlights what the future of the partnership economy will hold. As consumer habits have changed with the rise of creators and other publishers, brands now have an opportunity to engage audiences in a more authentic and effective way. And they have an opportunity to be more relevant in the daily lives of consumers by being part of the commercial information that consumers are naturally seeking, versus continuing to primarily rely on intrusive and disruptive traditional advertising formulas. 
"As businesses continue to navigate the shifting business landscape and ever-changing consumer behaviors, it is critical that decisions are guided by actionable insights," said Yovanno. "impact.com is a trusted leader in this industry, and we have strong experience in the changing landscape of how consumers expect to interact with brands, publishers, and agencies, and the engagements that drive conversions. The Partnership Economy is a reflection of those learnings, which will undoubtedly be beneficial for any business embarking on their partnership journey." 

Impact
The leading global partnership management platform, impact.com transforms the way enterprises manage and optimise all types of partnerships—including affiliates, influencers and commerce content publishers. The company's purpose-built platform he...
Powered by PressBox