ExchangeWire Live in New York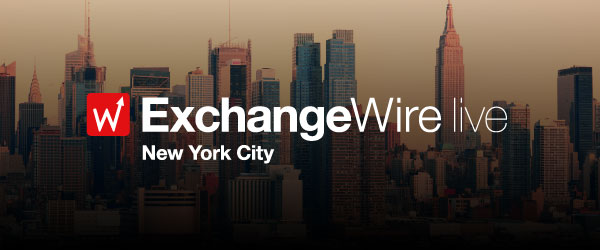 ExchangeWire Live in New York
22nd Mar 2017
SVA Theatre,
333 W 23rd St,
New York,
NY 10011,
USA
ExchangeWire Live NYC - Wednesday, March 22 2017
ExchangeWire is hosting ExchangeWire Live NYC on Wednesday, March 22 2017. This event will focus on the major issues affecting programmatic advertising, advertising technology and marketing technology.
Backed by ExchangeWire's domain expertise, featuring experts from across the industry, ExchangeWire Live will provide attendees with the latest trends and developments in digital advertising and marketing.
Topics that ExchangeWire Live NYC will cover include:
- How programmatic TV will fundamentally shape the future of media buying
- Differentiation of tech: What M&A tells us about the industry
- Supply-side monetisation and the evolution of header bidding
- Rise of the customised algorithm
- How Open Machine Learning will change advertising and marketing technology
- How the agency stays relevant in a data-first world
ExchangeWire Live will be a small and focussed event, with very limited seating so be sure to book your tickets today!
Who should attend ExchangeWire Live NYC?
» Agencies
» Senior Marketers
» Trading Specialists
» Ad Exchanges
» Ad Networks & Sales Houses
» Ad Servers
» Infrastructure & Development Providers
» Tools & Apps Developers
» Affiliates
» Ad Tech Vendors
» Publishers
» Data Solution Providers & Data Platforms
To give you a flavour of what you can expect from an ExchangeWire event, take a look at some footage from the ExchangeWire TraderTalkTV YouTube channel https://www.youtube.com/user/exchangewiretv
* Tickets are non refundable. We will happily transfer the cost of the ticket to another ExchangeWire event or alternatively transfer the ticket to a colleague.
---
ExchangeWire Live New York - Networking App

ExchangeWire has partnered with SummitSync, a professional networking app for conferences & events, to allow event sponsors and attendees to make connections with one another before, during, and after our events take place. Simply swipe right on an attendee or sponsor profile if you're interested in connecting, or anonymously swipe left to pass. When a mutual connection is made, in-app messaging is offered to allow users to coordinate a meeting at the upcoming event.