ATS New York 2016

ATS New York 2016
3rd Nov 2016
SVA Theatre
333 W 23rd St
New York, NY 10011
United States
ATS returns to NYC on Thursday, November 3 2016.
ExchangeWire, the global voice for advertising and marketing technology is bringing the global programmatic event ATS, back to NYC for the third year running.
ATS NYC 2016 will be no exception to the highly successful event series, bringing the audience the latest trends globally, as well as key research from regional markets, insight from leading industry speakers, and a networking forum for key decision makers in the industry.
Expect to hear from the most engaging players in the industry, with a keen focus on data and technology.
Topics that will be covered include:
- Remuneration: How the Industry Gets Paid
- Programmatic TV: The Multi Billion Dollar Opportunity
- The Marketer Challenge: Making Your Data and Tech Stack Work Together
- Holistic Yield for the Sell-Side & the Unified Publisher Model
- The New Economics Of Programmatic: How Premium Publishers Can Win
- How Cross-Device Works for the Rest of Us Outside the First Party Fiefdoms
- The Undiscovered Country: How Programmatic Can Move Into Radio, OOH, and IOT
- Location Targeting: the Best Intent Signal for Mobile Programmatic
- Will Ad Blocking Re-write the Rules of Digital Advertising?
Further detail on speakers and the agenda for the day will follow in the coming months, but expect to see the usual standard and quality of content, controversy, debate & discussion regularly featured on ExchangeWire.
Who should attend ATS New York?
» Agencies
» Senior Marketers
» Trading Specialists
» Ad Exchanges
» Ad Networks & Sales Houses
» Ad Servers
» Infrastructure & Development Providers
» Tools & Apps Developers
» Affiliates
» Ad-Tech Vendors
» Publishers
» Data Solution Providers & Data Platforms
To give you a flavour of what you can expect from ATS New York, take a look at some footage from ATS New York 2015 on the ExchangeWire YouTube channel.
_________________________________________________________________
ATS NEW YORK APP INFORMATION
We're very excited to have our very own mobile app for the second year running at ATS New York 2016.
Using the event mobile app, you'll be able to:
• Access all the information you need about the event in real time
• Check out the agenda and speakers to plan your day
• Save other attendee and speaker contact details for future networking opportunities
• Share updates and content via our event news feed – you'll be able to access exclusive content from our speakers & sponsors each day in the lead up to the event
You should have received an email inviting you to access the app if you have registered for the event – this email contains a link which enables you to create your password and add details to your profile.
When completing your profile, we recommend you add a few words about yourself, upload a profile picture and connect your social media accounts. This will encourage other users to engage with your profile and increase your networking opportunities at the event.
Once you have completed this process, our app is available from the following sources:
• APP STORE DOWNLOAD LINK
• GOOGLE PLAY DOWNLOAD LINK
Our app is optimised for use on iOS and Android devices but if you have another handset or wish to access the app via desktop computer, you can do so using the link below:
•WEB APP LINK
We are using a web app for this event.
A web app is an internet-based app that is accessible via the mobile device's browser. It can be added to your phone home screen (much like a normal app) for easy access.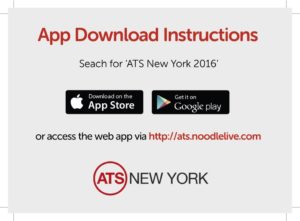 If you want to find out more about how to register or access the app, then simply jump over to the app help centre to find lots of handy hints and tips to set you on your way.
Alternatively, you can email the app support team support@noodlelive.com with any questions you may have.