The Rise of the Independents: European Ad Server Research 2022
by Mathew Broughton on 31st May 2022 in Reports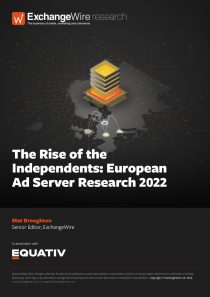 The digital advertising industry is undoubtedly facing its most fervent period of change in its history. Third-party identifiers, which once underpinned the sector, are now falling by the wayside, while regulators across the globe look to further tighten privacy regulations with consumer protection in mind. The gaze of the legislator is also falling towards big tech giants and how they are wielding their market position, with nine-figure Euro fines already reaching the doors of the US behemoths. As a vital component of online advertising and therefore in publisher revenue generation, the ad server proves an excellent microcosm of how these trends are impacting the market.
This report, produced in association with Equativ, was produced to examine the key drivers behind ad server selection across Europe and how prominent industry trends, such as the deprecation of third-party cookies, upcoming privacy-focused legislation, and antitrust examinations into big tech colossi, are affecting publishers' choice of partner.
Coupling original quantitative research with thought-led insight from Europe-based media and advertising professionals, the following is examined:
Factors affecting ad server selection
Impact of industry trends on publisher choice of ad server
How publisher ad server needs are varying according to scale
Levels of trust towards Google; Facebook; Microsoft; and Amazon

"Power belongs to the Open Web, and it is time to take it back. Our mission at Equativ is to make that happen while promoting a more independent and interoperable ad tech ecosystem. This research confirms what we've been increasingly hearing from publishers across Europe and beyond, that they are considering new factors linked to privacy, antitrust, and alignment of interests when selecting their technology partners," explains Arnaud Créput, CEO at Equativ.
"A sign of us heading in the right direction can be seen in the recent announcement of Vocento – a leading media group in Spain – to join us as a full-stack client. This trend is gaining momentum and we are looking forward to seeing what's to come in the future."