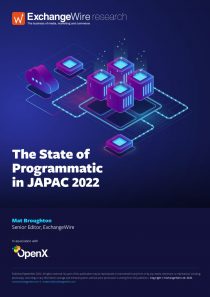 Despite the headwinds of global economic uncertainty and the deprecation of third-party identifiers, programmatic investment and revenue within the Japan and Asia-Pacific (JAPAC) region are surging, with over 70% of firms increasing their programmatic activity from 2021, with a tenth of respondents increasing their programmatic activity by more than 75%. This is according to a new research report, The State of Programmatic in JAPAC - 2022, published by ExchangeWire, in association with OpenX.
Building upon trends discussed in 2020 and 2021, media professionals across the supply chain in Australia, India, Indonesia, and Japan were surveyed, with these markets again chosen for their diversity in terms of economic makeup and digital media consumption. Alongside programmatic activity, the report examines market reaction to identifier deprecation, the evolution of header bidding usage, and attitudes to direct approaches from DSPs. Alongside these exclusive statistical findings, the report includes analysis from industry thought leaders at Microsoft; Times Internet; and Xaxis, to lend further insight into the findings.
"The pandemic has seen digital transformation accelerate at an unprecedented pace. With the shifts and changes being implemented we observe the focus on data driven marketing and performance. This spiked demand for programmatic inventory," commented Deepika Nikhilender, senior vice president, Asia Pacific, Xaxis, "However, tech set-up costs for mid-size and smaller publishers, especially in SEA, may be the reason why many publishers are still slow in pivoting to programmatic."
Highlights from the report include:
Support for prebid in the Indian market has collapsed. While 50% of respondents in India used prebid as a header bidding solution last year, no surveyed respondent is using it in 2022.
Buyers are now funneling a higher proportion of their media spend through programmatic than publishers are generating revenues via programmatic. This marks a reversal from last year.
More brands and agencies within the JAPAC region now have access to first-party data. More than 85% of buyers within JAPAC now have access to first-party data, up 5% from 2021.