Company details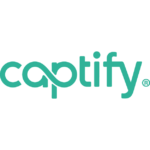 Captify
Categories:

Website:

Email:

Geography:

Location:

Specialism:
Press Box

Captify's Programmatic Search Intelligence (PSI) Marks Paradigm Shift in Programmatic Efficiency
Company description
Captify is the largest holder of consumer search data outside of Google, and its unique technology understands the intent of consumers across all channels, including voice Search, desktop on-site search and in-app search. Captify's Search Intelligence and powerful insights help inform decisions for brands across the world through consumer behavior analysis, brand trends, product and market analysis. Captify's intent-rich data set powers advertising for many of the world's largest brands including Apple, Disney, Adidas, American Express and Microsoft.
For us, launching a completely new product category is extremely exciting. We are always looking for innovative ways to support our innovations. That is also the case for our media plan. By delivering a holistic understanding of search journeys, revealing intuitive and non-intuitive connections and unlocking lifestyle triggers that suggested an affinity for the product – Captify helped us in bringing the Sleepbuds to the audiences that NEED our product.