Company details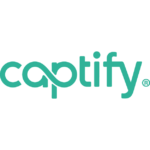 Captify
Categories:

Website:

Email:

Geography:

Location:

Specialism:
Company articles

Captify Sells Majority Stake to SFW Capital; Revolut Raises USD$800m

Google Delays Third-Party Cookie Deprecation: Industry Reaction

IAB Europe Completes Switchover to TCF v2.0
Press Box

New Cookieless Research from Captify and Advertiser Perceptions Reveals Marketers Lack Confidence in Standard Contextual Targeting

Captify Primes for Next Phase of Explosive Growth, With a Majority Investment from PE Firm SFW Capital Partners

Captify's Programmatic Search Intelligence (PSI) Marks Paradigm Shift in Programmatic Efficiency
For us, launching a completely new product category is extremely exciting. We are always looking for innovative ways to support our innovations. That is also the case for our media plan. By delivering a holistic understanding of search journeys, revealing intuitive and non-intuitive connections and unlocking lifestyle triggers that suggested an affinity for the product – Captify helped us in bringing the Sleepbuds to the audiences that NEED our product.
Company description
Captify
 is the largest holder of consumer search data outside of Google, and its unique technology understands the intent of consumers across all channels, including voice Search, desktop on-site search and in-app search. 
Captify
's privacy-centric Search Intelligence technology powers programmatic advertising and unique audience insights for the world's biggest brands, such as Apple, Disney, Adidas, American Express and Microsoft.