Location-Based Marketing: An Essential Tool in a Brand's Arsenal
by Lindsay Rowntree on 24th Mar 2016 in News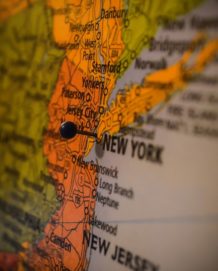 Location-based marketing is becoming a crucial tool for marketers to remain competitive and ensure they can deliver a tailored, personalised brand message to engage consumers at that key point in time. 
A new report released by Forbes Insights, in association with xAd, entitled Location: a Strategic Marketing Imperative, finds that location-based mobile advertising is a competitive differentiator, with mobile surpassing desktop as the most essential tool for making a purchasing decision. An imperative factor in strategic marketing is the ability to capture purchase intent offline and convert that into additional revenue.
Consumers have set their expectations high and want immediate delivery of services. This creates an excellent opportunity for marketers to take advantage of these expectations and tap into a market where consumers expect brands to be visible.
Bruce Rogers, chief insights officer, CMO Practice at Forbes Media said: "Location is now marketing's vital frontier. It allows you to send relevant messages at just the right moment."
The report, which is based on in-depth interviews with senior executives at leading brands, explores how they are leveraging location to gain a competitive edge. It delves into four key areas: consumer expectations, online and offline, in-store experience, and defining location as a new category of 1:1 marketing.
Keeping pace with consumer expectations
Smartphones are everywhere; and consumers expect to be able to access anything at anytime through a pocket-sized device. As Angelique Krembs, vice president of marketing activation, PepsiCo North America Beverages, says: "In the old days, we could mass market a message on three television networks and reach everybody. But that isn't the case today. Everything is so much more tailored to people's tastes and behaviors."
The report delves into how advertisers need to leverage consumer expectations to maximise efficacy of a location-based marketing strategy. Advertisers need to be mindful of distinctions between consumer buying patterns and location; and, thus, tailor their mobile campaigns to achieve greater impact and relevance.
The report claims that consumers researching products and services on their smartphones on the go demonstrate an intent to purchase quickly. A previous study by xAd, cited in the report, found that on-the-go researchers are 45% more likely to complete purchase within the hour versus home researchers.
Bridging the gap between online and offline
The shift to a mobile-centric world does not mean that in-store purchasing is limited. Mobile location targeting has the unique ability to bring the online and offline worlds together and actually aid purchase completion. The report is quick to point out the power of traditional offline advertising and that a location-based strategy should be complementary to that; allowing advertisers to create campaigns that are mindful of a consumer's location, their position in the path to purchase, and their proximity to a retail store.
According to Krembs, with smartphone-friendly channels like Facebook, YouTube, and Twitter, brands must view marketing as "an ecosystem of content that needs to be relevant to what the consumer wants to see, depending on where they are".
Reinventing the in-store experience
According to eMarketer, by 2018 global smartphone users will hit 2.5 billion. However, despite this rapid growth in smartphone adoption, over 90% of retail transactions still occur in-store, according to the Department of Commerce. With this in mind, it should not be the goal for marketers to focus on either an offline or online strategy; but instead to enable a faster, more seamless purchase process for their consumers.
Joe Laszlo, vice president of industry initiatives, IAB, says: "The industry has been thinking for a while now about smartphones as the new customer service rep and that there are real opportunities for the mobile phone to become a major shopping aid. Companies like Macy's have made major investments in in-store wireless infrastructure that are really pushing the envelope."
Location data is crucial to this and allows marketers to deliver personalised and relevant in-store experiences. The report explores how the quick-service restaurant industry is leading the charge in this realm; with restaurants using location data to deliver promotional push notifications to relevant consumers within a certain radius of the premises – to great effect, too.
This is just the beginning. John Costello, president of global marketing and innovation, Dunkin' Brands and chairman, Mobile Marketing Association, says they are using location-based marketing as an upselling opportunity: "If you're planning to stop in Dunkin' Donuts for an iced coffee, we could use a location-based mobile offer to suggest a bakery sandwich to go alongside your iced coffee. We could also use that location-based mobile ad to introduce you to our new macchiato drink. So, you may have someone planning to visit Dunkin' Donuts for a traditional product like iced coffee and a location-based mobile ad could trade them up to a new beverage or drive attachment by suggesting a complementary food item."
Location also opens up new doors to smaller budget advertisers, allowing them to access a consumer in new and relevant ways without the need for big budget advertising strategies. Speaking exclusively with ExchangeWire, Theo Theodorou, MD of EMEA, xAd said: "Location-based marketing levels the playing field between brands large and small. By utilising location, brands can be more relevant, timely, and personalised in their messaging, resulting in more impactful campaigns." He qualified that: "This precision enables budgets to work much harder, ensuring that the right consumers are reached at the right time and place. Hence, why location-based marketing is attractive to many brands. Ninety percent of commerce still happens in brick and mortar stores – being able to influence consumers in the physical world makes location a strategic imperative. Whether you are a big brand or a smaller outfit, location evens out competition."
Beyond search & social – a new category
Location is able to fill in the gaps created by information garnered by a user's search and social activities. Location can tap into the real world, without requiring a keyword or explicit interest. According to the report, location can say a lot more about consumer's needs and intent than the websites they visit or apps they use.
The context behind where people are, or where they have been, allows advertisers to tailor messages and offerings and influence their immediate intent to purchase. The report claims that these offline behaviours are dangerously neglected by search and social, resulting in a lack of audience insights and the opportunity to act on consumer patterns and needs in real time. Location, search, and social need to be used as complementary messaging platforms, with an understanding of how each platforms delivers engagement based on context.
It seems that the power of location is fast becoming realised, and innovative brands are tapping into the rich level of data and insights it provides. However, there is a long way to go and, given the speed at which consumers are adopting mobile and using it to run their everyday lives, the opportunities to effectively engage them are endless.