Management Buyout for Ve Interactive; Channel 4 Introduce Audio-Personalised TV Ads
by Sonja Kroll on 28th Apr 2017 in News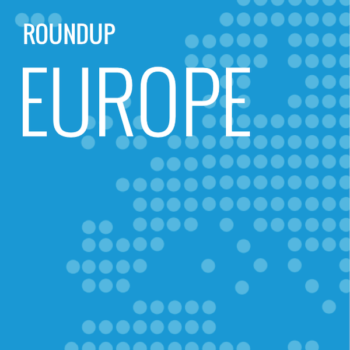 ExchangeWire round up some of the biggest stories in the European digital advertising space. In this week's edition: Ve Interactive saved by management buyout; Channel 4 and Innovid personalise audio ads; Viewability Measurement by comScore; IAB Video Ad Format survey; Sourcepoint receive ePrivacyseal; Rocket Fuel and IBM partner; and TwentyCi and Equifax collaborate.
Management buyout puts halt to Ve Interactive wind-down
A last minute rescue attempt has saved ad tech provider Ve Interactive from insolvency. After briefly going into administration, a management buyout was negotiated, effectively rescuing the jobs of 850+ employees. According to a spokesman for Ve Interactive, the company will seamlessly continue to trade under the management of CEO Morten Tonnesen and managing director David Marrinan-Hayes.
CEO Tonnesen comments: "I am very excited to be leading the next chapter in Ve Interactive's story. The business has long been at the forefront of the industry and we now have the investment and backing to continue to build out our market-leading technologies."
Beside the investment of the leadership, the buyout has been backed by a consortium of existing significant shareholders and creditors who provided the funds to ensure the long-term security of the business, Ve Interactive says.
After missing profitability targets, the company recorded losses of £16.5m in 2015. Ve Interactive are now planning to restructure, but continue to invest in tech development.
Channel 4 team up with Innovid for audio personalised tv ads
A new interactive VoD format announced by Channel 4 enables advertisers to call their audience by their individual name, pushing personalisation into audio. The personal names of All 4 viewers can be incorporated in the audio of adverts, using first-party data from Channel 4 audience database. Currently counting 15 million registered viewers, the audio-personalised, targeted digital campaigns are launching on All 4 this month.
"Following the success of the multiple brands taking advantage of our Ad 4 You format, we're now incredibly excited to offer the market something completely groundbreaking. The most attention grabbing word for anyone to hear is without doubt one's own name; so to be able to offer advertisers the chance to speak directly to our millions of viewers is not just unique, but an immensely powerful marketing tool which adds even more value to All 4's increasingly personalised experience", says David Amodio, digital & creative leader, Channel 4.
The technology for the audio personalised ads has been developed by video technology partner Innovid. Matt Colebourne, managing director, Innovid EMEA comments: "Video marketing is our sole business, so we continue to push the boundaries of what is possible in the medium. Channel 4 are one of our most innovative partners globally and we look forward to the success of audio personalisation and to the next eye-catching solution we will build together."
Free viewability measurement at comScore
comScore introduce a new baseline offering for digital media buyers and sellers to measure viewability rates across display, video, and mobile inventory. Their viewability measurement is an effort to promote trust and transparency in digital advertising, according to comScore.
"Viewability is critical, but for too long it has dominated industry discussion at the expense of other metrics that also really matter", explains Dan Hess, executive VP products, comScore. "We think it's time to make viewability a table stake for digital advertising, and move the market forward to a broader realm of more meaningful ad measurement across platforms."
comScore say they want to support their clients in their focus on deeper performance metrics. Rather than spending budget on viewability metrics, other metrics should be invested in such as reach within geographic and demographic targets and lift in brand awareness, purchase intent, visitation, or product sales.
comScore Viewability will be available globally this summer as a free, self-service offering. Along the way, comScore are planning to fully redesign the user interface in order to complement the viewability data with baseline reporting metrics.
IAB studies European ad format landscape
The IAB Europe reveal their first Video Ad Formats survey. Surveying approximately 700 advertisers, agencies, and publishers from across 31 markets, the study identifies three dominant formats across all devices in the European video advertising market .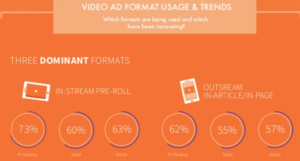 In-stream pre-roll, out-stream in-article/in-page format, and broadcast 30-second spot are the leading formats, when it comes to current usage, trends, and ROI. The study notes that there is little variation between advertisers, agencies, and publishers.
Drilling deeper, the survey establishes that the popularity of out-stream formats varies according to region, i.e. in Western Europe out-stream in-article/in-page is more prevalent than pre-roll. PC/Desktop remains the dominant device for video advertising, as all formats are used frequently on this device.
However, buy-side industry participants are particularly interested in extending video advertising across devices, as is evident in the fact that more than 80% of the survey participants increased their use of pre-roll on mobile devices in the last 12 months. Out-stream is also attracting more interest from publishers, who are increasingly turning to out-stream for further choice, the study finds.
Intrusive formats, such as interstitial and overlay ads, however, are declining in use, the survey concludes.
Sourcepoint recognised by ePrivacyseal EU
Following technical and legal assessment, the ePrivacy seal has been awarded to Sourcepoint. The seal acts as a stamp of approval for Sourcepoint's compliance with EU privacy regulations. Sourcepoint's data-privacy solution is called 'Dialogue' and supports digital publishers with a content compensation toolkit, bolstering the increasing demand for open and transparent value exchange with consumers.
The technology is based on the idea that privacy comes first. This in mind, Sourcepoint's technology allows publishers to directly engage with their audiences, yet puts the user in control of their browsing experience.
The ePrivacyseal EU is an initiative by ePrivacy GmbH which is accredited by the Northern German privacy protectors ULD (Landesdatenschutzzentrum Kiel). The seal aims to strengthen data protection legislation for consumers, which is due to come into force in May 2018.
Speaking to ExchangeWire, Ben Barokas, co-founder & CEO, Sourcepoint, explains" "The ePrivacyseal EU highlights our commitment to ensuring privacy-safe, transparent environments for publishers to start direct conversations with their audience. In the lead up to the GDPR, privacy-by-design will become increasingly paramount in the development of publisher solutions, this – combined with increased consumer awareness around content compensation and how their data is utilised – sets a precedent for transparent and open communication between audiences and publishers, to achieve the sustainable digital ecosystem that the industry, and its users, deserves."
Barokas emphasises the importance of open conversations with the users about privacy concerns. "Digital publishers in particular, use consumer data to enhance content development and recommendations, and will need consumers to agree and opt-in to how publishers put their data to use. The importance of open conversations with audiences about these privacy concerns – and, ultimately, how they'd like to engage with publishers in future content-compensation exchanges – sets the foundation for an open and transparent ecosystem. We hope this will also set a precedent for US privacy regulations to follow suit and incorporate consumer choice."
Rocket Fuel expand partnership with IBM
Platform provider Rocket Fuel are intensifying their collaboration with IBM. A new capability called 'Brand Moments' embeds IBM Watson technology and, thus, predicts consumer purchase decisions by using cognitive computing to identify keywords and brand sentiment signals in real-time. The identified keywords are processed by Rocket Fuel's AI to enhance performance, improve brand safety, and provide deeper intelligence for businesses.
The advantage for marketers: using AI-powered tech, marketers can discover new value in data sets – and create new marketing experiences for their target groups for more meaningful advertising.
According to Randy Wootton, CEO, Rocket Fuel: "By facilitating AI-to-AI communications with IBM Watson Discovery, Rocket Fuel are applying AI in radically new ways to help solve digital marketers' toughest challenges. The next generation of digital marketers are realising that access to data is not enough; real insight comes from applying AI-powered decision making to various digital brand interactions."
"We're excited about the opportunity that Rocket Fuel's implementation of Watson Discovery opens up for marketing and advertising programs", agrees Beth Smith, general manager, IBM Watson. "Businesses in all industries are benefiting from Watson's cognitive technologies; Watson Discovery is the latest in a series, giving those enterprises limitless possibilities."
The new Brand Moments are currently being tested. After the test phase, Brand Moments will be available to Rocket Fuel customers that advertise in the US market.
TwentyCi partner with Equifax
A new partnership between consumer and business insight experts Equifax and life-event marketing business TwentyCi results in a new marketing solution that enables companies to identify customers and prospects at key stages in the move lifecycle.
Focusing on an audience of users who are in the process of buying or selling their property, the Pre-Movers solution uses TwentyCi's data to identify the target group. The data is enhanced with additional Equifax insights about the property and its residents, such as credit status, or the composition of the household. This is to help companies adjust their campaigns to create highly targeted and timely marketing messages that will improve customer acquisition and retention strategies.
Paul Birks, chief data & analytics Officer, Equifax, explains: "Around 4.5 million UK adults move house every year; and this proposition enables clients to benefit from a broad spectrum of associated data insights to tailor their marketing strategies and more accurately meet customer needs."
According to Ian Lancaster, CEO, TwentyCi, the collaboration with Equifax will widen the reach of their data insights to new sectors such as utilities and financial services. TwentyCi is a consumer trigger intelligence and engagement business. Through identifying the events in an individual's life that act as motivational and behavioural triggers to purchasing decisions, TwentyCi works with brands and agencies to develop targeted marketing programmes to engage consumers at the time of purchase intent.