Changing Channels; Comfort Buying on Smartphones
by Hugh Williams on 22nd Jun 2017 in News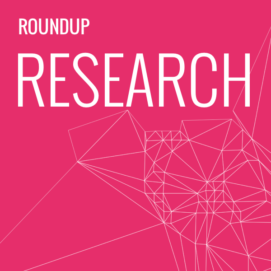 ExchangeWire Research's weekly roundup brings you up-to-date research findings from around the world, with additional insight provided by Rebecca Muir, head of research and analysis, ExchangeWire. In this week's edition: Changing channels; Comfort buying on smartphones; and Safety of smart devices. 
Changing channels
Children and teenagers are increasingly watching TV through smartphones and using on-demand services, finds research by MediaCom.

A third (33%) of teenagers regularly view TV content via a smartphone, significantly more than the 25% who did so in 2016. Alongside this, teenagers are increasingly choosing to watch TV using on-demand services, with 38% selecting this as their most common way to view, higher than the 35% who watch most of their TV live.
Smartphone ownership has significantly grown among preteens within the last year. Two-thirds (66%) of 8-to-12 year-olds now own a smartphone, compared to only 49% in 2015 and 58% in 2016. While smartphones have become more accessible at a younger age, the tablet – which was once a stalwart of video content viewing – is rapidly losing pace. Tablet ownership has dipped 8% among 8-to-12 year-olds and 4% in 13+ compared to 2016.
The study also brings to light kids' savviness around the issue of data privacy; 49% of 8-12s are concerned about information advertisers have about them (up by 10% since 2016), with 47% of 13-to-16 year-olds also admitting unease (up 6% year-on-year). The slightly older age group (17-to-19 year-olds), however, remain the most worried about data privacy, with 54% showing concern.
Comfort buying on smartphones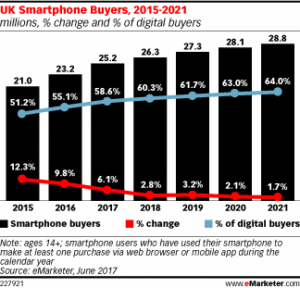 Using smartphones to buy goods and services is becoming commonplace in the UK, according to eMarketer's latest UK ecommerce forecast.
Almost six-in-ten (59%) of the country's digital buyers aged 14 and older will make retail e-commerce purchases (excluding travel and event tickets) via smartphone this year.
In 2017, UK retail e-commerce sales made via smartphones will be worth £16.4bn (USD$22.2bn), eMarketer predicts. As a result, smartphones will be the conduit for 47% of the UK's total retail m-commerce sales, which also include purchases made using tablets.
This year's smartphone commerce tally will be up 45.7% from a strong 2016, when sales grew by 66%, an expansion more than triple the 18% growth seen for UK retail e-commerce overall last year. 2017's gain will continue that trend, outpacing an anticipated 14.5% increase in overall retail ecommerce sales.
Safety of smart devices
UK consumers are unimpressed with smart home security, according to research by Locksmithservice.co.uk. Although 66% of UK consumers agree smart home security is an appealing concept, 44% do not trust it, and wouldn't install it in their family home.
When asked what they felt the key barrier was in adopting smart home technology, consumers cite the cost to purchase (36%). A lack of personal privacy has a far lower percentage (22%), as does the potential security threat to the home (16%).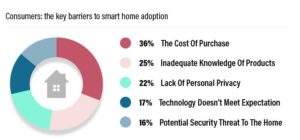 Despite adoption of smart devices growing strongly in the UK (28% of respondents own smart TVs), smart security is less of a priority. Only 3% of respondents own a smart surveillance security system, and 2% a smart lighting system.