The Value of Data: It's Not All Doom & Gloom on the High Street
by Lindsay Rowntree on 13th Jul 2017 in News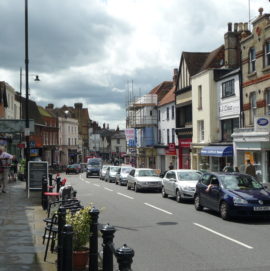 It's been a difficult 2017 so far for the retail sector: Jaeger collapsed into administration, Rue 21 closed stores, and Debenhams is closing stores to focus on a more digital approach. Many retailers are failing to meet consumer expectations by realigning their approach to a more digitally focused marketing strategy that ensures the retention and growth of their customer base. Digital has revolutionised where and how we can connect with our consumers. This should be a dream come true for companies, but a lack of innovation is seeing all too many fall by the wayside, writes Simon Brennan, VP sales, Engage Hub. Here, Brennan asks why digital had become so important and how are retailers getting it so wrong, exploring the role data has to play in retail success.
The 'always-on' consumer
Consumer conversations have evolved, with the increasing influence of mobile on daily lives creating an 'always-on' mindset that demands constant attention. With access to the internet in the palm of their hands and 'one click one buy' website features, consumers are browsing and buying products anytime and anywhere.
IMRG reiterates our new way of operating, after it released a report indicating that smartphones and tablets accounted for 51% of UK online retail sales in Q4 (2016). The report also highlights a 40% increase, compared to the same quarter last year. That's a staggering rate of growth in a short space of time, and serves to highlight the immediacy of action that is required by retailers.
Who's getting it right?
Of course, it's not all doom and gloom, and many retailers are indeed working hard to maximise the potential of their business and form a meaningful relationship with customers through digital. Debenhams, while closing high street stores in the process, understands the shift in consumer expectations and is already implementing a mobile-first digital approach, which has resulted in a growth in retail sales via mobile.
A number of online retailers have the advantage of a business model entirely built on the back of the digital economy; but it's not a given that they're always nailing their go-to-market strategy. BooHoo, though, clearly is, announcing the value of its business has grown from £560m in 2014, to £2bn in 2017.
BooHoo does an outstanding job of engaging its customers from the get go through familiar influencers, then continues to remarket itself through exciting deals and unmissable product sales, delivered to the right consumer at the right time. It makes the most of leveraging social media followers and email newsletter subscribers, as well as users of native mobile apps and a mobile-friendly website.
Data is the key to success
Contextually relevant communication with consumers is essential; and having the data to trigger and support these conversations is invaluable. What's perhaps more important, though, is whether or not retailers have a consolidated view of this data from multiple sources, including point of sale (POS), enterprise resource planning (ERP), delivery tracking systems, and the like, and are therefore able to have a consistent conversation, regardless of the channel through which it is being carried out.
For bricks-and-mortar retailers looking to continue conversations with customers after they walk out the front door, WiFi and POS can be particularly useful as a data-capture tool, enabling them to build a deeper understanding into customers visiting stores. Using cross-channel engagement platforms, in conjunction with this data, retailers can identify the location of an individual's nearest store and, indeed, whether they are repeat customers. By identifying the characteristics and behaviours of one-time visitors and repeat customers, retailers can push out contextually relevant communications, based on each individual customer's profile and preferences.
To take this to the next level, retailers can then combine this in-store insight with an individual's online user behaviour to add another layer of personalisation in their customer communications. Take, for example, a customer who is interested in buying a pair of shoes online. If they find that their size is no longer available online, they are more than likely going to leave the website. But imagine how delighted they'd be to receive a message telling them that their local store has the shoes they are looking for, in the right size. The communications are timely, relevant, and could ultimately result in a sale that would have otherwise been abandoned.
By bringing various data sources together, retailers can begin to engage with customers in more meaningful ways, pushing offers to customers based on any previous interactions and transactions they've had with the brand, tailored to their location and purchasing preferences. As a result, the customer feels like they are being treated as an individual. And that goes a long way in boosting customer loyalty during these challenging times.
An exciting future for those who act fast
To avoid becoming tomorrow's headlines, for all the wrong reasons, retailers need to recognise the value of data and act on it fast. The transactions and interactions customers have already had with a brand offer opportunities for creating personalised experiences.
By leveraging customer and real-time demographic data, location triggers, and behavioural information into one platform, to appropriately engage with customers, brands can better manage information and deliver the ultimate customer experience through any channel, be it on the high street or on your mobile.
TagsDataTechnology