Facebook Made More Profit Than Google
by Rebecca Muir on 27th Jul 2017 in News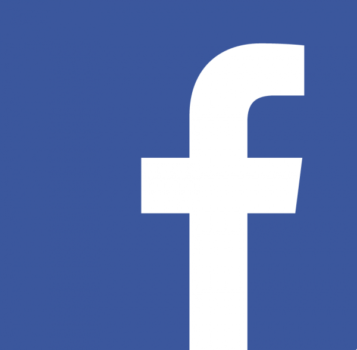 Yesterday, 26 July, Facebook, Inc. (NASDAQ: FB) reported second quarter 2017 results for the quarter ended June 30, 2017. It beat analyst expectations by generating USD$9.32 bn (£7.10 bn) in revenue, up about 45% from the same quarter last year. Facebook's net income for the quarter was USD$3.89 bn (£2.96 bn) – up an impressive 71% year-on-year.
That means Facebook made more profit than Google for the first time in history – though Google's Q2 profit only slumped to USD$3.52bn (£2.68bn) because it was slapped with a USD$2.7bn (£2.0bn) antitrust fine from the EU, which it will appeal.
"We had a good second quarter and first half of the year", said Mark Zuckerberg, Facebook founder and CEO. "Our community is now two billion people and we're focusing on bringing the world closer together."  
The social behemoth reported a 145% increase in revenue brought about mainly because of its advertising products in the UK and EMEA.
For reference, here's how Facebook's revenue growth has declined as it reaches maximum ad load:
- Q2 2017: 45%
- Q1 2017: 49%
- Q4 2016: 51%
- Q3 2016: 56%
- Q2 2016: 59%
Second Quarter 2017 Financial Highlights
- Daily active users (DAUs) – DAUs were 1.32 billion on average for June 2017, an increase of 17% year-on-year
- Monthly active users (MAUs) – MAUs were 2.01 billion as of June 30, 2017, an increase of 17% year-on-year
- Mobile advertising revenue – Mobile advertising revenue represented approximately 87% of advertising revenue for the second quarter of 2017, up from approximately 84% of advertising revenue in the second quarter of 2016
- Headcount – Headcount was 20,658 as of 30 June, 2017, an increase of 43% year-on-year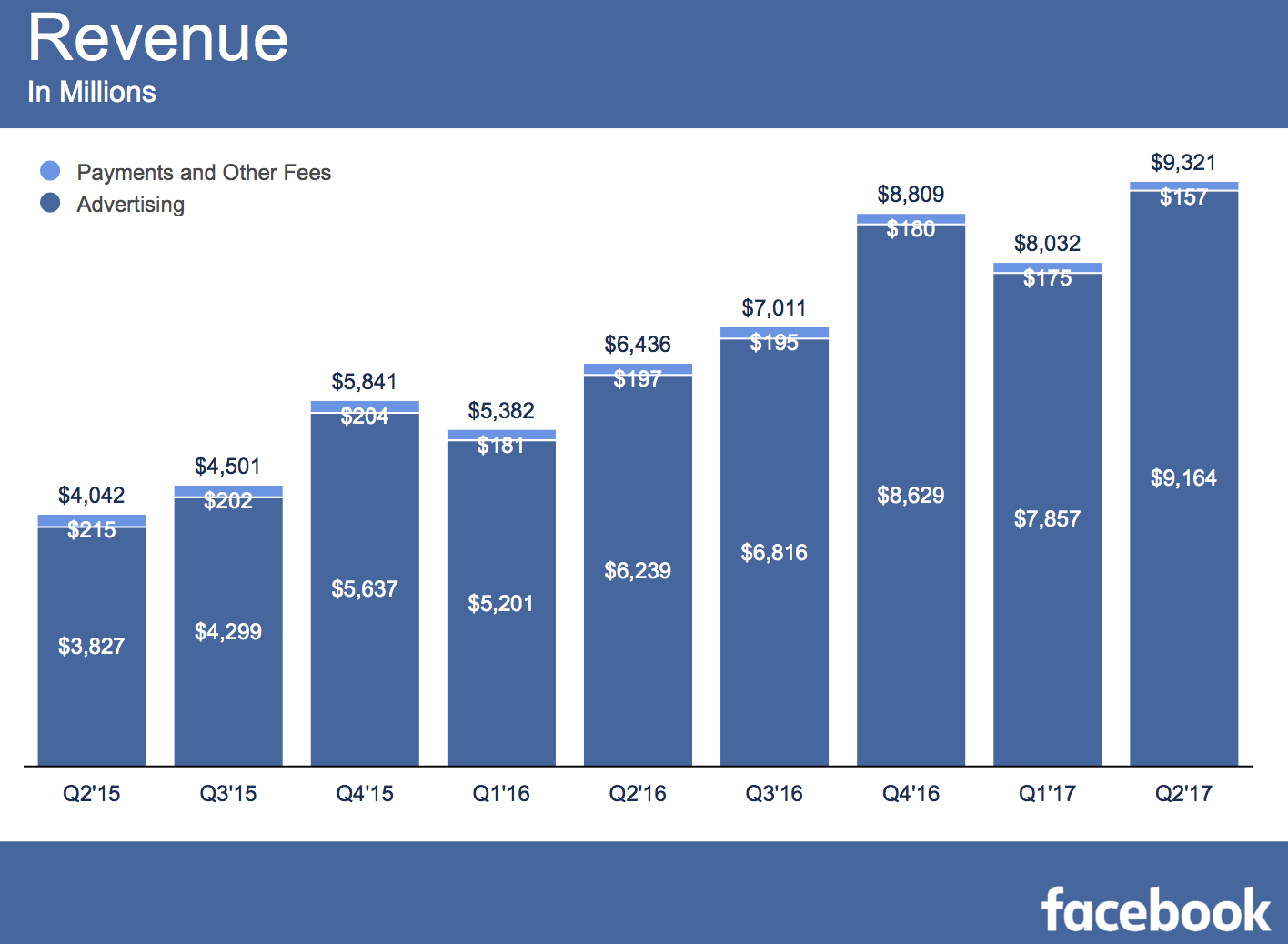 Source: Facebook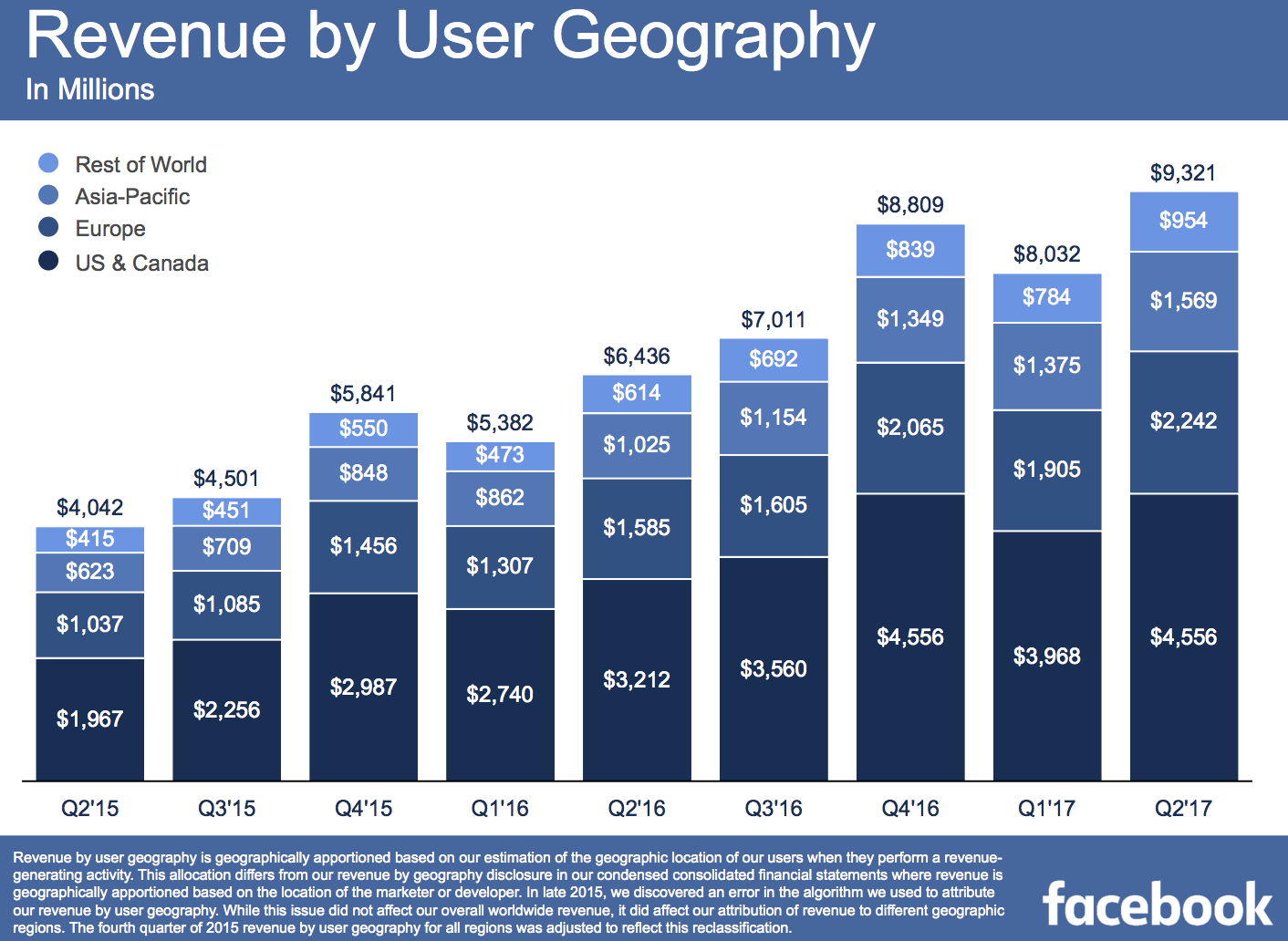 Source: Facebook
Facebook and Instagram compete with platforms like Snapchat and Twitter, and for budgets bleeding out of the USD$70bn (£53bn) TV advertising industry.
Instagram is already generating substantial revenue, thanks in large part to the app's popularity among millennials. In 2017, Instagram is expected to generate USD$3.92bn (£3.0bn) in revenue worldwide, eMarketer says.
Investors and analysts are mulling over where Facebook will find its next spurt of revenue growth. Facebook's long-term investments in messaging and virtual reality (its USD$2.0bn (£1.5bn) acquisition of Oculus VR) should become meaningful revenue streams for Facebook down the road.
RBC Capital Markets analyst Mark Mahaney recently estimated that Messenger and WhatsApp will become multibillion-dollar annual revenue generators in the next three to five years. Facebook has also been experimenting with offering ads in new places. This month, Facebook began its global roll out of ads in Messenger and started testing ads in Marketplace, a buy-and-sell section in its flagship app that is similar to Craigslist. The company has also been offering 'mid-roll' ads that run part-way through Facebook videos.
Zuckerberg continues to emphasise video and the smartphone camera as key to Facebook's product road map. Facebook has made features for quick, ephemeral video sharing prominent across nearly all of its apps, mimicking Snapchat's 'Stories' feature.
During the earnings call, Zuckerberg discussed how he sees artificial intelligence changing Facebook's business. He believes AI will be able to replace some of Facebook's human content moderators, flagging offensive content before anyone sees it. AI could help Facebook find relevant content to show from people and Pages you don't follow. Ad targeting can also be optimised by AI in ways that would be impossible to do manually.
Most notably, Zuckerberg revealed that WhatsApp now has one billion daily users, and 250 million daily users of WhatsApp Status — its Snapchat Stories clone.
On a more ominous note, Zuckerberg took a moment to say he was unsatisfied with the progress of monetising Messenger, saying: "I want to see us move a little faster here, but I'm confident we're going to get it right."
Facebook CFO David Wehner reaffirmed that Facebook expected to see the impact of running out of News Feed ad space in 2017, and also mentioned that declining Facebook Desktop usage and the removal of its sidebar ads could further hamper revenue growth in the second half of 2017. Facebook will also have to learn how to better monetise video ads, since users watching videos may stay in one spot on the News Feed rather than scrolling past more ads.
In April, Zuckerberg highlighted augmented reality as an increasingly important consumer tool. Facebook said it has started making its camera an augmented reality (AR) platform open to some developers, and it continues to add filters, lenses and special effects to its apps to promote frequent, playful sharing. Its efforts are working. More than 250 million people use Instagram 'Stories' every day, and the same number of people use WhatsApp's version of that feature (called 'Status') every day.