Digital Can Steal Hearts & Minds, As well As Ad Budgets
by Lindsay Rowntree on 8th Aug 2017 in News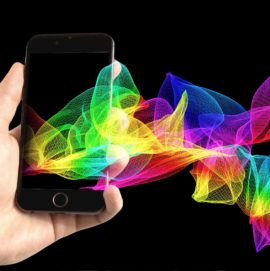 When you think of bold creative executions, digital doesn't tend to spring to mind and an even less obvious connection is mobile. Yet, given the weight of importance consumers place on their mobile devices, why shouldn't these be front and centre when it comes to investing memorable creative campaigns? Writing exclusively for ExchangeWire, Rob Garber, managing director EMEA, Undertone, explains why he believes marketers should be exploring the powerful, brand-building opportunities digital, specifically mobile, has to offer.
One thing strikes me every time I read a list enumerating the greatest ad campaigns of all time; these countdowns are consistently bursting at the seams with television spots. If you were to ask someone about their favourite or most memorable ad campaign, it wouldn't be surprising if all of the examples were TV-led, cinematic, or visually arresting posters seen on a billboard somewhere.
Given that television and other traditional media formats have lent themselves so well to the creation of great campaigns, you'd think they still take the lion's share of ad budgets. But this isn't the case, and it hasn't been for quite some time. Investment in digital remains on the rise; confirmed by the latest IPA Bellwether report, digital budgets are increasing at their highest rate in a decade.
The events of the last 12-18 months have brought about a great deal of uncertainty. In times like these, marketers look to tighten their budgets and seek short-term solutions, relying on dependable results and direct response. Digital certainly can deliver dependable results, but I'm interested in its potential for hosting ads with great emotional appeal too.
When we talk about a split in expenditure between brand display and direct response, many assume brand building has to be constructed by traditional media channels, as if digital is incapable of matching their ability to create memorable campaigns. As a digital media professional, I believe many have been missing opportunities by rejecting the medium as a poor environment for emotion-led campaigns.
A 2016 report from the IAB highlights this capability in digital. The report disclosed that digital content delivered through smartphone devices, in particular, measured equally as engaging as content consumed on television. In fact, mobiles are now internet users' most important internet devices.
With the growing sophistication, richness, and variety of digital ad formats available, there has never been a better time for marketers to create powerful, emotional digital experiences. Marketers ought to realise digital's power in creating campaigns that not only deliver tangible ROI, but also powerfully resonate with audiences, commanding attention and driving meaningful engagement.
A great example of this ability to garner authentic, emotional reactions on mobile is 360-degree video. The format encourages users to explore an entire scene, either by dragging their camera angles or moving their phones to change the perspective. This has huge potential for advertisers who can use the function to create a 360-degree 3D scene, showcasing locations, vehicles, buildings, or products in their creative.
The native functions of smartphones also provide opportunities for immersive interaction. Accelerometers are ubiquitous in smartphone devices and can be used to measure the extent to which the device is moved when tilted, twisted, etc. Phone movements are then correlated with on-screen images; replicating real-world actions like shaking could allow an advertiser to offer bespoke content in exchange for interaction with a native function. This puts the user in control of their own ad experience and encourages direct, genuine engagement with a brand.
Sophisticated tools including multi-touch sensors are also programmed into modern devices, fostering the ability to draw directly onto a smartphone screen with a finger. This is something only digital marketers can creatively leverage – inviting users to put their personal stamp on a brand experience.
Research Undertone conducted in partnership with System1 found that these kinds of high-impact ad formats outscored standard ad formats by over 60% in key performance metrics, such as emotional intensity, active emotions, and positive emotions. However, there is only a certain amount of energy a consumer will spend on an ad, so it is important to make it easy for the consumer to interact with and be entertained. Intuitive, simple narratives are the way forward, ensuring ads are designed to give the user a thoughtful, engaging experience across all devices.
There is a significant opportunity for digital to deliver in the long term, if marketers explore this broad scope for creativity. Digital is capable of brand building and packing an emotional punch on par with television and other traditional media formats. I believe digital is ready to up the ante when it comes to delivering some of the greatest ad campaigns of all time. The scope for great creativity is there and exploring every crevasse will be key to unlocking its huge potential.