Mobile Ad Spend to Grow by 31% in the UK in 2018; SpotX Fully Acquired by RTL Group
by Sonja Kroll on 1st Sep 2017 in News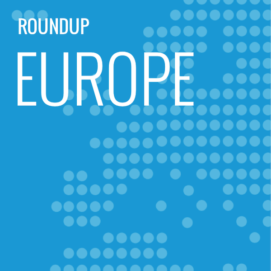 ExchangeWire rounds up some of the biggest stories in the European digital advertising space. In this week's edition: Mobile drives UK ad spend in 2018; RTL acquires remaining SpotX shares; Venatus adopts ads.txt standard; Inneractive battles ad fraud; and adsquare launches data alliance.
Mobile to drive UK retail ad spend in 2018
Mobile advertising will push the ad spend in the UK's retail sector, eMarketer finds. According to the latest ad spend forecast, investment in mobile advertising will grow by 31.0% this year, reaching a total of up to £1.04bn. As a result, mobile will represent over two-thirds of retailers' digital ad outlays in 2017.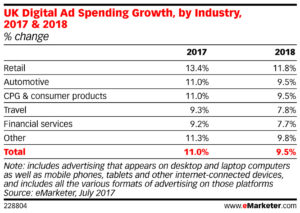 For the purpose of the forecast, eMarketer analysed the automotive, consumer packaged goods (CPG) and consumer products, financial services, retail, and travel industries. The bulk of ad spend will go towards activities in the retail sector, aided by the largest spending gains among industries, both this year and next.
The unabated growth of e-commerce has resulted in competition between merchants for digital shoppers, eMarketer finds, thus boosting ad spend. The ad expenditures in the retail sector alone will account for 14.2% of all digital ad spend in 2017, with investment up 13.4% to £1.55bn.
"The retail sector has a wide array of product categories, ranging from household staples, such as groceries, to highly popular consumer electronics and gadgets", says Monica Peart, senior forecasting director, eMarketer. "This helps to not only push retail ad spend above other sectors, but also makes it one of the fastest-growing categories with pure-play e-commerce giants, such as Amazon, pushing advertising investments online and on mobile, where the shopper is increasingly making purchase decisions."
RTL Group buys remaining SpotX shares
Video ad-serving platform SpotX gives up their remaining shares to be fully owned by RTL Group. The latter are set on developing their ad tech portfolio.
RTL had been investing in SpotX since 2014. As part of the original investment negotiations, RTL had kept the option of a complete future buy-out. The purchase of the remaining shares is based on an enterprise value of SpotX of USD$404m (£312.6m) on a 100% basis plus net cash.
"Back in 2014, the majority stake in SpotX was our first big step into advertising technology; gaining full ownership now is another major step in transforming RTL Group into a 'total video' powerhouse", say Bert Habets and Guillaume de Posch, co-CEOs of RTL Group. "Together, with the very experienced management teams of SpotX and of our European asset smartclip, we are working on an ambitious growth plan for our ad tech businesses, including further acquisitions, partnerships, and deeper synergies across RTL Group."
As part of the ownership changes, SpotX will cooperate closely with the RTL-owned ad platform smartclip in a bid to continue their respective growth plans.
The acquisition is set to close in October 2017. Changes in regards to SpotX's management team, led by company co-founders Mike Shehan, CEO, and Steve Swoboda, COO/CFO, are not planned. Both founders will continue to take active roles in SpotX.
Venatus adopts ads.txt standard
In a bid to battle ad fraud, entertainment sales house Venatus is following the trail blazed by the IAB, adopting the ads.txt framework. Intended as a new industry standard for transparency in programmatic trading, it indicates the validity of inventory and enables secure transactions through publicly available sellers records.
"As we exclusively represent our publishers, we are keen to be at the forefront of any initiatives to stamp out fake traffic. Implementing ads.txt across our portfolio offers an extra level of authenticity for our buyers", says Rob Gay, CEO and co-founder, Venatus.
By adopting the new framework, Venatus is following the lead of some of their publishers. Previously, buyers had been unable to identify the publisher ID of individual sites and thus not know whether they were buying genuine inventory. With ads.txt, buyers create lists of authorised sellers by publisher.
Clean Market initiative by Inneractive
Inneractive wants to make sure that the traffic going through its mobile exchange and supply-facing platform is free from fraud. To that end, the Fyber-subsidiary is launching a new initiative, dubbed 'Keeping It Clean'.
Apart from implementing the ads.txt framework pioneered by the IAB, the new Inneractive promises "constant and consistent application of new technologies to verify, authenticate, and protect ad traffic".
"Ads.txt is a great industry collaboration around quality that we are actively promoting and we hope a similar approach will soon be applied to in-app inventory. That said, a truly clean market requires constant maintenance, and this is why we launched 'Keeping It Clean'", said Offer Yehudai, co-founder, Inneractive, and current president, Fyber. "Premium programmatic has been limited, due to concerns about ad fraud, and with Keeping It Clean our goal is to make clean traffic the norm to bring back trust in digital advertising."
Additionally, partnerships with antifraud players such as Pixalate, MobileWalla, and Moat are also part of the fraud-busting plan.
adsquare forges data alliance
Mobile-first data exchange adsquare wants to provide data from first- and third-party data providers by way of a new data alliance. Aggregating deterministic data from app publishers, as well as validated third-party data from adsquare's data partners, the audience segments are provided via adsquare's self-service DMP, as well as external DSPs and DMPs.
With the new data alliance, adsquare is hoping to make access to reliable data easier for advertisers: "With an abundance of data in the industry being scattered through data silos, it's becoming increasingly difficult for advertisers to employ 1:1, people-based advertising at scale. The adsquare data alliance stands for both accurate data and reach and gives advertisers the freedom of choice", says Tom Laband, CEO and co-founder at adsquare.
The adsquare data alliance allows access to a plethora of validated high-performing data, curated via an elaborate process of aggregation, normalisation, optimisation, and activation of first- and third-party data. As a curator and audience expert, adsquare selects high-quality data from its data exchange, validates it against industry standards, and aggregates it into a standardised taxonomy. This will allow advertisers to use a smart mixture of first- and third-party data in a secure environment.
adsquare has not yet named the cooperating data sources. The data alliance offers segments covering data from demographics and interests as well as brand affinity, etc.
TagsEMEAProgrammatic