RhythmOne Acquires YuMe; OpenX Launches First-Price Auction
by Diane Harding on 12th Sep 2017 in News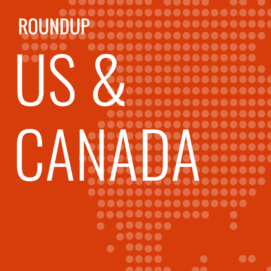 ExchangeWire rounds up some of the biggest stories in the US/Canadian digital advertising space. In this week's edition: RhythmOne buys YuMe; OpenX launches first-price auction for transparency; SpotX launches header bidding for video; Visual IQ launches a marketing intelligence platform; Adform partners with Research Now; Drawbridge partners with LiveRamp.
RhythmOne to acquire YuMe
Cross-device platform, RhythmOne, has agreed to acquire video advertising company, YuMe, bringing supply side together with demand side, to create a unified platform across mobile, video, connected TV, and programmatic. YuMe shareholders will receive USD$1.70 (£1.29) per share in cash and 7.325 shares in RhythmOne stock, equaling USD$185m (£140m). The transaction is expected to close in Q1 of 2018.
Ted Hastings, CEO, RhythmOne, tells ExchangeWire: "The ad industry is converging around clear priorities of inventory quality, brand safety, and data transparency. Advertisers are also hungry for scale – especially as it relates to mobile video and connected TV – channels that we see capturing some of the shifting spend from linear television. The YuMe acquisition reinforces the company's commitment to deliver on what advertisers most value, and to build the most efficient and effective marketplace for digital advertising."
"We're excited about YuMe's future with RhythmOne. Our solutions are near perfect complements to one another. YuMe's strong relationships with agencies and brands and its demand-side platform align well with RhythmOne's robust, unified programmatic platform and considerable supply-side footprint. I believe the online advertising market is ready for a comprehensive, independent alternative to entrenched players", Michael Hudes, CRO, YuMe tells ExchangeWire.
RhythmOne's CEO Ted Hastings will continue in his role as president and CEO of the combined company, and YuMe will appoint two directors to the board of directors, which will include Eric Singer as chairman of the board.
OpenX launches transparent first-price auction
Los Angeles-based OpenX, a programmatic advertising technology company, has launched a transparent first-price auction solution for buyers and sellers to have visibility into how inventory is bought and sold across programmatic auctions. This solution will provide buyers with insights to help optimise their bidding strategies, and give publishers the ability to understand their performance for each auction type.
Using two separate OpenRTB standard parameters in the bid request, DSPs are now able to know which type of auction they are competing in, and which partner has the final decision, giving more insight to their bidding strategy in the OpenX Exchange.
Jason Fairchild, CRO and co-founder, OpenX, tells ExchangeWire: "For the programmatic advertising industry to continue its exponential growth, it is essential that brands and publishers have complete trust in the process. The creation of a transparent first-price auction meets a clear industry need for new technology that reflects the changing programmatic landscape, especially following the rise of header bidding. With transparency and quality now a key priority for all marketplace participants, the ability to understand whether the auction is run on a first-price or second-price basis is a necessary development to ensure the future health of the digital advertising industry as a whole."
SpotX builds header bidding Suite for video
Recently acquired by RTL Group, video ad serving platform, SpotX, has launched a header bidding suite built specifically for video. The new solution, featuring a server-side wrapper, will complement their ad serving tools and give media companies options to maximise the number of demand sources competing for their inventory.
"Header bidding for video is vastly different to display – different technology is needed to manage demand partner latency, set real-time price floors, deliver built-in viewability and fraud protection, and access integrated analysis and reporting tools. Our new solution is built specifically for the unique needs of video and advocates direct integrations with the player in order to maximise effectiveness and efficiency", Tal Almany, Senior Director, Advanced Integrations, SpotX, tells ExchangeWire.
SpotX is also moving to more advanced integrations from previous VAST tag-based integrations via a Direct Integrations Suite comprised of OVP plugins, javascript players, iOS and Android mobile SDKs, and tvOS and other connected TV SDKs. This best-practice policy was introduced last year and has been rolling out across the platform.
Visual IQ launches Marketing Intelligence Platform
Marketing intelligence software company, Visual IQ, has launched their new Marketing Intelligence Platform, combining audience demographic and behavioural attributes in one user interface. The goal is to better enable brands and agencies to execute people-based marketing strategies with insights from customer attributes, as well as how audiences interact with their brand across digital, mobile, and physical environments, to optimise budgets for the best results.
The platform includes an open architecture that integrates with other systems and leverages Visual IQ's data partnerships, audience data integrated with Multi-Touch Attribution (MTA), flexible attribution approaches, and predictive analytics capabilities.
Manu Mathew, CEO and co-founder, Visual IQ, tells ExchangeWire: "A well-orchestrated consumer experience is the new competitive advantage. Yet, for marketers, optimising experiences can feel impossible to master when customers and prospects are interacting with their brand across a dizzying number of channels, touchpoints, and devices. To deliver the coordinated, relevant experiences they expect, analysing audience attributes in isolation from marketing performance is no longer enough. At Visual IQ, we're providing a more intelligent solution that brings them together.
"By combining the power of audience and attribution, we're enabling marketers to see all the touchpoints involved in the consumer journey and track how each interaction contributes to a desired action at each stage. With visibility into how certain audiences are responding to messages, offers, creatives, and other granular tactics, marketers can allocate their budgets more efficiently and effectively, while making the consumer's whole journey a better experience."
Adform partners with Research Now
Advertising technology company, Adform, and data research company, Research Now, have partnered to allow publishers, agencies, and corporations access to Research Now's first-party data on Adform's advertising platform. Other than proprietary, or closed platforms, opted-in, first-party hasn't been available from data platforms, and Research Now's data will include individuals in investing, healthcare, and other specialty areas.
Adform's advertising platform, Advertiser Edge™, will now be able to integrate Research Now's first-party data with third-party data for optimised advertising targeting and measurement. Adform clients will also be able to access Research Now's Audience Validation solution to view the actual exposed audience to a digital campaign, across devices, and will be integrated into Adform's full set of solutions, including their DMP and DSP, later this year.
"Third-party data is great for optimisation and targeting purposes. But at Adform we learned that agencies and advertisers need to have a trusted and independent source for verifying campaign reach. That's why we reached out to Research Now and worked with them on building up that partnership.
"Research Now is a global leader in Research Services and a very well-known and trusted brand. Our integration with RN is a great example of a closed loop and state-of-the-art partnership. It touches each phase of a campaign lifecycle: audience verification, audience targeting, and post-campaign reporting. The verification and targeting features of RN are available for both direct IO media campaigns and programmatic media business. We are excited that the integration is working cross-channel and cross-device", Oliver Weiss, VP of business development, Adform, tells ExchangeWire.
Drawbridge & LiveRamp Partner
Drawbridge, an identity-management company based in San Mateo, CA, and Acxiom company, LiveRamp, an identity-resolution company based in San Francisco, CA, have partnered to give access to the Drawbridge Connected Consumer Graph across ad tech and martech companies that use LiveRamp IdentityLink.
DSPs, DMPs, and partners powered by LiveRamp's identity resolution service will now be able to reach consumers on a greater number of their connected devices, cross-channel, from mobile and desktop, to other online devices, including TV.
"LiveRamp's deterministic, omnichannel identity graph provides the foundation for people-based marketing across the digital ecosystem, allowing marketers and their partners to recognise consumers in digital channels and apply context to their interactions", said Jeff Smith, chief marketing officer at LiveRamp. "Layering Drawbridge's device graph over this, our clients can now increase their number of touchpoints with their prospects and customers, and create more seamless experiences for consumers."
Brian Ferrario, VP marketing, Drawbridge, tells ExchangeWire: "Our ultimate goal is to enable better people-based marketing, whether that's in the form of more targeted advertising, holistic attribution, site personalisation, or custom content recommendations – there's a tremendous opportunity to improve customer experiences using identity. LiveRamp's ecosystem is a great channel for us to reach even more brands that are focusing on enhancing the consumer journey while driving further adoption of our Connected Consumer Graph."