QuanticMind Raises USD$20m; TripleLift Partners with TabMo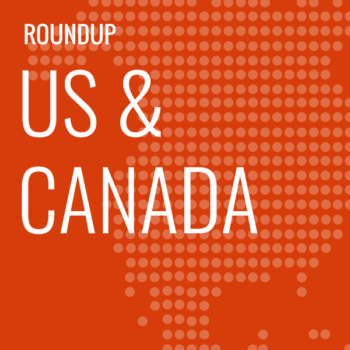 ExchangeWire rounds up some of the biggest stories in the US/Canadian digital advertising space. In this week's edition: QuanticMind raises Series B funding; TripleLift and TabMo partner; SpotX integrates with Amazon's TAM; Veritone and iHeartMedia partner; TVadSync expends in the US backed by Centro; and Adelphic launches digital OOH.
QuanticMind Raises USD$20m in Series B
Data-management platform, QuanticMind, has raised USD$20m (£15m) in a Series B round with Foundation Capital, Safeguard Scientifics, and Cervin Ventures, with Foundation Capital's general partner, Ashu Garg, joining the board of directors.
This latest round of funding will be used for growth investments, hiring, and product development, with a focus on artificial intelligence, predictive advertising, data science, and machine learning across channels such as search, shopping, social and cross-channel customer journeys.
"The funding news is incredibly exciting, and we'll be investing it heavily into product development to solve the big-data challenges of digital marketing. Data production has been projected to increase 4300% in the next three years; and mismanaged data is expected to cost companies USD$3.3tn (£2.52tn) in the same time period. This new funding will enable us to give digital marketers the power to make unerringly accurate marketing decisions and consistently reach the right customer at the right time with the right message", Chaitanya Chandrasekar, co-founder and CEO, QuanticMind, tells ExchangeWire.
This round of funding comes after a Series A round completed in September 2015 and follows a two-year period in which the company has grown its customer base more than 300%.
TripleLift & TabMo partner
Native advertising company, TripleLift, has partnered with mobile DSP, TabMo, to advance their mobile native offering to be able to offer mobile native inventory to brands, extending their programmatic advertising reach.
Since native placements provide larger inventory opportunities, compared to traditional mobile advertising, this partnership will provide marketers with a vast amount of impressions across thousands of programmatic mobile websites and apps using TripleLift's technology.
Tom Anderson, head of mobile, TripleLift, tells ExchangeWire: "With the continued increase of time spent in-app, we anticipate advertisers to invest their budget heavily in mobile advertising in the next few years. TripleLift is committed to maintaining its position in the market as the leader in native advertising across all digital platforms by partnering with native investors like TabMo."
"Mobile media consumption is growing rapidly, and brands need as many avenues as possible to pursue consumers on the channel. It's no surprise that companies like TripleLift have seized the opportunity in offering premium native mobile ad inventory. This partnership allows the brands and agencies using TabMo's Hawk DSP to deliver deeply-immersive creative units in native inventory that is sure to capture consumer attention. With attention harder to capture than ever before, that's a winning combination for advertisers", Renaud Bie, CEO and co-founder, TabMo, tells ExchangeWire.
SpotX integrates with Amazon's Transparent Ad Marketplace
Video ad serving platform, SpotX, is the first to integrate their server-side approach to video header bidding, with Amazon's Transparent Ad Marketplace (TAM). This integration offers publishers that use TAM's header bidding solution access to SpotX's platform tools, such as verification controls, tracking metrics, behaviour insights, Curated Marketplaces and self-service programmatic direct tools.

"The integration will help media companies maximise revenue and control by bringing together Amazon's unique demand with SpotX's advanced integrations with over 65 DSPs," Sean Buckley, CRO, SpotX, said. "It will also enable deal-ID-based private marketplace transactions, which are a critical part of the programmatic video landscape."
"With SpotX's extensive experience managing video content, and TAM's auction transparency and simple technical implementation, this integration will enable broadcasters to unlock higher programmatic CPMs and still deliver a great video experience", added Ken Leeder, general manager, Amazon Publisher Services.
The solution will allow media companies to improve revenue and user experience with a single call to TAM's cloud-based marketplace, and be able to manage demand partner latency, set price floors, allocate priority tiers to campaigns, and have access to analytics and reporting tools.
Veritone provides AI solutions for iHeartMedia
Veritone, an artificial intelligence (AI) insights and cognitive solutions platform company, has partnered with audio company, iHeartMedia, with a two-year agreement to give iHeartMedia a license to the Vertone aiWARE platform for more than 200 of its radio stations in the top 50 markets in the US. This partnership will give iHeartMedia the ability to process, transform, and review audio data in near-real time, with ad and content tracking, analytics, content extension, and media management.
Veritone will also help iHeartMedia with an AI-based solution for real-time intelligence and applications, by contextualising and dimensionalising unstructured data across iHeartMedia's platforms that include radio broadcasting, online, mobile, and browser apps, digital and social media, and podcasts.
Ryan Steelberg, co-founder and president, Veritone, tells ExchangeWire: "With this partnership, we're helping one of the largest broadcast companies in America with our proven AI solutions. This is a significant milestone for both companies, and one that we know will continue to afford actionable insight for advertising as well as for programming and content management. Analyst firm IDC forecasts that, by 2025, the global datasphere will grow to 163 zettabytes, ten times the 16.1 zettabytes generated last year. iHeart recognises that we're operating in an atmosphere where we have too much data to enrich, analyse, and capitalise on manually. Traditional methodologies simply don't work anymore, and we're excited to be transforming broadcast media with them."
TVadSync launches TV retargeting in US, enabled by Centro
TVadSync, a technology company bridging the gap between television and second-screen devices, has expanded availability of its real-time TV retargeting solution for US marketers, by having Centro, a digital advertising software provider, power the solution.
Using Centro's Basis programmatic ad platform will provide an API that will enable TVadSync to quickly find digital media audiences, to serve advertising to the user in relation to TV commercials they have just seen. This solution will extend share of voice to mobile and desktop while the TV spots are airing.
Katie Risch, EVP of customer experience, Centro, tells ExchangeWire: "One of the unique aspects of Centro's programmatic advertising system, Basis, is its ability to absorb and analyse data in real time, which can prompt immediate digital media activation. TVadSync chose Basis to execute campaigns for its advertisers because its business requires speed. The moments that matter for consumer attention can expire within seconds or minutes, which is the amount of time a marketer has to decide if it wants to serve an ad to a person that has just seen a TV commercial."
"For decades TV and digital advertising have played in different silos, been actioned separately and then analysed only in aggregate. Studies have pointed to a 'halo effect' for TV plus digital that outcompetes other combinations such as TV plus radio, or print, and even TV by itself. It's only recently the industry has connected the dots on an impression, user, and household level for true closed loop attribution. This has allowed TVadSync to show that intelligently sequenced impressions from the 'Big Screen' to second screens turbo charges the halo. Centro allows us deliver this next-gen all-screen magic that marketers want", Ronan Higgins, CEO, TVadSync, tells ExchangeWire.
Adelphic launches programmatic digital OOH
Viant's Adelphic, a self-service, cross-channel programmatic advertising company, is adding digital out-of-home (DOOH) inventory to its platform via Rubicon Project's Private Marketplace (PMP). Clients can now purchase DOOH inventory, including digital billboards, airports, office lobbies, and elevators, through additional partnerships with Clear Channel Outdoor America, one of the largest outdoor advertising companies, and Captivate, a location-based video network.
With the addition of DOOH inventory to Adelplhic's DSP, advertisers and brands have the cross-channel ability to buy programmatic inventory, and use audience-driven insights for better targeting and analysis.
Jeremy Haft, VP, Adelphic, tells ExchangeWire: "Until now, buyers have had to manually convert digital out-of-home inventory metrics, such as events, to impressions based on the amount of people exposed to OOH ad. Adelphic has eliminated this time-consuming process by becoming the first DSP that offers buyers a reporting tool that automatically converts traditional out-of-home metrics to impressions. The digital out-of-home market has been growing rapidly, so we're excited to give our agency partners the ability to purchase this inventory programmatically. "