Nielsen Launches TV DMP; Vistar Media Launches Private Marketplace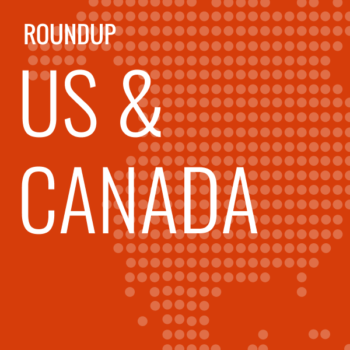 ExchangeWire rounds up some of the biggest stories in the US/Canadian digital advertising space. In this week's edition: Nielsen launches person-level TV DMP; Vistar launches private marketplace for DOOH; Adform partners with Hivestock; Sizmek partners with industry partners for viewability and verification; SpotX and DoubleVerify partner; Rubicon launches server-side header bidding in beta; and Factual launches Engine SDK.
Nielsen launches person-level TV DMP
Data and measurement company, Nielsen, has launched a person-level TV DMP, combining smart TV data from Gracenote, and Nieslen's person-level TV exposure data, to enable the Nielsen DMP to deliver enhanced individual viewing patterns, furthering personalised advertising and content, controlling exposure frequency and more accurately measuring sales impact.
Nielsen company's Gracenote works by gathering Smart TV viewership data in real-time to identify TV programs, movies, advertisements, and video games being viewed by consumers, and providing insights on consumers engagement with that content. The Nielsen DMP then connects the Gracenote viewership data to Nielsen's first- and third-party consumer data for person-level consumer insights, and hundreds of integrated paid and owned media platforms for marketing utilisation.
Damian Garbaccio, EVP at Nielsen Marketing Cloud, tells ExchangeWire: "Nielsen has moved beyond household-level viewership data to create the industry's first person-level TV DMP. By combining the power of the Nielsen DMP with Gracenote's real-time Smart TV data, we are launching a powerful new data offering for advertisers, agencies, and media owners. It will help all of our clients better understand the end-consumer, the ROI of their marketing campaigns, and power more personalised and consistent advertising across channels. It's also important to note that this brings the industry one step closer to standardising audience segments across linear TV, connected TV, and digital media. Nielsen is leading the charge in developing a consistent addressable currency."
Vistar Media launches private marketplace for DOOH
Vistar Media, a geospatial technology company, has launched a private marketplace for digital-out-of-home (DOOH) campaigns on the Vistar platform, called 'Marketplace Deals'. The new solution allows buyers and sellers to directly negotiate the requirements of a deal, which can include targeting, price, and specific inventory packages, tailoring the deal to their specific needs.
Marketplace Deals allows DOOH media owners to highlight their inventory directly to digital buyers, and maintain control and transparency, while taking advantage of transacting automatically on the Vistar platform.
"As OOH continues to become an important part of the omnichannel mix, expanding the ways campaigns can be transacted means that the benefits of programmatic (targeting, measurement, efficiency) can be applied across the industry. Giving media owners (like Clear Channel, Lamar, Adspace, and others) a way to merchandise their inventory and provide custom packages tailored to the needs of self-service buyers brings OOH one step closer to having all of the programmatic capabilities of online advertising", Michael Provenzano, co-founder and CEO, Vistar Media, tells ExchangeWire.
Adform partners with Hivestack for DOOH ad buying
Advertising technology company, Adform, based in Denmark, and location martech company, Hivestack, based in Canada, have partnered to enable programmatic buying of DOOH inventory from Adform's Demand Side Platform (DSP) in the United States.
With this integration, media owners are enabled to use the Hivestack SSP to create location-based, custom audience deals that can be used for programmatic buying across the Adform DSP. The solution will leverage Hivestack's supply-side DOOH Ad Server to geo-temporally activate DOOH inventory based on mobile device concentrations recognised from Hivestack's location partners, such as Lamar Advertising Company, which offers the largest network of digital billboards in the United States.
Julian Baring, GM North America, Adform, tells ExchangeWire: "Digital-out-of-home is rapidly evolving to realise the capabilities we take for granted in the programmatic media environment. It has become audience-addressable with sophisticated geolocation targeting, flexible day-parting, and creative scheduling, thus offering high-impact opportunities for marketers to realise measurable touchpoints with consumers. Adform's partnership with Hivestack enables marketers and agencies to further realise the benefit that a media-agnostic full ad-stack solution delivers to holistic omnichannel marketing efforts as part of full-funnel, or even just tactical, marketing effort."
Andreas Soupliotis, founder and CEO, Hivestack, also adds: "While online marketing dominates most media strategies, the reality is that over 90% of consumer purchases are still made in the offline, physical world. Until now, these offline audiences have stayed largely inaccessible to agencies that buy most media programmatically. Adform's integration with Hivestack changes that. Digital marketers can now target offline, custom audiences by buying and activating programmatic DOOH using a revered platform."
Sizmek Partners with DoubleVerify, comScore & Integral Ad Science
Buy-side advertising platform company, Sizmek, has partnered with marketing measurement company, DoubleVerify, cross-platform measurement company, comScore, and measurement and analytics company, Integral Ad Science (IAS), to enable more efficient workflow for HTML5 video measurement for advertisers.
The partners will help to enhance Sizmek's video viewability and verification measurement stack by working across Sizmek's data enablement, creative optimisation, and media execution capabilities, to streamline traffic. The HTML5 video framework is fully supported by Sizmek's In-Stream HTML5-based VPAID and In-Stream Enhanced Video formats.
"We're in a rapidly evolving market; and to keep providing clients with the best workflow efficiency for HTML5 video measurement, these partnerships were key. We want to bring greater control and transparency, which further enhances our offerings around data-enablement, creative optimisation, and media execution", Mike Caprio, chief growth officer, Sizmek, tells ExchangeWire.
SpotX partners with DoubleVerify
Video ad-serving platform, SpotX, and marketing measurement company, DoubleVerify, have partnered creating a joint solution to address the latest ad fraud threat, verification stripping. This latest menace in the industry is a new bot tactic where fraudulent actors manipulate, or 'strip' out, code transmitted to verification partners to hide evidence of domain spoofing and other fraud. Some cases even prevent impressions from passing through the verification process.
With this partnership, SpotX can now identify inventory that has been subject to this stripping tactic and remove the fraudulent supply source from the platform, assuring advertisers and publishers that impressions served are clean.
Josh Cariveau, VP global supply operations, SpotX, tells ExchangeWire: "While we've taken quick action to address this concern and ensure the quality of inventory transacted on our platform, buyers should be aware that this type of fraud is likely occurring at scale on other platforms. We'd strongly urge buyers to be vigilant in vetting their media buys to ensure their purchases are properly measurable."
To avoid verification stripping, it is recommended that buyers monitor abnormal spikes in traffic, look for discrepancies between impressions purchased and impressions counted, and to immediately investigate any significant discrepancy.
Rubicon launches beta server-side header bidding
Advertising technology company, Rubicon Project, has launched an open source server-side header-bidding solution in closed beta, with open and full functionality in early 2018. The new solution, supporting Rubicon's private marketplace capabilities, has been built based on neutral standards, that are adaptable and transparent to the industry, following their dedication to the development of open source seller monetisation tools.
The server-side solution is free for sellers and includes client-side header-bidding integration with Prebid.js, PMP functionality and deal prioritisation, account and tech team support, and is configurable to existing header-bidding configuration.
"As we look ahead to 2018, it becomes increasingly apparent that sellers will need to consider the benefits of server-side solutions related to their business", Tom Kershaw, CTO, Rubicon Project, tells ExchangeWire. "Server-side solutions like ours reduce page performance impact, creating a better user experience. To truly improve upon inefficiencies inherent in header bidding, it's also important that these solutions be open source. Only open source solutions offer complete transparency and interoperability, providing the best results for sellers and the industry overall."
Factual launches Engine SDK
Los Angeles-based location data company, Factual, has released a mobile software development kit (SDK), called 'Engine', that will allow developers the ability to incorporate location data and intelligence into mobile apps, to increase user engagement, build personalised interactions, and better understand users.
Engine will utilise Factual's Global Places data with on-device location information and behaviour patterns to help developers better understand user context and identify ideal moments for engagement. The algorithm used will take in to account multiple factors, such as business operating hours, device-usage patterns, and speed and direction of travel, giving insight beyond their location or place, enabling apps to take the best action for engagement.
"In the near future, all apps and user experiences will be effortlessly and seamlessly personalised, and location data will power that advancement. Engine offers developers the tools to easily integrate location and customise outcomes for end users", Gil Elbaz, CEO, Factual, tells ExchangeWire.
The Engine SDK can be integrated with analytics and marketing platforms including Mixpanel, Oracle Responsys, and Segment, allowing app developers to combine Engine's location data with their existing analytics and solutions.