Reviewing China's Singles' Day 2017: It's No Longer Just About Alibaba
by Lindsay Rowntree on 16th Nov 2017 in News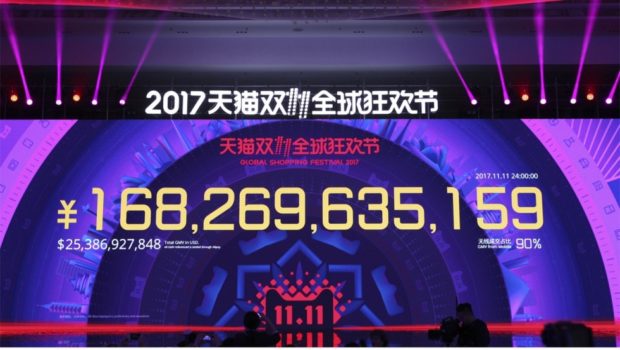 In association with iClick Interactive
Now in its ninth year, the annual Chinese online shopping festival Singles' Day (11 November) is no longer just about Alibaba, but has morphed into a nation-wide shopping craze with e-commerce players other than Alibaba taking up a substantial share of the pie as well. In the latest instalment of iClick Interactive's China Expert series, Richard Johnson, commercial director, Europe, iClick Interactive, explains how Singles' Day has grown into its current manifestation, and how marketers can make the most of it.
It's no longer just about Alibaba – but a nation-wide shopping craze
According to the figures from China Ecommerce Research Center (CECRC, 100ec.cn), the 24-hour nation-wide online shopping blitz grossed a sales total of RMB254bn (USD$38.2bn/£29bn) this year, hitting a year-on-year growth of 45.2%. Alibaba's Tmall accounted for 66.2% of the pie, posting yet another year of record sales of RMB168.3bn (USD$25.4bn/£19.3bn).
Tmall was closely followed by the second-largest player in the scene – JD.com, which posted an impressive sales total of RMB127.1bn (USD$19.1bn/£14.51bn) over the 12-day 'Singles' Day period' during 1-12 November. The e-commerce player didn't release its one-day sales figures for 11 November.
Tmall is China's grandest virtual shopping mall – but not without competition
Tmall is China's leading business-to-consumer (B2C) e-commerce platform run by Alibaba to cater to the needs of increasingly sophisticated Chinese consumers. The virtual shopping mall enjoyed an overwhelming share of 51.3% of retail e-commerce sales in the market in Q2 2017, according to eMarketer.
While Tmall still holds the lion's share, its closest competition, JD.com, has seen gains over the years and already had a respectable market share of over 30% of the nation's sales in Q2 2017 (32.9%), up from 17.7% in 2014, when Alibaba's share was 54.6%. The two dominant players were followed by flash-sales site Vip.com (3.2%) and appliance and electronics retailer Suning (2.5%), which together accounted for less than 6% of the pie.
Alibaba's Singles' Day  
In 2009, Alibaba ran the first Singles' Day festival on Taobao (Alibaba's C2C e-commerce platform) and Tmall – a one-day online shopping festival at which once-in-a-blue-moon, cut-throat discounts are offered to Chinese consumers to celebrate (or bemoan) being single.
Since then, the festival had amazed the world over and over again by achieving mind-boggling sales figures, and 2017 is without exception: Tmall set another year of record sales at RMB168.3bn (USD$25.4bn/£19.3bn), hitting a year-on-year growth of over 39.4%* from RMB120.7bn (USD$18.2bn/£13.8bn) in 2016.
Putting things in perspective, the total sales generated at Tmall this year nearly doubled those from Black Friday and Cyber Monday in the US in 2016 combined, and was more than 10 times the sales total of Amazon's Prime Day 2017, which was USD$2.4bn (£1.8bn) according to Statista. 
The 'New Retail' strategy – dissolving boundaries by retail innovation
Last year, going global and playing up technology were the apparent overarching themes in the e-commerce giant's strategy for the festival. This year, it was all about 'New Retail' – the strategy that promotes seamless online-to-offline integration, leveraging big data and retail innovation, to create a more effective way of doing business for retailers and a more holistic shopping experience for shoppers.
Under this strategy, Alibaba had set up 60 physical pop-up stores across 12 cities in China, and converted 100,000 stores into 'smart stores' with a dazzling range of tech features at which shoppers can browse and experience featured merchandise, and make purchases readily on the spot.
On top of the 140,000 brands (including 60,000 international brands) participating in the festival, Alibaba had extended its reach to retailers in rural China as well. For the first time, Alibaba had integrated some 600,000 small-scale independent convenience stores and 30,000 rural retail centers with its e-commerce ecosystem, making this year's festival the biggest ever in scale.
2017 highlights & key figures
1. USD$500m (£379.9m): the average per-minute sales between 00:00-00:03 on the day!
2. Irreversible shift to mobile: Of the total 1.48 billion payments processed through AliPay, 90% were conducted via mobile.
3. RMB100 billion dollar babies: 62 brands achieved RMB10+bn (USD$15bn/£11.3bn) of sales on Tmall in one hour, including Nike, New Balance, Siemens, Uniqlo, Sharp, and more. Other well-performing international brands included P&G, Estée Lauder, Starbucks, Bose, and GAP.
4. Best-selling Tmall stores: The top 10 are Suning, Xiaomi, Rongyao (local mobile brand), Haier (local home appliances brand), Nike, Uniqlo, Sharp, Adidas, Linshi Muye (local furniture brand), and Midea (local home appliances brand).
5. Most expensive item: an Aston Martin racing yacht sold for RMB17m (USD$2.6m/£1.97m)!
6. Big spenders: Shoppers from Guangdong, Zhejiang, Jiangsu, Shanghai, and Beijing spent the most.
7. Booking travel online is now the norm: According to JD.com, the sales of the leisure travel category increased significantly by 184%. Outbound travel products posted a 458% increase in sales compared to a normal business day.
The next Singles' Day & the way forward for running e-commerce in China
As we can see, mobile transactions accounted for an even larger share of the pie this year as expected – up to 90% on Tmall. This, once again, proved mobile's predominance when it comes to online shopping in the market.
To marketers, below are our two cents for the next Singles' Day besides the 'go mobile' cliché (and the way forward of running e-commerce in China):
Market trends
- Shoppers are no longer solely looking for discounts: product quality matters too.
- Shoppers are increasingly likely to shop for luxury and, even ultra-pricey, items on the day. Home furniture is another up-and-coming product category.
- Rural China is the new-found pot of gold. At Tmall, mobile and tablets, apparel, footwear as well as electronic appliances were the most popular categories among this rising audience. While at JD.com, sales generated by rural area shoppers had also increased at a significantly higher rate than that by city shoppers.
- Foreign brands are not only competing with other foreign brands but increasingly with local brands: in 2017, many of the brands in the top-ten sales lists on Singles' Day across multiple product categories were indeed local brands.
Your tactics
- When it comes to Singles' Day, it's all about the deals: prioritise sales over other ad metrics.
- Deploy a smart mix of social and mobile in your Singles' Day marketing mix: studies show Chinese consumers tend to research for their Singles' Day target items on social. Hence a smart combo of social, plus mobile, plus a mobile-friendly landing site would be instrumental to ensure a smooth transition.
- Design tailored offers with customised ad creatives for your target genders and age groups to enhance conversion, especially for the mobile-centric Chinese millennials, among whom the most lavish shoppers can be found – not only on Singles' Day, but throughout the year.
- Adopt data-driven and location-based audience buying to precisely deliver your customised ads to the right audience at the right moment, and bring them to your offerings on Tmall or JD.com right away to promote efficient conversion.
- Make smart use of retail technologies. For brands with a physical presence in China, consider employing location-based marketing and AR technologies to convert online traffic to your physical stores. For brands that do not have a brick-and-mortar presence in China, leveraging VR technologies to create immersive virtual shopping experiences could be a game changer.
*Calculated using RMB as the currency.