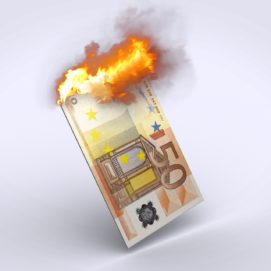 Tracking marketing spend and measuring results of campaigns to create actionable insights is a challenge that the marketing industry famously faces. Despite this, almost a quarter (23%) of digital marketers aren't tracking campaign spend whatsoever, according to our recent research conducted to help understand how budgets are being spent. Writing exclusively for ExchangeWire, Andreas Pouros, CEO and co-founder of Greenlight, explains why, with marketing tactics such as influencer campaigns becoming another channel where measuring ROI becomes a foggy maze, it's more important than ever that marketers are able to gain the clarity needed to understand whether their campaigns are reaching the right people.
An all-too-familiar disconnect
From audience targeting to budget allocation and measurement, it seems there is a disconnect amongst marketers. It's no secret marketers are under pressure to connect marketing tactics to direct sales. To be honest, it's little surprising this remains an industry-wide challenge, considering only just over a third (36%) of digital marketers are confident their campaigns are targeting the right audience – the disconnect is evident.
In particular, this brings significant concern when understanding how marketers are targeting social media audiences. Marketing budgets are being consumed by social media campaigns, but digital marketers need to understand how effective it is to give into the lure of social media marketing. Only 23% of consumers like to be targeted via social, yet over a third of marketers admit to spending most of their budget on it. This indicates that budgets aren't being spent effectively and desired audiences aren't being reached on the platform they value most. Considering there is now the potential for such extensive audience insights, it's important that the right audiences are engaging with your campaigns in the first place, otherwise the data is fruitless.
Bringing science to the creative
It can't be a case of chucking all the ideas at a metaphorical wall, hoping something will stick – that isn't what builds confidence, and isn't how to build a brand that can effectively target key audiences. Yet, without confidence in who is being targeted and minimal budget tracking, this is essentially what is happening. To rectify this, marketers need to be armed with quantifiable insights that indicate if campaigns are reaching the desired audience. Only then are they in a position to measure against budget. Ultimately, that's what it all comes down to, and it would be foolish to ignore it and not seek a viable way to accumulate the insight.
Whilst measurement isn't a science made up of clear and strict equations, marketers appear to be overlooking the gift that can provide a level of clarity, and that's data. With the volumes of data coming from online campaigns, in particular, it can be a mammoth task to dig through it and understand what it is actually saying and how to convert it into actionable insights. But there are tools, such as data-management platforms (DMPs), which can truly paint a full picture of what the audience looks like in reality, helping to shape audience-led campaigns that ultimately meet wider business objectives. 
Facing the challenge
Measuring in this way is an industry-wide challenge, with many struggling to overcome the challenges around multiple data sources and tracking online versus offline spend, with 44% and 35% of marketers admitting to struggling in these areas, respectively. With social media bringing in a whole new kettle of fish when it comes to tracking, the challenge is deciphering what is useful insight and what can be used to inform future campaigns. Metrics, such as site traffic, site impressions, and customer acquisition cost are the most common measurement metrics used amongst digital marketers at 31% – both smart, informative forms of measurement. However, one that appears to be lower down the priority list is engagement, coming in at 29%, which is concerning.
Even after recognising the importance of using these metrics, the next challenge revolves around how to communicate this upwards to management teams who want to understand what it all means for sales. The important thing to remember is that you can't look at metrics in isolation, as this can lead to a tunnel-view approach to campaigns, which will not only restrict creativity, but can undermine the value of the campaign. Ultimately, having an end-to-end understanding of customer interactions is key to success, and will lead to better personalised campaigns as a result of that full, unique customer understanding. Digital marketers must now assess the attention they give to online metrics and seek to address this alarming lack of confidence when it comes to targeting the right audience.
Without the right audience seeing your campaigns, the campaign's worth is ultimately brought into question. It will be the marketers who use the plethora of online tools and metrics to create actionable and insightful assessments of campaigns who will tap into their target audience with precision and prove their budget is well spent.