Triton Digital Integrates with MediaMath; Adelphic Partners with DoubleVerify
by Diane Harding on 5th Dec 2017 in News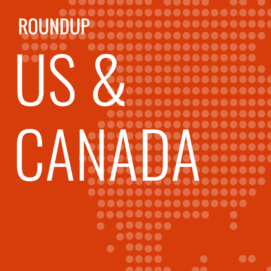 ExchangeWire rounds up some of the biggest stories in the US/Canadian digital advertising space. In this week's edition: Triton Digital integrates with MediaMath; Adelphic and DoubleVerify partner; Acxiom and 4INFO partner; Dentsu acquires Oxyma; Affinio raises Series B; and Swrve extends platform support.
Triton Digital integrates with MediaMath DSP
Triton Digital, a digital audio technology and advertising company, has integrated its audio advertising marketplace, a2x, with MediaMath, a programmatic marketing technology company. The integration into MediaMath's DSP provides advertisers with the ability to add online audio from broadcasters and streaming music services to their programmatic campaign buys.
"With tremendous reach, a wide array of inventory, and sophisticated targeting capabilities, a2x has the ability to connect brands and audience in a powerful and relevant manner", said Anna Hewitt, director, supply partnerships at MediaMath. "We are happy to partner with Triton Digital, to provide our marketers with access to Triton's premium and diverse audio inventory to further enhance their omnichannel buys."
Benjamin Masse, managing director, market development and strategy at Triton Digital, tells ExchangeWire: "We remain committed to providing buyers with access to premium audio inventory, to increase their reach and enhance their overall programmatic buys. We are proud to bring all of the benefits of genuine programmatic digital audio advertising to MediaMath through this integration with a2x, and look forward to helping their buyers connect with their target audiences in a more effective, personal way."
Adelphic partners with DoubleVerify
Self-service cross-channel DSP, Adelphic, has partnered with digital media quality solution company, DoubleVerify, to add their pre-bid viewability and brand-safety targeting to its platform. The offering will be available across all of Adelphic's supply partners, allowing marketers to reach audiences via video, display, and native on both mobile and desktop.
DoubleVerify will also provide Adelphic's clients with additional tools to measure viewability rate, and give visibility into whether or not content is brand safe across display and video on both mobile and desktop, as well as prevent nonhuman traffic (NHT) with DoubleVerify's fraud/SIVT detection tools.
"Brand safety, viewability, and transparency are a top priority for Viant, Adelphic, and our clients. Integrating Double Verify's granular pre-bid viewability tools into our people-based DSP ensures our brand and advertising partners can reach their campaign performance objectives, while getting the most out of their media spend", Jeremy Haft, national vice president, Adelphic, tells ExchangeWire.
Acxiom partners with 4INFO
Data marketing company, Acxiom, has partnered with mobile advertising technology company, 4INFO, to deliver Acxiom-modeled location-based audience segments, using 4INFO's 'predictive visitors' and Acxiom's data, to create location-informed targeting segments for digital campaigns.
This partnership furthers Acxiom's strategy to bring available data to marketers through its Partner Enablement Program, using its consumer data and omnichannel identity graph, enabling connections to over 500 partners in the digital ecosystem.
Rick Erwin, president, Acxiom Audience Solutions, tells ExchangeWire: "Location-based targeting is a critical component of a true omnichannel marketing program. This new location-informed offering from Acxiom and 4INFO allows brands to confidently target a larger audience of potential visitors, allowing them to drive greater sales impact for their organisation."
Tim Jenkins, CEO, 4INFO, also added: "By using our predictive visitation information, combined with demographic, purchase or propensity data from Acxiom, brands are equipped to deliver more relevant customer acquisition and engagement programs. The combination of our 'privacy by design' methodology and Acxiom's industry-leading ethical data use practices ensures personally identifiable consumer information will be protected and removed in the process of creating these audiences."
Dentsu acquires Oxyma
Media group, Dentsu Aegis Network, has acquired Netherlands and Dubai-based performance marketing agency, Oxyma Group, and will be rebranding Oxyma Group and all agencies as 'Merkle', headquartered in the US, but building out Merkle's EMEA business with Oxyma's footprint in the Netherlands.
"We are really excited about the combination of Oxyma's strong position in the Netherlands with Merkle's breadth of people-based marketing capabilities – and about the immense opportunity it will bring to this market", Michael Komasinski, president, Merkle EMEA, tells ExchangeWire.
"Merkle is a perfect fit for us", said Jos van Loo, CEO, Oxyma Group. "They understand the importance of what Oxyma does – helping large enterprises with digital transformations and unlocking customer value. Merkle is also part of Dentsu Aegis Network, and we are very excited about the new capabilities our combined organisations are going to be able to offer our clients. This acquisition is a fast-forward for both companies to become a leading player in EMEA for data-driven, tech-enabled, people-based marketing."
Affinio raises USD$9m in Series B
Consumer analytics startup, Affinio, has raised USD$9m (£6.7m) in a round of Series B funding, helping the company to expand its product into brand advertising. Affinio has raised a total of almost USD$14m (£10.4m). Investors include Whitecap Venture Partners, Round13 Capital, and Social Starts.
Marketer's like Unilever, BBC Worldwide, and Paramount, use Affinio to enhance their interest graph by connecting first-party data, social media, a DMP, and third-party data providers. This latest funding round will go towards product integrations with DMPs and DSPs, as well as data brokers that aggregate store transactions, which CPG clients use to dictate media spend.
Tim Burke, CEO, Affinio, tells ExchangeWire: "We're expanding our development and product team to seize the numerous data partner opportunities. In addition, with our expanded product offering, we're focusing on scaling up our sales and customer success teams to address the global demand for our technology.
"Consumers don't hate ads; they hate ads that aren't relevant. Our interest-analytics platform converts raw consumer data into actionable insights allowing marketing strategists to create campaigns that will resonate."
Swrve to support streaming video & OTT
Mobile marketing automation platform, Swrve, is extending its platform to support digital media streaming platforms, including Apple TV, Roku, Android TV, and Amazon Fire TV, to support streaming video and OTT TV platforms.

The new release integrates three elements into their platform: a 'customer intention engine', revealing customer viewing intent; a 'customer interaction engine', to deliver cross-platform customer communications across a variety of channels; and 'behavioural automation', to interact in context with customers.
"The media landscape has changed dramatically over recent years, with the decline of PayTV and rise of OTT", said Christopher Dean, CEO of Swrve. "Swrve already works with many of the world's leading media companies on mobile and now on OTT platforms such as Apple TV, Roku, Android TV, and Amazon Fire TV. Media companies need to build direct relationships with their viewers, deliver the right interactions at the right moment in time, and drive revenue. With this announcement, media companies can know and grow customer relationships across all the platforms customers use today."