Lack of Transparency Kills Ad Spend; Adventori & Adyoulike Collaborate
by Sonja Kroll on 8th Dec 2017 in News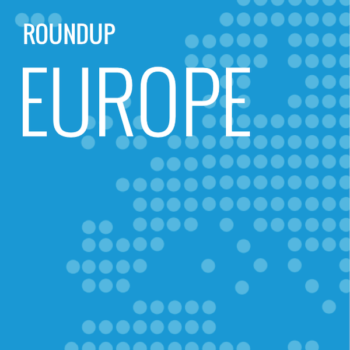 ExchangeWire rounds up some of the biggest stories in the European digital advertising space. In this week's edition: Ad spend under threat from lack of transparency; Adventori and Adyoulike partner; Ligatus starts native ad network; Viral content providers most likely to engage in ad fraud; and OpenX launches video-optimised mobile SDK.
Lack of transparency causes buyers to decrease ad spend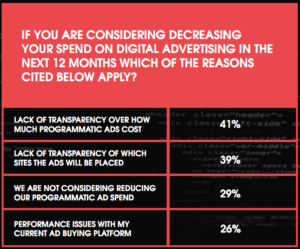 According to digital marketing agency Queryclick, marketers are considering decreasing their advertising spend in 2018 because of a lack of transparency in relation to the actual costs of programmatic ads. A study conducted among 150 heads of marketing, e-commerce, and digital at major brands reveals a general lack of trust of advertisers when it comes to their programmatic marketing efforts. However, despite 41% of marketers feeling frustrated with programmatic, due to transparency issues and ad fraud, 70% are still planning to maintain or even increase their programmatic spend over the next 12 months.
"Despite it being on the rise, programmatic advertising is wide open to abuse. Recent studies have put the cost of digital advertising fraud as high as USD$31bn (£23.1bn). That makes digital ad fraud not just more costly than any form of cybercrime, but more costly than offline crimes such as counterfeit goods and payment card fraud", says Chris Liversidge, founder and MD, Queryclick. "Publishers are on the front line in the battle against advertising fraud. They have a duty to educate both brands and agencies on programmatic processes to ensure transparency. However, brands can take steps to protect themselves too."
Less than half of the advertisers (40%) in the Queryclick study believed that more than 50% of their digital adverts were actually seen by people. Nine out of ten respondents also said that the lack of transparency in their programmatic ad campaigns is due to their respective DSPs being owned by their advertising agency. Liversidge recommends that advertisers unbundle their agency relationship from their chosen programmatic platform to gain independence – and transparency. "In doing so, they will not only significantly reduce their exposure to waste and damage to their band reputation from fraud, but also start to see programmatic begin to deliver on its promise."
Realtime customisation thanks to Adventori/Adyoulike partnership
A new partnership between Adventori and Adyoulike is to enable real-time customisation of native advertising formats, depending on specific profiles of individual users. To that end, the Adventori ad server is integrated in Adyoulike's SSP, following the Open RTB standards defined by the IAB. The integration is to provide personalisation strategies thanks to dynamic creative optimisation of the native, read-only formats. DCO enables 1:1 conversations with users within native ads, thus providing a seamless native ad experience with the ad content adapting to the real-time situation of each exposed user.
Through the natural integration of creative features into the editorial environment, and respectful of the user's experience, native ads can now offer even more relevant messaging that fits closer to the needs and objectives of the advertisers. By combining Dynamic Creative Optimization (DCO) with native, read-only formats, Adyoulike and ADventori are improving campaign performance by giving users, advertisers, and publishers the most optimal viewing experience possible.
"The goal of Adventori's ad server is to personalise all digital touchpoints, of which native advertising plays a big part", says Pierre-Antoine Durgeat, CEO and founder of Adventori. "It's imperative that advertisers and agencies broaden their performance spectrum by capitalising on the integration of data into creative formats. This partnership with Adyoulike is part of our approach of compatibility and openess on the market."
Thus, different data sources adapt the visuals, text, and specific offers presented in the banners, relating the ads to situational data, e.g. environment and moment in time, or enabling ad optimisation on the basis of the weather. For each image, CTA, and tag, testing is available at any point in the campaign, allowing optimisation on the go.
"The very nature of native advertising is personalised content that improves the user experience", explains Julien Verdier, CEO and co-founder of Adyoulike. "We are very pleased with this partnership with Adventori, which allows us to guarantee a native state of mind by optimising the personalisation of the brand message. "
New native advertising network by Ligatus
In May 2017, German native advertising specialists Ligatus expanded to the UK. Now the Bertelsmann-owned group is launching their new programmatic network dubbed 'revenee' for advertisers and publishers. Julien Mosse, chief operating officer, Ligatus, comments: "After listening to client feedback, revenee will ensure a clear separation of lower tier publishers and advertisers. As the adoption of native ad formats continues to increase, this new offering will better meet the needs and budget of all different types of advertisers and publishers, which in turn will only enhance the user experience through tailored, contextual, and less intrusive ads. "
According to Ligatus, revenee has no minimum traffic volume requirements, allowing publishers to monetise their site without restrictions. Mosse exclusively explains to ExchangeWire why the Italian market was chosen for the initial trialling period before it will be opened up to buyers and sellers globally:
"There is a large demand in the Italian market for contextually relevant and engaging ads that do not disrupt the user experience, particularly with publishers in the mid- to long-tail. Also, while for many Italian advertisers brand safety and a clean environment are a must, there are many other ones that simply need performance results for a lower price. Like in the retail, airline, or car rental industries, there is strong need for our industry to have a clear tiering between high end and long tail. We are proud to be the first native network to offer that and not mixing everything together. I expect we will see the continued growth of native advertising across Europe in 2018."
Providers of viral content most likely to be ad fraud perpetrators
According to a report by AppNexus, there is a correlation between publishers that are providers of viral content, such as fake news and hate speech, and those that are most likely to be engaging in ad fraud. AppNexus comments: "We have established this link by using data science methods to find suspicious traffic patterns and overlaps in these sites' audiences, as well as similarities in the content they produce. Our analysis strongly suggests that many of these sites are operated by the same people."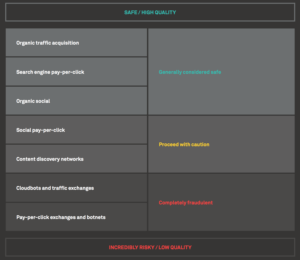 AppNexus finds that viral content has become a gateway for online advertising fraud with publishers of such content often buying traffic from dubious sources. These black sheep are knowingly creating or purchasing invalid traffic with the express intent of defrauding advertisers.
As a measure against ad fraud, AppNexus suggests that traffic acquisition vendors need to be scrutinised, making sure that the sourced traffic comes from reputable sources in the programmatic supply chain. Traffic acquisition schemes such as cloudbots and traffic exchanges, pay-per-click exchanges, and botnets should be avoided completely by publishers.
OpenX launches video-optimised mobile SDK
After recording significant growth in its mobile business in the first half of 2017, OpenX is now launching a new version of its mobile SDK which optimises video formats for enhanced monetisation of mobile apps.
OpenX's mobile SDK has been available since August 2017. The video-optimised version follows strong early adoption, OpenX says, underlining the demand by publishers and app developers to provide high-value video ad units.
"Mobile video is poised for explosive growth in 2018, continuing to grow in popularity among advertisers because of its unique position at the intersection of quality and user experience – a position where OpenX thrives", said Maggie Mesa, vice president of mobile business development, OpenX. "Consumers viewing mobile, and specifically in-app video content, offer a unique opportunity for brands to drive powerful engagement and for publishers and app developers to drive increased revenue."