£3.4bn Programmatic Ad Spend in 2017; Guardian Partners with Improve Digital
by Sonja Kroll on 15th Dec 2017 in News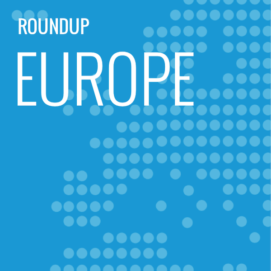 ExchangeWire rounds up some of the biggest stories in the European digital advertising space. In this week's edition: Programmatic ad spend to continue growth; Improve Digital supplies SSP for the Guardian; Fraudlogix adds ads.txt; GDPR investments to grow; and Smart's ad server implements ads.txt.
UK remains programmatic market leader
According to eMarketer's latest forecast of programmatic ad spending, programmatic remains strong in the UK. Despite facing changes due to the impending GDPR legislation, as well as fighting ad fraud and transparency issues, the UK market can look forward to further growth in programmatic advertising over the next few years.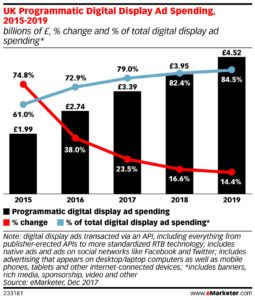 "The programmatic ecosystem is growing because it's maturing", eMarketer senior analyst Bill Fisher explains. "This maturation is leading to better practices, better behaviour, and better transparency. Making everybody in the chain accountable is the next step in cleaning up programmatic's image further."
eMarketer estimates that advertisers will have spent £3.39bn on programmatic trading in 2017. That is 23.5% more than in 2016. Programmatic has a 79.0% share of the UK's digital display ad spend; and the figure is set to rise. By 2019, programmatic ad spend will reach 84.5% of digital display ad spend.
Growth continues to be driven by mobile. Currently, mobile accounts for 78.0% of this year's programmatic digital display ad spend; but by 2019 that figure will rise to 86.5%, eMarketer predicts. Mobile's gain is desktop's loss: just above one-fifth (22.0%) of programmatic ad spend is designated for desktop, resulting in an ad spend of £743.8m. The number is set to fall to 13.5%, or £609.5m, in 2019.
Improve Digital collaborates with Guardian News & Media
A new collaboration between Improve Digital and the Guardian provides the publisher with a new SSP option to monetise its online advertising. Thanks to the deal, the Guardian's digital content will be available for monetisation for all programmatic display demand sources through Improve Digital's SSP platform. The available inventory includes open RTB and Deal_IDs for display, and rich media formats across multiple global markets.
Daniel Spears, programmatic director, Guardian News & Media, comments: "We're happy to add Improve Digital to our roster of ad tech partners and look forward to a good working relationship." Since ending their partnership with their previous ad tech provider, Rubicon Project, amid suspicion of hidden fees and lack of transparency, the Guardian has also named OpenX as one of their ad tech partners.
"We are extremely proud to be working with Guardian News & Media", comments Bastiaan Spaans, SVP commercial, Improve Digital. "Through our customer-centric and transparent business and cutting-edge technology, we will support all their programmatic aims and deliver real tangible business returns."
Fraudlogix adds ads.txt to verification suite
With ads.txt catching on and adoption of the anti-ad fraud filter growing across the industry, Fraudlogix is announcing ads.txt reporting as part of its dashboard for RTB impression clients. The verification specialist is joining DSPs such Double Click Bid Manager, AppNexus, The Trade Desk, MediaMath, Adobe Advertising Cloud, and DataXu, that have all recently subscribed to the IAB initiative aimed at thwarting the unauthorised selling of ad inventory and domain spoofing within the RTB programmatic markets.
"Our supply-side clients are actively monitoring ads.txt files from their publishing partners – some clients may have thousands of partners – and this is a feature that helps them do that", explains , Hagai Shechter, CEO, Fraudlogix. "Overall, we want our solution to be a one-stop shop for verification. Since the industry has implemented ads.txt, we thought it was pertinent to add it to our dashboard, on top of the ad fraud, brand safety, domain spoofing, and viewability reporting that we do."
Fraudlogix' new feature will provide information on whether or not a seller is listed within the publisher's ads.txt file, or if the publisher has not implemented ads.txt. Sellers can, thus, monitor their publishing partners to be sure that their ads.txt declaration is correct. DSPs will also be able to monitor whether the seller of inventory is declared in a publisher's ads.txt file.
Companies expected to invest in GDPR compliance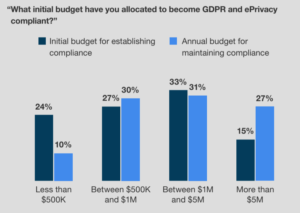 The GDPR will come into force in May 2018, a legislative change that is going to attract millions of dollars in investment. That's according to a study conducted by Forrester Consulting on behalf of Evidon, a provider of governance, risk, and compliance solutions. More than 260 decision-makers in relevant organisations in Europe were polled, with 48% of the participating companies reporting investments of USD$1m (£745,000) and more for GDPR and ePrivacy compliance so far. Fifty-eight percent said that they are earmarking a further USD$1m budget for further maintenance of their GDPR efforts, with more than two-thirds (67%) believing they'll spend even more once GDPR comes into effect in May 2018.
Overall, the study finds that the majority of companies consider the new GDPR and privacy legislation to be groundbreaking in the sense that compliance with new privacy rules will have changed brands as well as customers thanks to "increased loyalty, satisfaction, and engagement from customers, as well as brand differentiation and uplift".
"The GDPR is a make-or-break event for publishers, brands, technology companies, and app-makers that do business online in Europe", said Adrian Newby, CTO, Crownpeak, Evidon's parent company. "It's encouraging to see that these organisations are already taking both GDPR and ePrivacy compliance seriously, through both their strategic and budgetary planning. As Forrester's research indicates, all boats will rise when compliance is done well, and GDPR can be a transformational initiative that helps these organisations build deeper consumer trust."
Among the most-cited concerns over the effects of the GDPR are the ability to balance compliance with best-in-class customer experiences and worries that customer experiences could be impacted in a negative way, due to the required communications about customer data and privacy issues."This balance between compliance and CX is critical if firms want to continue to win, serve, and retain their customers in a post-GDPR world", the study concludes.
Preparations for GDPR-implementation have been going for more than a year. Nearly three-quarters of the firms surveyed said they began preparing for compliance in September 2016, if not earlier.
Smart implements ads.txt for domain verification
The full stack monetisation platform Smart has been part of the ads.txt initiative from the beginning. The company is now taking their support of the anti-ad fraud project to the next level: from 20 December 2017, Smart will only accept bid requests by publishers that are ads.txt-compliant. Unauthorised domains will be blocked – a new policy that was implemented by Smart in reaction to their demand partners request for ads.txt-verified inventory.
"Along with key demand players in our industry, Smart is one of the leading ads.txt adopters, actively encouraging others to implement the initiative", says Gorka Zarauz, Smart's recently appointed chief quality officer. "This latest announcement is a key milestone for Smart, as part of our ongoing efforts, to firmly guarantee advertisers with the highest quality inventory only. It's the right time to do it and lead the way with our combined quality efforts."
For a limited period of time, Smart will continue to serve sites that have not yet implemented ads.txt.
TagsEMEAProgrammatic