Retail on the Rails: The Rise & Rise of Commuter Commerce
by Hugh Williams on 12th Feb 2018 in News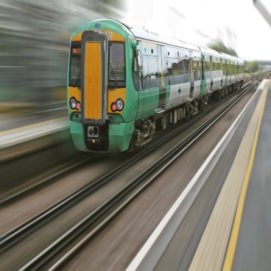 Almost no time is 'dead' time for today's connected consumer. Thanks to the ubiquitous mobile phone, wherever we are, we are always 'on'. Here, Ian Reynolds, managing director, KBH On-Train Media (pictured below) explains to RetailTechNews how retailers can profit from the age of commuter commerce.
The result of our attachment to our smartphones is that not only have we become proficient at undertaking several activities at once, but we have also developed an expectation that these activities won't be compromised by limiting factors such as our location or the time of day.
Shopping is a strong case in point. No longer bound by the restrictions of high streets and physical stores, consumers are engaging with brands in new ways and at new points in their day, with mobile right at the forefront of an array of emerging retail touchpoints.
One space in particular is proving to be a unique and increasingly valuable transactional opportunity for retail. New research released by KBH On-Train Media has revealed how the daily commute to and from the office has become a productive time for mobile-enabled, affluent commuters and a lucrative opportunity for retailers.
The study found that the vast majority of travellers (88%) use their smartphone during an average journey, with 33% checking their device every couple of minutes. Thanks to increasingly improved on-board WiFi and network connectivity speeds, as well as the growing numbers of retailers investing in properly mobile-optimised sites and apps, this means that the business of 'commuter commerce' is booming.
According to the study, 73% of rail commuters are using their mobile devices to browse for items, while over a quarter of commuters (26%) actually make a purchase during their journey. The most popular items bought by commuters while on the train were clothing/footwear, bought by 39% of those rail travellers who made a purchase, followed by groceries (33%), and tickets for leisure events (26%). However, the study uncovered that holidays (15%), and even cars and car-related goods (9%), were among the more unusual and expensive investments made during an average day's travel. Tickets for business travel, including travel by rail, were bought by 18% of respondents.
These trends highlight a significant opportunity for brands and retailers to influence consumer behaviour by ensuring a presence at multiple touchpoints during this journey. As evidence of this, the findings highlighted how the role of advertising within the train environment itself acted as an important trigger for driving immediate consideration and action. Of the 94% of respondents who noticed on-train advertising, 33% claimed to have made a purchase as a direct result. In addition, 39% subsequently talked to someone about products or services they saw advertised and 56% went on to do further research.
In an age when shoppers can spend in multiple environments and through multiple platforms, it's important to have a succinct strategy across all devices and channels. In an on-train, out-of-home environment, the findings uncovered by the research suggest that traditional ad formats can drive greater value and effectiveness from digital and mobile campaigns.
In 2015, commuter commerce was estimated to be worth £9.3bn a year (Zapp/Cebr). With this latest research highlighting the increasing confidence of shoppers in making more significant transactions via mobile, and with the government moving forward with plans for 5G mobile connectivity and super-fast WiFi access across the UK's railways, this figure could be set to surge significantly in the coming years.
This content was originally published in RetailTechNews.