The New Brazilian Data Protection Regulation; Brazil Allows Political Parties to Advertise Online for the First Time
by Lindsay Rowntree on 23rd Aug 2018 in News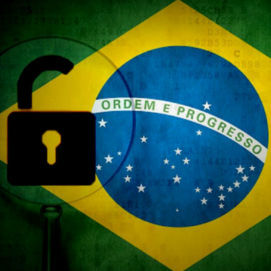 There is some big news coming out of Brazil at the moment. The Brazilian government has sanctioned a law that defines data privacy regulation, with vetoes; and for the first time in the country's history, political parties can use paid-for digital advertising campaigns as part of their canvassing strategies.
This article was originally published on ExchangeWire Brazil.
The Brazilian GDPR
The Brazilian President, Michel Temer, sanctioned last Tuesday (14 August) the General Law of Data Protection, which establishes rules for the collection and processing of personal data in Brazil. Inspired by the EU General Data Protection Regulation (GDPR), the law was first discussed in 2010, with the text being finalised last month. The new rules, which are valid for companies that deal with data in the country, will be fully enforceable in 18 months.
However, the creation of a regulatory body called the 'National Data Protection Authority' (ANPD, in Portuguese) was vetoed by the president for being unconstitutional, as it was not sanctioned by the Executive – a power headed up by the president, and advised by a cabinet of ministers. It was intended for the independent authority to work in a similar way to the European Commission. According to the president, a bill will be sent to the Brazilian Congress.
The implementation of the National Council for the Protection of Personal Data and Privacy was also vetoed, which would be responsible for formulating strategies and guidelines on the subject. There are still doubts whether the ANPD will be subordinated to the Ministry of Justice or the Ministry of Research and Science.
Like GDPR, the law requires the consent of the individual through the collection of personal data, such as name, address, email, age, marital status, and financial position, by companies and public institutions. Sensitive data, such as political positioning, beliefs, physical characteristics, and health information, have limited use and can't be sold or shared between companies.
The law states that leaks and security breaches that affect personal data must be reported in a timely manner to the appropriate authorities. They will then determine whether the breach was a violation, as well as the actions needed to be taken. The law states a fine up to BRL$50m (£9.75m) in case of noncompliance (up to 2% of company revenue). The offenders, however, will not have their activities suspended.
The GDPR is providing inspiration for many seeking to tighten up data privacy, so it will be interesting to see how the approach to the Brazilian data protection law differs from its EU counterpart, when it comes into play in 2020.
Digital Advertising & Brazil's Upcoming Election
Brazil's upcoming elections will determine who will become the next president in October, amid what can only be termed as an undefined political situation in the country. As of last Thursday (16 August), Brazilian electoral campaigns will allow, for the first time in the country's history, the use of paid-for digital advertising campaigns.
Approved last year, the new rules allow content-boosting solutions such as micro-targeting via Facebook ads, and search engine marketing (SEM) campaigns on the likes of Google and Bing.
In order to increase transparency for voters, the paid campaigns on social networks must be labeled as such, according to the requirements of the Superior Electoral Court (TSE, in Portuguese), with ads only allowed to be sponsored by candidates, parties, and coalitions. In addition, libelous or slanderous canvassing against opponents is forbidden. In case of noncompliance, the Electoral Justice expects to bring in fines of BRL$5k-30k (£975-5,848)
Facebook is already allowing eligible persons to register to advertise on its platform. According to the social network, the ads will be identified as 'electoral advertising' (propaganda eleitoral) in users' timelines, and information, such as the candidate or party identification, will be visible.
In a statement to Agência Brasil, Facebook has not revealed how many candidates and parties have registered so far. On the platform, in addition to being overseen by the Electoral Justice, candidates have to follow Facebook's internal rules, called 'Community Standards', which define the limits of what can be published. For example, messages with hate speech and non-authentic content will be prohibited. "The company has stated on several occasions that it will not oversee the so-called 'fake news'," the government agency said.
To respond to concerns about the risks of paid advertising, in addition to allowing users to see why they're seeing an ad, Facebook will also provide an 'advertising library' feature – where users will be able to view paid posts related to politics, including electoral propaganda.
Google has informed Agência Brasil that it will make its advertising platform available to candidates and parties "in accordance with the rules established for 'electoral advertising'" and identify where posts are sponsored.
Google's press office also said that their platform will identify any form of advertisement, differentiating paid search results from 'organic' results. Like Facebook, users will also be able to know why they are viewing that paid publication with the 'i' icon and then the 'Why this ad' option, as well as block that candidate's ads. There is also the possibility of denouncing an electoral advertisement within the tool.
According to the company, the electoral legislation doesn't require prior inspection of campaigns, but candidates are bound by internal policies and can incur penalties, such as advertising or bill blocking.
Twitter, meanwhile, has announced that it will not run ads because it can't meet Brazilian electoral requirements.
In addition to canvassing, parties and candidates can run ads on their official websites, as well as send emails to registered addresses free of charge. Ads on other sites, such as banners and other formats, are prohibited.
Brazilian electoral advertising on the internet follows a number of restrictions expressed in the Elections Law, which also prohibit the use of robots and fake profiles to disseminate electoral content. IAB Brazil has recently published a complete guide, with the new guidelines for electoral campaigns on digital platforms.