IAB UK & PwC Digital AdSpend report: UK Digital Ad Spend Grows by 15% YOY; New Research from Flashtalking Highlights Urgent Need for Better Measurement of Creative Performance
by Romany Reagan on 12th Oct 2018 in News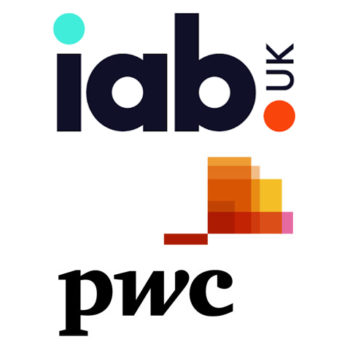 IAB UK & PwC Digital AdSpend report: UK Digital Ad Spend Grows by 15% YOY; New Research from Flashtalking Highlights Urgent Need for Better Measurement of Creative Performance; mediasmart Partners with TripleLift for Further Native Advertising Capabilities; GroupM's Candice Odhams to Join Wavemaker as MD; and Simple Expands Intelligent Marketing Platform into EMEA
UK Digital Ad Spend Grows by 15% YOY
IAB UK announced Wednesday (10 October) that UK advertisers spent £6.4bn on digital advertising in the first half of 2018, according to the latest results of the IAB UK and PwC Digital AdSpend report.
In the first six months of 2018, there has been year-on-year growth of total digital advertising spend of 15%.
 The overall display market remains healthy, with H1 year-on-year growth of 20%, taking it to £2.3bn. This growth was driven by Video, which saw the largest year-on-year increase of 40%, taking spend in the first six months to £967m. Non-video display inventory accounted for £1.3bn of spend in the first six months of 2018.
Search has grown 15% to £3.3bn, commanding 52% of total digital ad spend, whilst classified remained flat at £726m.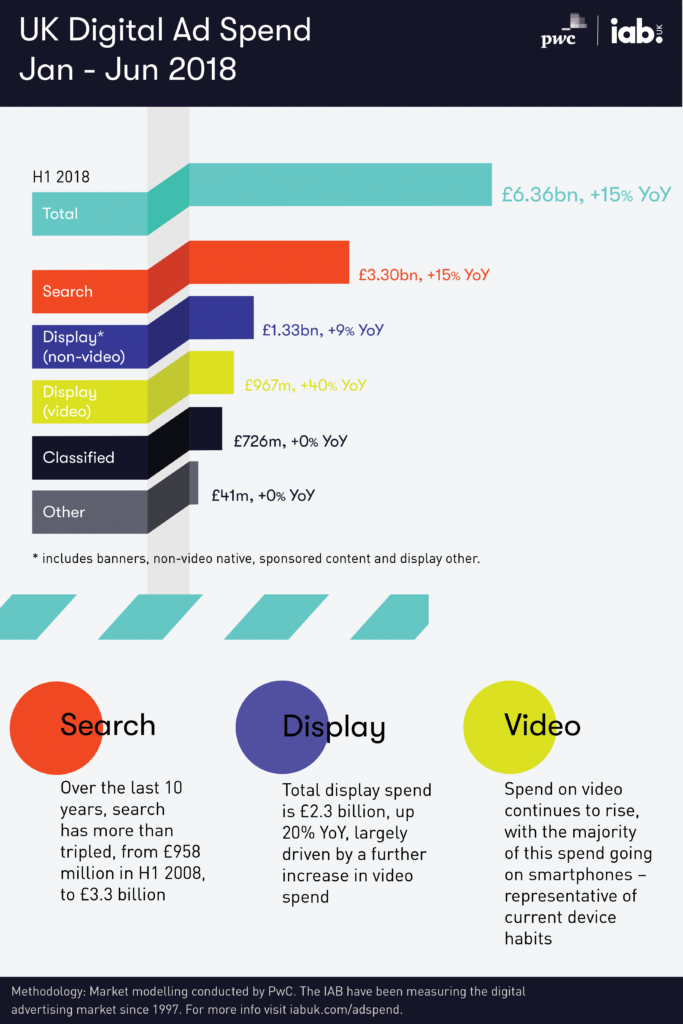 With the maturation of the market, the half-year figures are now reported for combined mobile and desktop ad spend and the methodology has been updated accordingly. The 2018 full-year report, due for publication in April 2019, will continue to provide a detailed analysis of formats and spends.
Commenting on the latest results, IAB UK chief digital officer, Tim Elkington, said: "With mobile devices accounting for 75% of all UK adults' time online, it is safe to assume smartphone penetration continues to contribute towards the 15% year-on-year growth in digital ad spend reported today."
IAB UK CEO Jon Mew continued: "Now in its 22nd year, the IAB and PwC Digital Adspend report remains one of our most important projects, with the twice-yearly announcement of results anticipated by the industry. With today's half-year announcement of gross revenue of £6.4bn and with impressive year-on-year growth of 15%, it is essential we remain focused not only on building the future for digital advertising but on building a sustainable future."
New Research from Flashtalking Highlights Urgent Need for Better Measurement of Creative Performance
Effective creative optimisation is one of the major untapped opportunities left for advertisers, according to results of a new report from Flashtalking, the leading global independent platform for ad management, data activation, and unified insights. In its analysis of 60 campaigns, comprising 10 billion individual impressions, Flashtalking established that, on average, the top performing quartile of creative is 7x more impactful than the worst-performing quartile, and that click-through rates are negatively correlated with creative performance. These findings make it clear that the quality of advertising creative has a dominant impact on campaign performance and return on ad spend.

"The need to optimise ad creative has become even greater, as multi-channel marketing has become more the norm, yet marketers have lacked the tools to properly understand creative performance", said Steve Latham, global head of analytics at Flashtalking. "Across the industry, digital attribution has focused on media and audience performance, while continuing to rely on outdated creative metrics such as click-through rates and last-touch attribution. Creative measurement has received comparatively little attention – particularly in the context of programmatic. That is, until now."
To bring clarity to the creative measurement problem, Flashtalking developed a methodology to assess creative performance in a way that would better serve advertisers' needs. Employing an algorithmic, machine-learning-based approach, Flashtalking assessed the performance of each creative version – defined by its propensity to influence conversions in proportion to the total number of impressions served – across 60+ campaigns from 2018 comprising over 10 billion impressions served on behalf of 24 advertisers, covering the Travel, Media, Telco, Gaming, Consumer Services, and Energy sectors.
Flashtalking's proprietary, data-driven approach employs clustering algorithms to account for bias from audience and media factors, and machine learning multitouch attribution to determine the effectiveness of each creative.
The results were clear:
On average, the top performing quartile of creatives are 7x more impactful than the worst-performing quartile of creatives.

Click-through rates are generally negatively correlated with creative performance.
Combined, these results paint a convincing picture. The variance in creative performance indicates significant gains may be realised by optimising creative. But if an advertiser is using the wrong creative performance metric for optimisation, it is likely to serve more of what is not working.
For advertisers to realise the opportunity to drive better results creative optimisation, they must update their measurement tools, replacing outdated metrics with smarter, data-driven methods.
To access the report, visit: https://www.flashtalking.com/creative-analytics-report/
mediasmart Partners with TripleLift for Further Native Advertising Capabilities
mediasmart has partnered with the native advertising exchange TripleLift, to offer enhanced image formats and instant play video through TripleLift's native advertising offering.

Native advertising has evolved from an industry buzzword into an effective marketing strategy used by many of the world's largest brands and agencies. The partnership offers mediasmart customers access to a new source of integration for content marketing, advertorials, sponsored content, and any other ad that matches the look and feel of the publications where it is presented.
The partnership means mediasmart's customers are now offered in-feed native inventory across premium international and local language publishers in app, desktop, and mobile web.
GroupM's Candice Odhams to Join Wavemaker as MD 
Wavemaker has announced that Candice Odhams will join the London office as managing director from 5 November.
Her role at Wavemaker will be focused on leading and supporting the agency's clients through ongoing digital and data transformation.
Candice joins from GroupM, where she has worked for over five years, most recently in the role of managing director, global client solutions at the Performance Media Group and previously as VP, global client strategy at Xaxis.
She brings a wealth of experience to the role, having worked alongside many of GroupM and WPP's largest global clients, delivering strategic and innovative solutions across international markets, specifically in the areas of programmatic, e-commerce, and addressable TV.
Paul Hutchison, CEO at Wavemaker UK, said: "I'm delighted that Candice is joining Wavemaker as managing director. Candice is a consummate client leader and has vast experience leading and supporting clients through digital and data transformation. This experience, coupled with her years working at GroupM, will make her an invaluable asset to our growing UK team."
Anna Hickey was previously MD at Wavemaker UK before being promoted to COO in April 2018.
Simple Expands Intelligent Marketing Platform into EMEA
Australia-based marketing technology company Simple has opened a London office and announced its EMEA management team a month after an investment round worth AUD$17m (£9.16m) to expand its Intelligent Marketing Platform globally.

Simple has appointed Joe Jarrett, former CEO of global marketing and brand asset management platform Adgistics, as managing director, EMEA, heading up a highly experienced team.
Wolfgang von Enckevort also joins Simple as global chief technology officer, based in London. Mr von Enckevort has held chief technologist and executive management roles at several multinational advertising and marketing software firms and comes to Simple after establishing award-winning customer engagement and Microsoft solution consultancy Vepro.
Simple, whose marketing resource management platform is powered by Microsoft, is moving quickly to establish its brand in the EMEA market, expanding its existing footprint in Australasia and the United States. Simple's customer base includes a number of blue-chip brands in the financial services, retail, entertainment, and gaming sectors, including Westpac Group.
"The combination of Simple's experience in marketing and Microsoft's technology stack will redefine the marketing execution landscape", Mr Jarrett said. "Our new capability will enable organisations to rapidly integrate marketing data from multiple sources to generate insights and improve marketing performance without losing sight of the value of creativity.
"Marketing has become too fragmented with CMOs now directly owning relationships with up to 50 different technology platforms, and sometimes more. This means 50 different, but often overlapping, sets of data. If you can't join all the activity together to understand and demonstrate the return on your marketing investment, then there's a cost to that complexity. Simple helps marketers claw back that cost."
Also joining Simple's EMEA team is sales director Mike Brothers, who was previously vice-president at Intellectsoft, and has worked with a number of startups in leading-edge technologies including martech, blockchain, and IoT.
Simple chief executive officer Aden Forrest said marketers were grappling with an increasingly fragmented process and a burgeoning landscape of 7000 technology providers, most of which were only concerned with their little piece of the marketing puzzle.
"Chief marketing officers must show that the end-to-end marketing process delivers, from brand management, collaboration, and resource allocation, to distribution channels and results – that's intelligent marketing", Mr Forrest said. "Simple is the engine that powers the process and the brain that tells you what's working and what isn't."