As the Cookie Crumbles, What's on the Horizon for Identity Data?
by Lindsay Rowntree on 18th Mar 2019 in News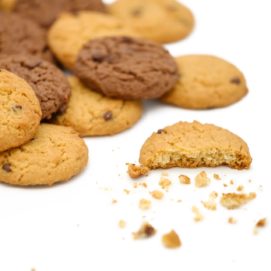 Cookies have been the backbone of digital advertising since its inception and, until recently, they have powered almost every technology, product, and business model within the ecosystem, writes Nick Halstead (pictured below), founder and chief executive officer, InfoSum, in this piece for ExchangeWire.
With browsers such as Safari and Firefox blocking third-party cookies, more publishers are beginning to look for new ways to utilise their rich customer data, enabling them to deliver the same level of targeting that Facebook and Google have made commonplace. To date, attempts to do so have been hampered by a lack of privacy-safe technology to navigate the ever-increasing expanse of consumer data, fragmented across disparate data silos.
Add to that the constraints imposed by the influx of data legislation, which many commentators predict will culminate in the demise of the third-party cookie, and it's evident the industry needs to re-evaluate traditional approaches to cross-site tracking and data collection, and put privacy, security, and commercial trust at the forefront of any future business strategies.
The ebb and flow of the third-party cookie
The longevity of the cookie is in no small part due to the ease with which it can be implemented and tracked across multiple sites. However, a storm around the use of third-party cookies in particular has been brewing, which has led to browsers limiting their use, in addition to the need for more stringent privacy regulations in the form of the GDPR and the ePrivacy Regulation.
In the midst of cookie concerns, publishers are now looking for fresh, non-exploitative ways to retarget consumers and match them to relevant advertisers and, in turn, reliance on traditional tracking methods is slowly but surely beginning to subside.
Sink or swim for publishers
The plunging popularity of the third-party cookie has already prompted publishers to take alternative action, with Immediate Media recently reporting a 135% increase in digital ad revenue by driving up the scale of its targetable inventory. Rather than supplementing first-party data with third-party data, the publisher is now utilising a far more efficient DMP to instantly identify fleeing visitors and create bespoke segments based on user preference and activity. Maximising its existing data by redefining audience segments has enabled the publisher to offer a much more enticing proposition to ad buyers.
Meanwhile, media agencies have a renewed desire to prove their transparency and opt for GDPR-compliant ad inventory, with the likes of GroupM forming closer alliances with premium publishers in an attempt to make direct deals and, thereby, reduce the risk of acquiring noncompliant inventory.
But what if there were another way to overcome the trust barriers that currently limit a publisher's ability to effectively connect and action data?
Staying afloat in a growing sea of data
To keep abreast of publishers' data-management needs, many vendors use data-stitching techniques to provide amalgamated data sets, but they're still not doing enough to ensure complete anonymity of that data. At InfoSum, we've pioneered a privacy-by-design platform that uses a unique identity-mapping approach to instantly anonymise customer data during setup, which means it can be connected and actioned securely.
And while the current industry standard is to transfer data into a central repository, this carries serious commercial and legal risks. Therefore, we're now steering towards a more decentralised approach that in fact utilises the non-movement of data by storing it in an isolated virtual server to which not even InfoSum has access, converting it to a mathematical representation, and deleting all PII at the same time. This allows publishers to connect their data sources and run privacy-safe analytics across multiple datasets without actually sharing any data whatsoever.
With this technology in place, we are already beginning to build bridges between publisher datasets, allowing them to collaborate and refine targeting segments without losing control of the raw data. While the duopoly currently dominates the digital advertising market, new platforms are emerging to facilitate data connection without data sharing, enabling publishers to truly ride the wave of collaborative insight and redress the balance.
If the third-party cookie begins to crumble, collaboration and co-operation within the industry will allow publishers to regain control of the segmentation of impressions, optimise the monetisation of their inventory, and avoid the murky waters of intermediaries dabbling in dubious data. In an age when it is no longer acceptable to compromise consumer privacy or commercial trust, technology that allows publishers to focus on leveraging their first-party data, while also creating strategic partnerships, will be key if they want to realise the full value of their data assets.

InfoSum
InfoSum powers trusted collaboration in the data economy by delivering technology that focuses on a single vision for the future of data connectivity – data should never be shared. Through InfoSum's Unified Data Platform multiple first and second-p…