Live Data Use in Digital Out-of-Home Campaigns: Q&A with Neil McKenney, DOOH.com
by Mathew Broughton on 2nd May 2019 in News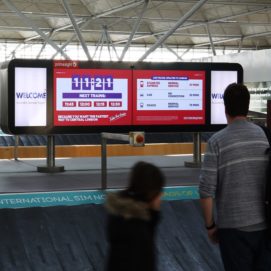 The digital out-of-home (DOOH) market is one of the most rapidly growing sectors within advertising, with the global market predicted to be worth USD$11.33bn (£8.78bn) by 2023. However the market is poorly understood compared to 'traditional' forms of digital media, which are far easier to measure and optimise.
The effectiveness of DOOH campaigns can also be blighted by a lack of creative innovation, essentially nullifying the possibilities of engagement and interactivity which the format can offer. For instance the use of live data in DOOH campaigns, impossible with static forms of OOH media, can be the difference between a potential customer engaging with your advert and that customer looking at their smartphone instead.
To that end, DOOH.com have recently announced a collaborative ad campaign with LIDA, which uses digital screens at the baggage reclaim area at Stansted airport that display the live journey times of the Stansted Express rail-airport route, along with alternative transport methods such as cars and coach links. ExchangeWire speaks to Neil McKenney (pictured below), managing partner at DOOH.com for an in-depth look at this live data campaign, what optimisation metrics are used, and the current state of the DOOH ecosystem.
What metrics are you using to compare the Stansted Express rail service with alternative methods of transport?
The journey is from Stansted to London Liverpool Street, so using a combination of National Rail, Tom Tom data and a bespoke built logic, the dynamic ads compare train journey times with car and coach data in real time.
All data we use is harvested live from APIs, so ads can be fully automated, enabling us to then update other creative messages at anytime throughout the campaign's duration.
How do you approach testing and optimising the campaign based on commuter response?
All of our dynamic campaigns go through rigorous testing processes, both internally and on media owners systems to ensure stability and correct functionality. As part of this process, any creative or technical optimisations are assessed and where appropriate integrated.
What were the major advantages, and challenges, in working with your creative partner LIDA, and can these sorts of relationships help in promoting interoperability between data and creative?
Collaboration on this kind of bespoke campaign is vital. This ensures a seamless exchange of information and a mutual understanding of process, objectives and campaign management.
What are the significant challenges involved with overlaying live data in DOOH campaigns?
Working with various network systems and set-ups, ensuring data is live and correct is critical.. It requires a close working relationship with both the media owner delivery teams, any creative partners and also the clients. We pride ourselves in our close working relationship with all media owners, further ensuring that all campaigns run as required.
Are prospective clients coming to you with a greater understanding of DOOH advertising than seen previously, or is it still a relatively misunderstood platform?
There's definitely been a steady increase in awareness and understanding of the capabilities of DOOH over recent years. We operate in a fast moving corner of media though, and due to the speed in which technology advances, new ways of working are constantly developing. Most of these developments tend to be on the delivery side though, and therefore behind the scenes. So in terms of what can actually go on screen, creativity has always been the real driving force for delivering great campaigns. Ultimately, the important thing is that clients, agencies, and creatives are now starting to think of digital OOH in the same light as a computer screen rather than a poster, which is always the most fertile ground for great digital OOH campaigns.
What opportunities do you see for real-time DOOH campaigns going forward?
Once the back-end delivery side of the industry matures to its potential, then the opportunities for truly real-time digital OOH ad campaigns are endless. Data is everywhere, so there's incredible scope for this to inform and enhance advertising on-the-fly. Whether that's real-time purchases informing nearby ads, or localised search trends informing product placements, ultimately the faster the information can pass through the chain, the faster content can respond. And that's just the content side. There's a whole parallel conversation going on around the trading side of the industry too. Eventually brands will be able to buy and activate real-time, creatively automated campaigns as quick as the media buyers' can click on what their clients require.
TagsDOOH